O'FALLON, Mo. — Police on Wednesday said the boyfriend of a 20-year-old woman who was shot and killed in her O'Fallon, Missouri, home Sunday night is in custody on a weapons charge.  
Shelbi Milburn was shot about 3 a.m. in the home she shared with her boyfriend, Martinez Williamson, in the 1100 block of North Main Street, according to O'Fallon police. 
She was pronounced dead at an area hospital. 
O'Fallon police Sgt. Robert Kendall said Williamson, 23, was charged Monday with unlawful possession of a firearm as a felon.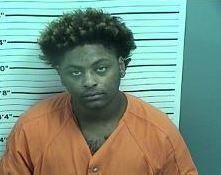 Charging documents state a search warrant of the couple's residence revealed four guns, suspected narcotics and about $5,200 in cash in a safe in Williamson's bedroom.
Williamson is not legally allowed to own or carry a gun because he is on parole for first-degree burglary and receiving stolen property convictions from 2016, according to court documents.
Kendall said O'Fallon police are investigating Milburn's death.
Circuit Judge Elizabeth Swann set Williamson's bond Monday at $75,000, cash only.