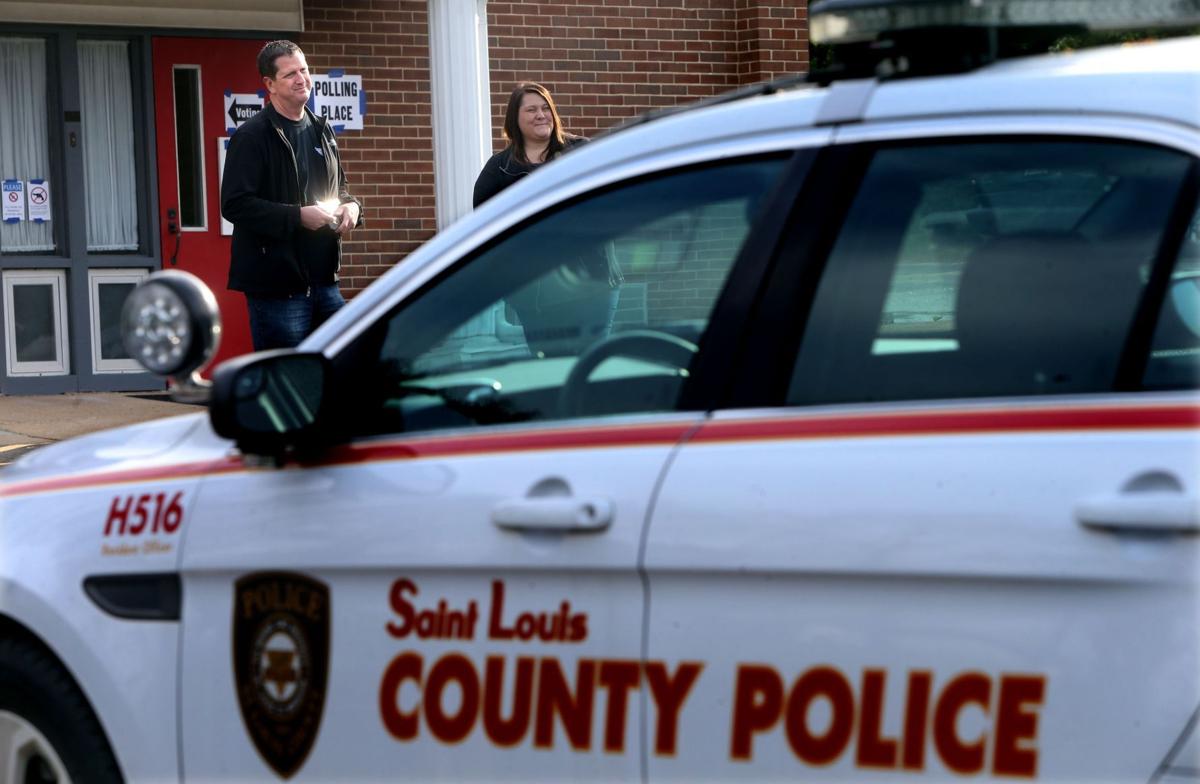 ST. LOUIS COUNTY • St. Louis County police officers' average pay will jump by roughly 30 percent next year under a new wage scale announced Thursday by County Executive Steve Stenger.
Hiring more police officers and boosting salaries were the stated goals of the ballot proposal.
The tax increase will generate $80 million a year, Stenger said, with $46 million going to the county and the remainder to be distributed to other police departments in the county.
In addition to the large pay boost for current officers, new officers will start at an 8 percent higher base pay.
"It helps ensure that we will be able to attract and retain the best and the brightest new and experienced officers," Stenger said.
The raises are expected to cost $14.6 million.
The current wage scale for St. Louis County police patrol officers starts at $48,256 base pay per year and tops out at $70,980, said St. Louis County Police Association President Joe Patterson. But unlike other collective bargaining agreements that give officers raises based on their years of service, the county officers' current agreement doesn't compel the county to increase pay until there are additional revenue streams — such as the one provided with the passage of Proposition P.
As a result, the average pay for a St. Louis County patrol officer has remained stagnant at roughly $51,000. Dozens of officers who have worked for the county for 10 years still earn $48,256 in base pay, Patterson said.
Under the wage scale announced Thursday, officers will start at $52,208 and then earn 80 cents more per hour every year thereafter. The new scale tops out at $77,168 for officers who have served the county for 15 years.
The scale will provide some astonishing raises. For example, officers with 10 years of service now making $48,256 in base pay per year will see their base pay jump to $68,848 — a 42 percent increase.
And it will cause average pay to climb to $66,000 per year.
Patterson said it will put county officers in the top 60th percentile in terms of pay for the region.
As an added bonus, the new county police pay matrix also will give officers credit for every five years served. Patterson said all police agencies are struggling to find new recruits, so attracting seasoned officers is going to be the quickest way to get to the department's goal of hiring 150 officers.
Stenger said the $105 million per year that the police department receives from the county's general fund will not change.
Stenger said the new wage scale is dependent on the council's approval.
Council Chairman Sam Page said he has yet to see the numbers but looked forward to the proposal.
Though the raises are much appreciated, Patterson cautioned that years without raises have meant a big increase like this one only brings the department in line with its peers.
"This is the first major pay increase we've had in years, so (officers) are not exactly jumping for joy," Patterson said. "They feel validated that now they are being recognized for their services as they should be, but it's not like we're doing backflips. It's been a long, hard road to get here.
"But for the first time ever, we have a fully funded pay matrix that sets a lighted path for these officers to start planning their careers here. With competitive pay, we'll be able to recruit and retain the finest officers in the region."
"We're not trying to snub the city," said Patterson, who uses a grass-cutting analogy to explain his position. "If I cut my grass, and you wake up and see it and think, 'Well, now I've got to cut my grass,' I'm not going to apologize for cutting my grass.
"We're doing the right thing out here, and we're not going to apologize for leadership. And we're willing to help anyone who wants to know how we made this possible."
Patterson said he also has fielded phone calls from officers in other departments in the county who are concerned that their political leaders are not using the Proposition P money to increase their police budgets.
Patterson said his organization is willing to be the watchdog and call out any elected officials who fail to do so.
Christine Byers of the Post-Dispatch contributed to this report.