St. Louis County police say a video posted on social media is misleading.
The video shows two officers in an apparent struggle with a man holding a baby. Onlookers on a bus stopped near the arrest scene are shouting at police to let the man go. The baby, in the man's arms, can be heard crying as officers on both sides of the man try to corral him.
The video posted on one Twitter feed had been viewed more than 6,000 times by Monday morning. The video on a man's Facebook account had been shared more than 3,500 times. Police note that the person who tweeted the video acknowledges not knowing the circumstances.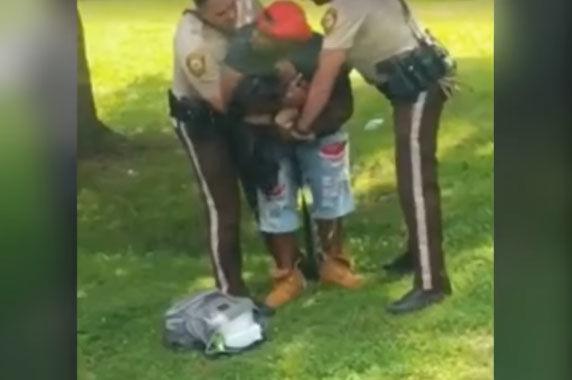 Police said it all began about 11 a.m. Sunday when an officer was called to a domestic disturbance on Count Drive in the Castle Point neighborhood of north St. Louis County. A 28-year-old woman told police that the father of her son had assaulted her, taken the child and damaged some property in her home, police said.
The officer caught up with the man at a nearby bus stop, near Monarch and Baroness drives. The officer told the man he was investigating an assault case. The man, with a baby boy in his arms, "refused to comply with the officer numerous times while continually placing the young child between himself and the officer," police said. The officer called for backup.
The next officer to arrive pulled out his Taser and approached the combative man, police said. He saw only the back of the man and didn't realize the man was holding a child, said Officer Tracy Panus, a spokeswoman for the St. Louis County Police Department.
He pointed the Taser at the man's torso, as officers are trained to do, but when the man turned and the officer saw the baby, the officer put the Taser away, Panus said. The officers then tried to hold the man up so he didn't lie on the baby, Panus said.
The man eventually was arrested, and the baby was unharmed, Panus said. A paramedic came to check on the child to make sure he was alright, Panus said. The boy was then returned to his mother.
The man, 24, of south St. Louis, was booked on suspicion of fourth-degree domestic assault, second-degree property damage and resisting arrest, said County Police Sgt. Benjamin Granda. The case is being turned over to the county counselor's office.
Granda said in an email that "the video was a culmination of a domestic assault call in which officers were attempting to safely take the suspect into custody and secure a young child."
The video, Granda added, was "selectively edited and depicts only portions of what occurred."