ST. LOUIS • A downtown St. Louis carjacking turned into an officer-involved shooting early Monday after police spotted the car hours later and chased it into the city's West End neighborhood.
St. Louis Police Chief John Hayden said the suspect reached toward his waistband as he ran away and an officer opened fire, striking the suspect in the abdomen around 4:30 a.m. No officers were hurt.
The shooting happened behind a home on Chamberlain Avenue.
The suspect, 21, was in critical and unstable condition at a hospital. Police were searching the area for a weapon the suspect may have had, but so far have turned up nothing.
The events began when a red Mustang was carjacked at gunpoint at 12:45 a.m. at Fourth and Pine streets, police said. Hayden said he didn't think the owner of the car was injured in the carjacking.
Officers spotted the car at 4:15 a.m. at Natural Bridge Avenue and Goodfellow Boulevard. Officers chased the car from Natural Bridge to the 1100 block of Clara Avenue, where the Mustang spun out, police said.
The driver got out and ran. Police chased him to an area behind a home on Chamberlain, and an officer saw him reach for his waistband, Hayden said. That's when the officer, 30, fired several shots, Hayden said.
Police said it did not appear the suspect fired any shots, and no weapon had been found. Police were using a metal detector to search for any weapon that may have been dropped along the path of the foot chase that is overgrown with weeds. Crime scene tape was strung at Etzel Avenue and Clara Avenue.
"There was not a gun on the suspect," Hayden said. "This block-and-a-half path that they ran on had several weeded areas, so we're definitely looking through that trying to locate a weapon."
The officer who shot the suspect has been with the department about two years. He was put on administrative leave, as is standard in officer-involved shootings. The department's Force Investigative Unit is in charge of the probe. Hayden said he and other commanders came to the scene, in part, to make sure police conduct a thorough investigation.
As police collected evidence, about a dozen residents, including several children, gathered near the intersection roped off by the crime-scene tape. They waited for school buses to arrive.
Pamela Neal, 46, usually lets the oldest of her seven grandchildren, an 8-year-old boy, walk the block each morning to catch his school bus. Neal said the police shooting and growing violence were "very sad."
Neal said she is not anti-police and didn't see the chase or shooting, but she said police should not assume someone has a gun because they see someone reach for their waistband.
"They didn't find a gun? The ghost came and got it," she said.
Another mother standing with her children at the bus stop told the Post-Dispatch that one of her children had overheard that there had been a shooting.
"All I said to them was, 'Just know if you do wrong, the police will be there to cover it,'" Tenysia Henderson said. "'So do right and listen to your teacher at school.'"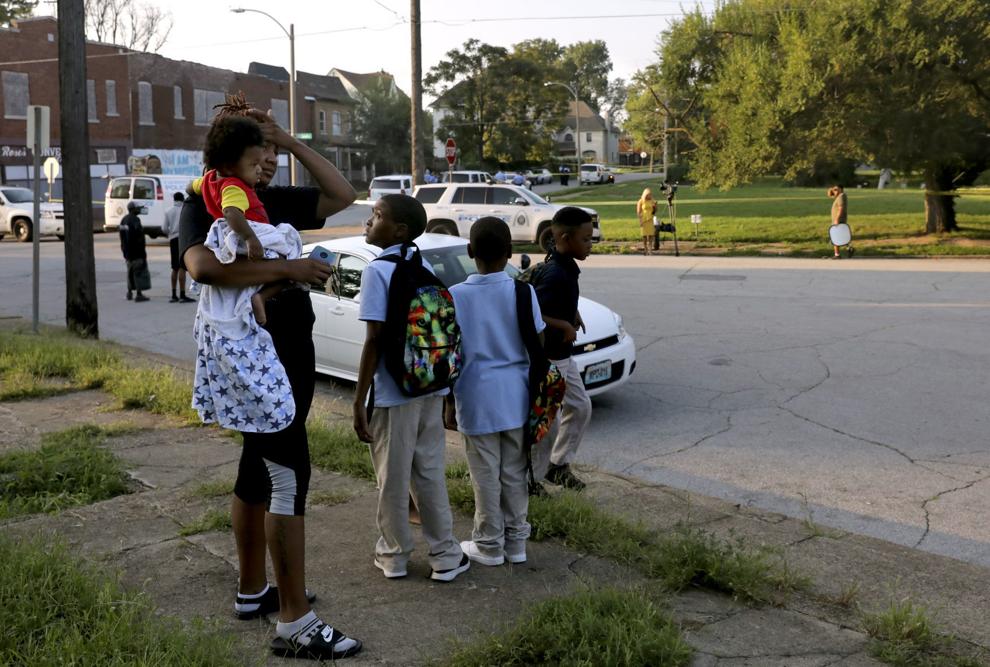 ---
EDITOR'S NOTE: This story has been updated to correct age of officer. Police initially gave an incorrect age.