HERMANN, Mo. — A police tactical team fired tear gas into a house here on Monday afternoon, flushing out the occupant and ending a 13-hour standoff in this historic Missouri River town after one police officer was killed and another critically injured the night before.
Officers arrested Kenneth Lee Simpson, 35, of Eureka, who authorities had earlier said was a suspect.
Police say Simpson shot two police officers just after 9 p.m. Sunday at a convenience store not a mile outside of Hermann's old brick downtown, popular with tourists for its wineries, tasting rooms and quaint charm.
Hermann police Detective Sgt. Mason Griffith died of his injuries, authorities said. Officer Adam Sullentrup, 31, remained hospitalized in critical condition.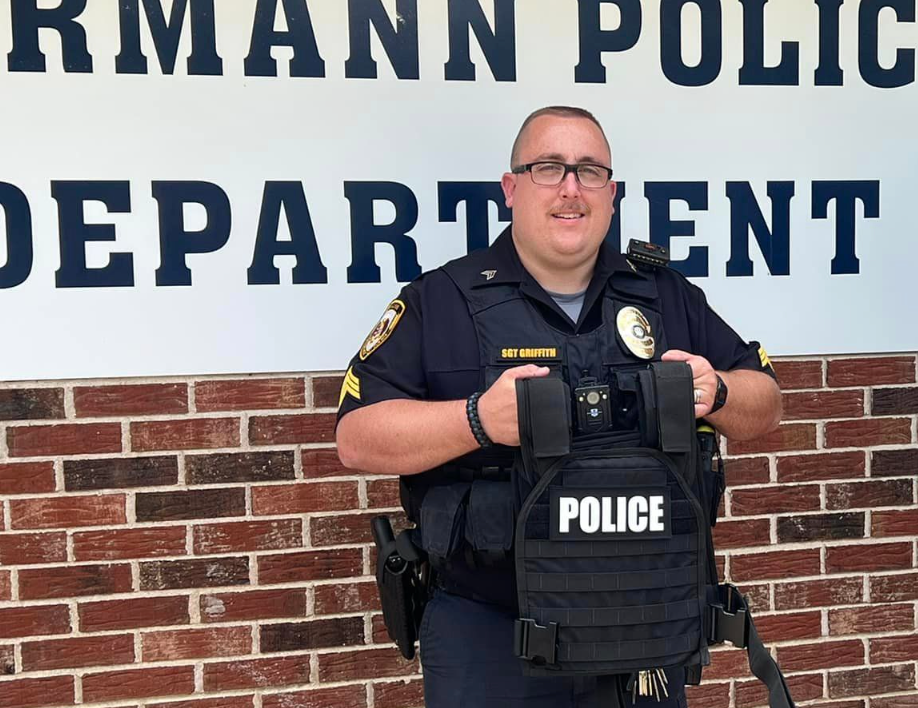 Sunday night, Griffith and Sullentrup went to the Casey's at 115 South Highway 19 looking to arrest Simpson on multiple outstanding warrants from Franklin and Warren counties, said Sgt. Mike Mitchell of the Missouri Highway Patrol, which is investigating the case. The officers were shot in an altercation inside the store, Mitchell said.
Neither Mitchell nor highway patrol Lt. Eric Brown would say if the officers returned fire or if they were wearing bullet-resistant vests.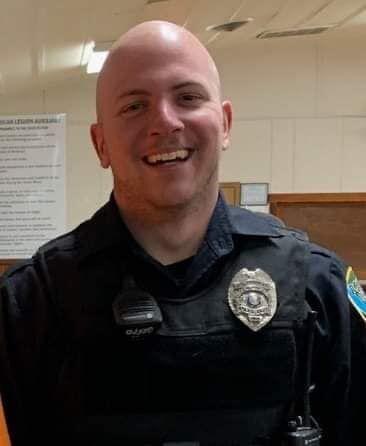 Simpson, a man with a lengthy criminal record including drugs and weapons offenses, escaped the store — but in the chaos, police weren't immediately sure how. Authorities sent out a public alert, notifying several counties that Simpson could have driven off in a black 2014 Jeep Wrangler. And police searched near a motel on East 10th Street here, where Simpson and his girlfriend may have rented a room Sunday.
But by late Sunday, police discovered that Simpson had run to a home, up a hill and just a few doors away from Casey's, also in the 100 block of Highway 19, police said. Police didn't say what connection, if any, Simpson had to the home or its residents.
Two women came out with their hands up Sunday night and got into a squad car, telling police there was someone still in the home. Officers brought in spotlights to see between two homes. A next-door neighbor was told to leave his home and sent to a hotel for the night.
A tactical unit spent hours parked outside the 1½-story vinyl-wrapped home. Overnight, neighbors heard repeated flash bangs, then police shouting into a bullhorn, ordering the gunman to come out. But no one did. 
After 11 a.m. Monday, officers sent a robot onto the front porch. The robot pulled off the storm door, then officers flew a drone into the house. Tactical officers, in fatigues and helmets with shotguns and assault rifles, peered through basement windows.
Brown, the patrol lieutenant, said he didn't know if there had been any sightings of Simpson during the lengthy standoff or if negotiators had been able to communicate with him.
A tactical and bomb squad from the St. Charles County area arrived to relieve another crew around lunchtime. Then shortly before 2 p.m., plumes of tear gas filled the home, and Simpson started to come out on his own, Brown said. Officers swarmed him, knocked him to the ground and took him to a vehicle.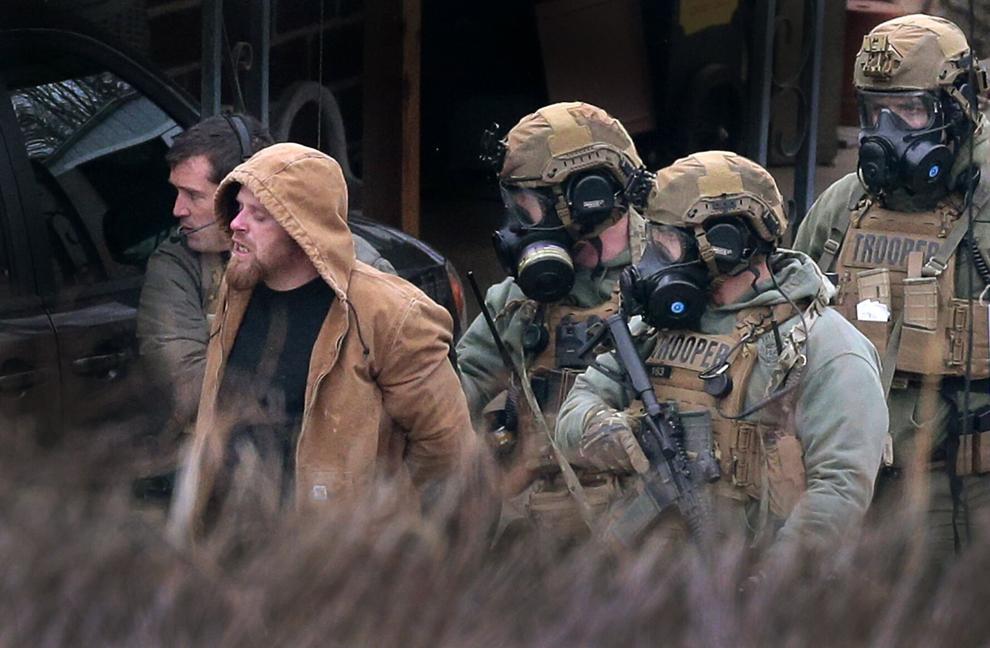 Authorities called a news conference Monday evening. Hermann police Chief Marlon Walker attended but didn't speak publicly.
"The community's hurting," patrol spokesman Mitchell said. "This happens way too often."
Residents in this town of about 2,300 mourned Griffith on Monday. Longtime resident Pat Richardson said the officer was easygoing and professional; they talked just two days ago when Richardson called to report a suspicious person near his home.
Griffith used to be a police officer in Gerald, Missouri. He also worked as chief for several years in nearby Rosebud, said Robert Koerber, who was Hermann's mayor when Hermann hired Griffith about seven years ago.
Griffith was a natural at the job, someone people could trust, Koerber said.
"He was one of my favorite officers because he had such an easy and effective style," Koerber said. "He seemed to take a personal interest in people. He was interested in whatever your problem was."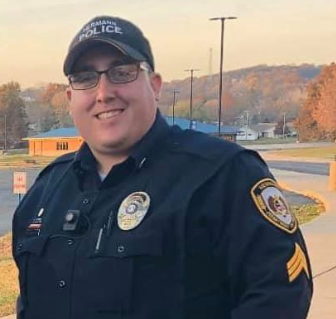 Griffith is survived by his wife, Jennifer; a 10-year-old son, Karson; and a 17-year-old stepson, Trevor.
"I've known Mason his whole life, and when he was a little kid he always wanted to be a police officer. Always, always," said Linda Crump, a longtime friend of Griffith's mother and a former police dispatcher. "He was in the top of his class at the academy."
"He was into helping people," Crump added. "He was such a good human."
Hermann is budgeted to employ about eight officers but has had trouble hiring officers primarily because of low pay, Koerber said. Violent crime "is very rare" in Hermann, Koerber said.
"There's been one murder in like the last 20 years, 30 years," said Koerber, who moved to Columbia, Missouri, two years ago. "Hermann is a community of basically quiet people who carry on without any commotion. They take pride in that, and the people support their police."
Missouri court records show Simpson has criminal cases for drugs, weapons offenses, assault and property damage. 
A 2017 weapons case out of Warren County lingered in the courts for years while Simpson was free from custody: He was charged with unlawful possession of a firearm and two counts of unlawful possession, transport, manufacture, repair or sale of an illegal weapon on Sept. 13, 2017, and was set to stand trial in 2020 — but that was canceled because of COVID-19 restrictions, a docket entry in the case shows.
Last August, a St. Louis County judge issued a warrant for his arrest when Simpson failed to show up in court in a different drug possession case.
And in September, an arrest warrant was issued when he failed to show up in court for a hearing on the 2017 case. About a month later, the case was removed from the trial docket until the outstanding warrants were served.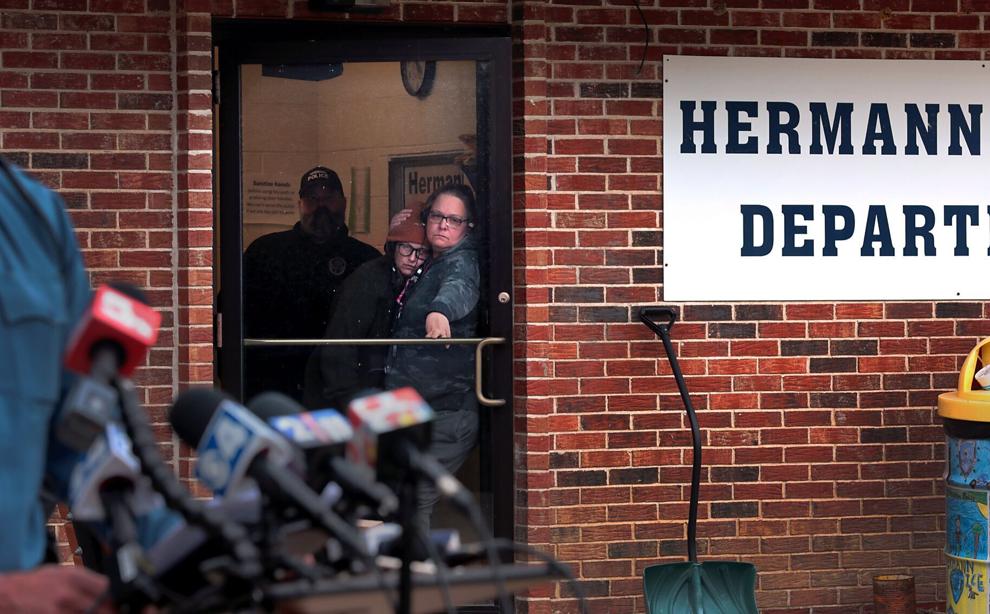 Simpson was being held Monday evening, pending charges by the Gasconade County prosecuting attorney.
The prosecutor could not be reached for comment.