The president of the St. Louis branch of the NAACP says a second person has come forward to the civil rights group with an eyewitness account of the encounter that led to a Ferguson police officer fatally shooting unarmed, 18-year-old Michael Brown on Saturday.
The first was a young man named Dorian Johnson, who has told several media outlets that the officer pulled up to him and Brown and grabbed Brown by the throat.
The second has not previously talked with reporters and is not releasing his or her name, said St. Louis NAACP President Adolphus Pruitt.
The witness "did not see Michael Brown struggling with the police officer inside his car at any point," Pruitt said earlier today. "They did witness the incident from the time it started from the time of the initial stop by the police car."
Pruitt said he set up an interview for the second witness with the FBI. Asked whether Johnson has also been interviewed by the FBI, Pruitt said he could not immediately say.
- Jeremy Kohler at 5:25 p.m.
Nixon will attend local meeting tonight
Missouri Gov. Jay Nixon, St. Louis Mayor Francis Slay and St. Louis County Police Chief Jon Belmar are all expected to attend a 7 p.m. meeting at Christ the King United Church of Christ on Old Halls Ferry Road. Ferguson Mayor James Knowles and Ferguson Police Chief Tom Jackson had previously said they were coming to the event.
Nixon has come under increasing pressure today on social media to make a statement about Michael Brown's death and the protests.
- Nancy Cambria at 6:10 p.m.
Obama calls the death of Michael Brown "heartbreaking"
President Obama has just issued a statement calling for "reflection and understanding" in the wake of the police shooting death of Michael Brown on Saturday.
"The death of Michael Brown is heartbreaking, and Michelle and I send our deepest condolences to his family and his community at this very difficult time.
"As Attorney General (Eric) Holder has indicated, the Department of Justice is investigating the situation along with local officials, and they will continue to direct resources to the case as needed.
"I know the events of the past few days have prompted strong passions, but as details unfold, I urge everyone in Ferguson, Missouri, and across the country, to remember this young man through reflection and understanding. We should comfort each other and talk with one another in a way that heals, not in a way that wounds. Along with our prayers, that's what Michael and his family, and our broader American community, deserve."
Gun sales spike at metro area stores
Sharpton says Michael Brown's family deserves justice and the facts
Sharpton, the family, their attorney and clergy walked arm-and-arm across Broadway prior to the start of the event. About 50 people and twice as many reporters calmly waited outside the courthouse prior to the start.
Sharpton and others who spoke urged supporters to attend a 7 p.m. gathering at Greater St. Mark Missionary Baptist Church, located on Glen Owen Drive about a half-mile from where Brown, 18, was shot and killed by an unnamed Ferguson police officer. Witnesses say the young man was unarmed and shot multiple times. 
The event is scheduled at the same time Ferguson Mayor James Knowles and Ferguson Police Chief Tom Jackson are scheduled to attend another gathering at Christ the King United Church of Christ on Old Halls Ferry Road. 
Sharpton said Brown was killed while showing an arms-in-the-air surrender sign to the police officer.
"That's the sign you got to deal with," Sharpton said. "Deal with the last sign he had shown. We want answers why that sign was not respected."
Sharpton said he did not come to St. Louis to stir up further controversy but to aid the family in finding out the facts and gaining justice for Brown.
"I know you are angry," he told the group. "I know this is outrageous. When I saw that picture (of Brown lifeless on the ground), it rose up in me in outrage. But we cannot be more outraged than his mom and dad. If they can hold their heads in dignity, then we can hold our heads up in dignity."
Baltimore-based pastor Jamal Bryant later spoke of Brown's death as a national civil rights issue.
"St. Louis is in fact bearing witness for America," he said. "The Band-Aid has been ripped off, and all of America is seeing the open wound of racism exists."
Bryant asked people to pray daily at 6 a.m., noon and 6 p.m. until Brown's family gets justice. He also urged people to conduct a fast tomorrow to show "that we are in fact hungry for justice."
- Koran Addo, Lilly Fowler and Nancy Cambria at 12:40 p.m. with updates
Memorial fund created for Michael Brown
Attorneys for the Michael Brown family have established the Michael Brown Jr. Memorial Fund. Supporters can go or mail contributions to any Fifth Third Bank.
- Lilly Fowler at 5:30 p.m.
Nine charged with looting-related crimes
- Joe Holleman at 4:45 p.m.
Aircraft restricted over Ferguson, but Lambert flights exempt
The Federal Aviation Administration has imposed temporary flight restrictions in the airspace over Ferguson "to provide a safe environment for law enforcement activities," according to a notice that went out today. The restriction covers flights up to 3,000 feet.
During the upcoming week, only certain aircraft operations under the direction of the St. Louis County Police Department are allowed. Commercial flights to and from Lambert-St. Louis International Airport are exempt from the flight restriction, said FAA spokesman Tony Molinaro.
The flight restriction was put in place at the request of St. Louis County police after shots were fired at helicopters during this week's unrest in Ferguson. St. Louis County police officials say the restriction is not meant to bar media aircraft from the airspace but to keep first responders and police safe.
KMOV-TV news director Brian Thouvenot said the flight restriction effectively shuts it and other news helicopters out of covering the evolving Ferguson story.
"There's nothing you can see from that distance and altitude," Thouvenot said. "It pretty much applies only to us."
Thouvenot said his news organization is sensitive to the needs of law enforcement, but would rather have police discuss how airborne footage might jeopardize safety than to ground helicopters across the board. As it stands, KMOV-TV officials have been unable to find out who actually sought the flight restriction in the first place.
The flight restriction, he added, "keeps you away from getting information that might be newsworthy." It actually is a double-whammy, he said, because KMOV-TV has a videosharing arrangement with KSDK-TV.
"It just has the appearance that they are trying to keep the news helicopters out of there for whatever reason," he said.
- Ken Leiser, Joel Currier, 3:45 p.m. with updates
Ferguson restaurants reopen, welcome back community
Looted businesses reopening
Several of the West Florissant Avenue businesses struck by looters late Sunday in Ferguson and Dellwood reopened Tuesday. Among those that got back into business were Zisser Tire & Auto and and a nearby Taco Bell. But others, including AutoZone and Shoe Carnival, remained closed.
- Tim Barker at 4:30 p.m.
Protesters gather outside Clayton Justice Center this morning
Protesters gathered outside the St. Louis County Justice Center on Tuesday morning to demand justice in the case of Michael Brown, 18, shot by a Ferguson officer on Saturday.
About 250 protesters had gathered by about 10:30 a.m. Police closed off Carondelet Avenue near the Justice Center, and officers waited inside with riot gear at hand and plastic ties to use as handcuffs should they be needed.
Protesters walked with their hands up in a "Don't shoot" pose that has been used by protesters since Brown's shooting. Some witnesses said Brown was surrendering like that when he was shot.
"Hey hey, ho ho, racist cops have got to go," some in the crowd chanted. They also complained that there aren't enough African-American police officers and in the prosecutor's office.
Clayton police cars were inching along, trailing protesters as they snaked through the streets that surround the county police headquarters and courthouse.
Anthony Shahid said the marchers would try to enter St. Louis County Prosecutor Bob McCulloch's office, but they did not do so, saying they wanted to avoid arrest and wanted to attend a later event featuring The Rev. Al Sharpton.
"I don't trust Bob McCulloch," Shahid shouted on the steps of the county police headquarters. "His father was killed by a black man."
One of the protesters looked at a black Clayton officer standing in front of a door at the Justice Center and asked, "Who do you serve, officer?"
Just before 11 a.m. the crowd started shouting the name of the officer they think shot Brown and "lock him up."
At that time police estimated the crowd to be 150 people.
The protest began winding down about 15 minutes later. Just before noon about a dozen protesters lingered. A line of St. Louis County Police officers continued to guard the doors to the Justice Center. 
- Kim Bell, 10:15 a.m. with updates
Officer's name won't be released today
St. Louis County and Ferguson police say they do not plan to release the name today of the officer who shot Michael Brown.
The name of a Ferguson officer has been circulating on social media with claims that he shot Brown. Ferguson police said that officer was not the officer involved in the shooting.
- Joel Currier 10:15 a.m. with updates
St. Louis County Police used pepper balls, not rubber bullets
Eyewitnesses last night reported rubber bullets being used by police at the protest scene along West Florissant Avenue. But a St. Louis County police official said today county officers were using "pepper balls" —  small pellets that break on impact and release pepper powder. The powder contains the same chemicals used in pepper spray. The pepper balls are designed to temporarily disable someone and disperse crowds.
County police said they are unsure if other police units responding to the scene, such as St. Louis City police, were using rubber bullets.
Five patients were treated for minor injuries at DePaul Health Center Monday night following the demonstrations, Jamie Sherman, spokeswoman for SSM Health Care, said.
- Joel Currier and Samantha Liss at 10:45 a.m.
Blunt backs 'parallel investigations' into Ferguson shooting; Clay wants more
However, Blunt stopped short of endorsing U.S. Rep. William Lacy Clay's call for an "expanded" federal investigation that would specifically explore "the potential for any pattern or practice of police misconduct by the Ferguson Police Department."
Ferguson City Hall Closed
Ferguson City Hall was closed this morning due to "safety concerns," said Pam Hylton, assistant city manager.
A "cyber attack" shut down both the phone system and internet service at Ferguson City Hall on Monday.  The attack consisted of a "flood" of traffic aimed at the city hall website that "just kept coming" and shut down the site.  Both city hall's Internet and its phone service is supplied by Charter Communications, and the attack halted both.  Service was restored by this morning.
- Jim Gallagher, 11:15 a.m.
Looters hit St. Louis shoe store
About 11:55 p.m., a caravan of cars pulled up to the Shoe Carnival at 3503 Bamberger Avenue in Gravois Plaza and 30 to 40 people got out, police say. The group, wearing T-shirts to cover their faces, smashed windows to get inside and stole merchandise.
Police were not sure whether the break-ins had anything to do with other looting in the wake of the fatal shooting of an unarmed teen by Ferguson police, but said the caravan of vehicles was unusual.
- Valerie Schremp Hahn, 1:30 a.m.
In Ferguson, optimism about the city's revival turns to worry
Jennings schools open Tuesday after violence delayed first day of classes
It was supposed to have its first day on Monday, but the district delayed that because of unrest in Ferguson after Saturday's fatal shooting of a teen by police. 
The Jennings school district borders parts of Ferguson and West Florissant Avenue, where where rioting and looting took place Sunday into early Monday morning.
But after a relatively calm night late Monday and into Tuesday morning in Ferguson, the Jennings district was open.
A third day of rallies for Michael Brown
Protests turned into a fight with police after midnight. The day began with protesters rallying near the Justice Center in Clayton Tuesday morning asking for justice for Michael Brown. In the evening, people met with official and attended a meeting started by Al Sharpton near the site where Brown was shot and died.
FERGUSON • Tension stayed high and raw Monday as the St. Louis region waited for answers in the fatal shooting of an unarmed teenager by a municipal police officer.
In another day of fast-moving events, the FBI promised to investigate the killing of Michael Brown, 18, on Saturday by a Ferguson police officer. Brown's parents called for an end to the violence while strongly disputing the police version of their son's death. More than 1,000 people observed a moment of silence at a meeting called by the NAACP.
Throughout the day, protesters continued to face off with police, and as the sun set, lines of police in riot gear fired tear gas to disperse protesters, telling them it was time to go home. By midnight, the situation was quiet.
St. Louis County Police and the FBI promised thorough investigations into the shooting of Brown outside an apartment complex in the 2900 block of Canfield Drive. The address is just east of a stretch of West Florissant Avenue, in the eastern corner of Ferguson, that was the focus of violence and looting Sunday night after a day of peaceful protest.
Police fired the tear gas into an increasingly unruly crowd that had reformed near the QuikTrip at 9240 West Florissant Avenue, looted and torched Sunday. The gutted store was ground zero for protests all day Monday.
Police, backed by a SWAT armored car, blocked both West Florissant and the entry to Canfield Drive, scene of the killing on Saturday afternoon that touched off the protests and violence. All but a few protesters had retreated from the scene by 9 p.m., and police held their positions in the streets.
Two miles to the south, an overflow crowd observed a moment of silence at Murchison Tabernacle CME Church, 7629 Natural Bridge Road in Normandy. Cornell Brooks, the new national president of the NAACP, pleaded for calm as the community responds to the "unfolding drama."
"Martin Luther King did not live and die so that we might steal in the name of justice in the middle of the night," said Brooks, who flew to St. Louis for the gathering, sponsored by the organization's St. Louis County branch. The shooting and rioting have drawn international attention.
Damage from Sunday night and early Monday was most extensive on West Florissant, but it also jumped two miles north to commercial areas near Interstate 270, where a Walmart was among retailers hit.
Seven miles south of the scene, several retailers in Brentwood closed their doors early Monday evening. "We didn't want to take any chances," said a security guard at the Brentwood Promenade. The Galleria mall also closed early after a few girls got into a fight. Authorities said the fight was not related to Ferguson.
In south St. Louis late Monday night, looters struck a Shoe Carnival store in Gravois Plaza. Police said they did not know if the incident, in which a caravan of cars pulled up and dozens of people smashed windows and stole merchandise, was related to the Ferguson unrest. 
Protests formed and reformed all day Monday outside the gutted QuikTrip. Marchers chanted and held up their hands in a mock sign of surrender as police hovered nearby. West Florissant was crowded with horn-honking gawkers in cars.
Earlier in the day, protesters gathered outside the Ferguson police station, 222 South Florissant Road, to the west of West Florissant. More than 150 people took part, also holding up their hands and shouting, "Hands up, don't shoot," and "No justice, no peace."
At the scene of the shooting, where a growing pile of teddy bears marked the spot, a man in a white T-shirt fired a handgun Monday afternoon. Police did not respond to the scene.
Brown's father, Michael Brown Sr., 36, was surveying the mound of bears when the shots were fired.
"I just need justice for my son, get this case solved. I need everybody to come together to get this done," he said.
At 5 p.m., honking and yelling continued outside the QuikTrip.
"It feels like I am at a historical moment," said Armaon Simmons, 17, of the Normandy area. "Black people are coming together. We aren't killing each other; we are working as one."
But Zackery Keys, an African-American and union carpenter from St. Louis County, saw it differently. "This is a disturbed group of young people," said Keys, 58, from a safe distance. "This is nothing to be proud of. Who wants to be part of chaos? ... Probably 95 percent of these people don't even vote."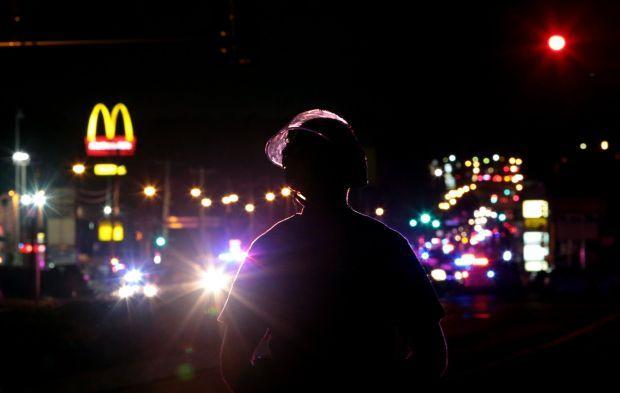 Police said they made no more than 10 arrests Monday, mostly for peace disturbance. In contrast, there were 32 arrests Sunday, leading Monday to charges against 10 suspects. St. Louis County Prosecutor Robert P. McCulloch said the 10 were all "well-known" to investigators. Police officials and political leaders appealed for calm. St. Louis County Executive Charlie Dooley announced the FBI involvement during a news conference in Clayton. The St. Louis County NAACP branch and numerous elected officials had called for the FBI to step in.
Dooley promised the process would be open but not quick. "We're asking all the public to be calm, be patient," Dooley said.
St. Louis County Police Chief Jon Belmar said the FBI "will take a lot of the information we have developed already through our investigation. They will take that investigation, and they may do their own interviews and take a look at the evidence themselves."
"We will share our information with Prosecutor McCulloch's office and at the same time with the FBI," Belmar said.
Belmar said Ferguson Police Chief Thomas Jackson contacted him Saturday even before he got to the scene of the shooting. "This is a complex investigation, as it should be," Belmar added. "We need to make sure everything's done right."
He said investigators still need to talk to scores of people at the apartment complex.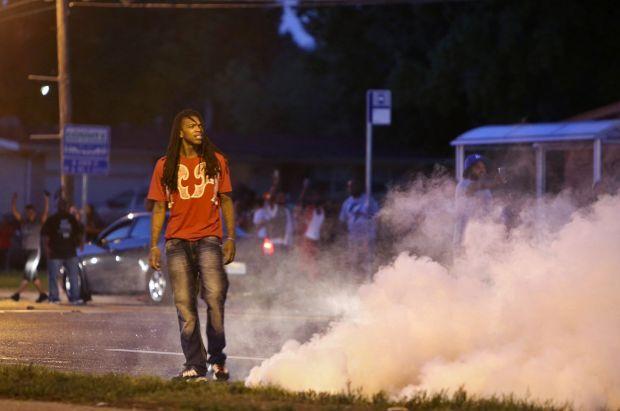 "I understand the public has a right to be skeptical," Belmar said. "But I would also ask the public to be reasonable."
Police did not release the name or race of the police officer, who was put on leave. Belmar said Sunday the officer had an encounter with two people and that Brown pushed the officer inside his police vehicle. Belmar said one shot was fired in the car. He said the officer fired multiple shots at Brown, who was away from the car, killing him.
Family members and some witnesses disputed the police account. They say Brown had his hands up in surrender when he was shot.
In Washington, U.S. Attorney General Eric Holder said the Justice Department's Civil Rights Division will take part in what he called a "concurrent federal inquiry."
"The federal investigation will supplement, rather than supplant, the inquiry by local authorities," Holder said. "At every step, we will work with the local investigators, who should be prepared to complete a thorough, fair investigation in their own right."
The county NAACP and the African-American Mound City Bar Association released a joint statement urging witnesses to come forward. The statement said it was "clear that there were many witnesses who had not yet been interviewed by police investigators."
They promised to provide free legal counsel to witnesses who come forward.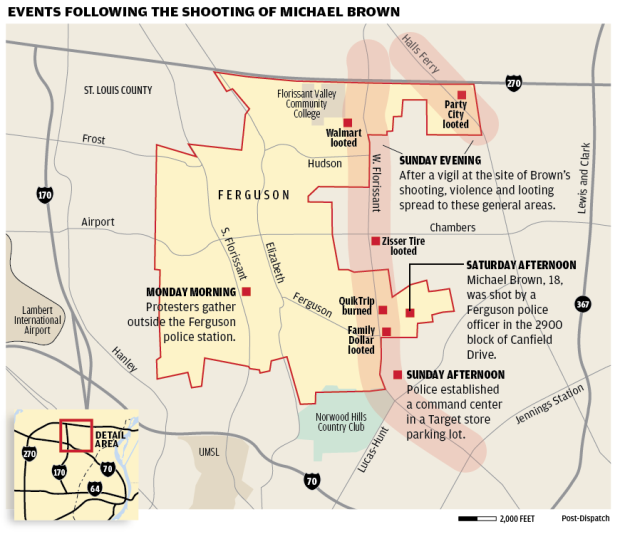 A spokesman for the Rev. Al Sharpton, of the National Action Network, said he would visit Ferguson today to meet with the victim's family and community leaders, and hold a news conference. At 7 p.m. today, the Rev. Traci D. Blackmon will host a forum at Christ the King United Church of Christ, 11370 Old Halls Ferry Road, where Ferguson Mayor James Knowles III and Police Chief Jackson were expected to be on hand to answer questions.
On West Florissant Monday, shopkeepers and employees swept debris and boarded up windows, raising sheets of plywood from trucks parked throughout the area. Not all the windows had been smashed — businesses were guarding against another round of violence.
A spokesperson for QuikTrip said employees of the burned store were transferred to other locations, and that the company hadn't decided whether to rebuild. A Walmart spokesman said it would keep its Ferguson store closed for now.
The Ferguson-Florissant School District canceled meetings scheduled for Monday evening at eight elementary schools that would have allowed parents and students to meet teachers and visit classrooms. School is to begin Thursday.
"We are heartbroken by the tragic events of recent days in and around the City of Ferguson," administrators wrote on the district website. "We are planning to receive and support our students when school begins this Thursday, and we look forward to working closely with our community to heal and rebuild."
The Jennings School District, just east of the apartments on Canfield, canceled the first day of school Monday. "Safety is our uppermost concern," according to a district news release. "At this time we do not feel it's safe for our students to walk to school." Classes were scheduled to begin today, according to the district website.
At the QuikTrip, one man who claimed to have taken part late Sunday sought to justify the violence. But other citizens dropped by to decry the mayhem and to urge businesses to continue serving the area.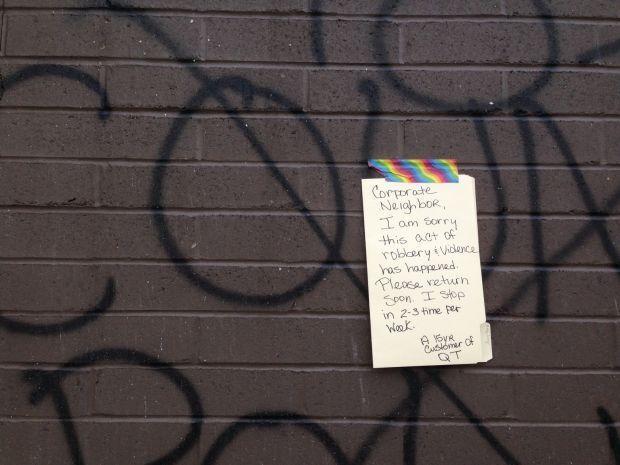 Leonette Hilliard, a middle school English teacher, wrote a note to the store and taped it onto the side wall saying, "Corporate neighbor: I am sorry this act of robbery and violence has happened. Please return soon."
She taped it across graffiti saying "187 county police," the 187 being a slang reference to murder. Hilliard said she comes to the store to two or three times a week and has been doing so for about 15 years.
"This just doesn't represent who we are as a community and I wanted just to say something to do something that was productive," she said.
Belmar said Monday that officers originally were deployed the night before so protesters had an "opportunity to vent, but at some point we could no longer sustain that attitude." He said they moved to police cars to become more mobile as departments received numerous calls for shots fired, vandalism, burglary and assault.
"It was a miracle, however, that nobody actually got shot (Sunday) night," Belmar said. "I was expecting the worst. You can never tell, when you're in an environment like this."
Tim Barker, Kim Bell, Jesse Bogan, Jessica Bock, Tim Bryant, Nancy Cambria, Stephen Deere, Lilly Fowler, Steve Giegerich, Valerie Schremp Hahn, Paul Hampel, Jeremy Kohler, Tim O'Neil, Margaret Gillerman and Nicholas Pistor, all of the Post-Dispatch, contributed to this report.