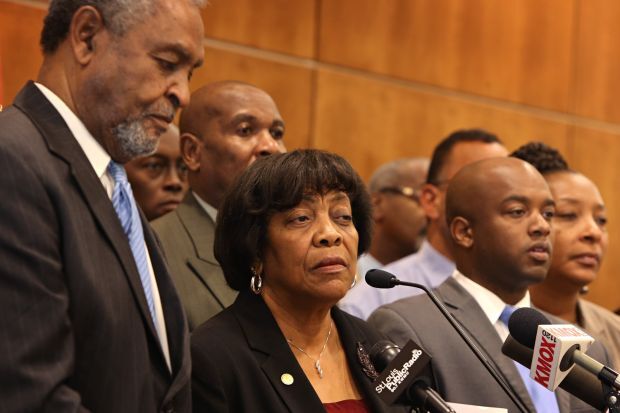 ST. LOUIS COUNTY • A newly formed coalition of African-American Democrats announced Wednesday that they would not back any candidate who has exhibited "disrespect" for the black community on issues such as education, jobs and racial profiling.
Headed by St. Louis County Chairwoman Hazel Erby, D-1st District, the coalition pointedly withheld support for Steve Stenger, the Democratic candidate seeking the county executive post in the November general election.
A University of Missouri-St. Louis political science professor believes the criticism of Stenger by a coalition of black leaders and Ferguson demonstrators may have the unintended affect of driving up the Democrat's approval among white voters.
"It might change things slightly in Stenger's favor," professor Terry Jones said. "It may make him more sympathetic among some white Republicans, particularly so in South County but probably not as much in West County."
Flanked by 35 mayors, council members representing several North County municipalities and state representatives, Erby emphasized that the coalition did not plan to "single out a specific" public official in the November election and beyond.
The coalition, she said, will explore its "options" before deciding on an endorsement of Stenger, his Republican opponent, State Rep. Rick Stream or a potential write-in candidate.
Berkeley Mayor Theodore Hoskins was not as circumspect, telling reporters that "Steve Stenger does not have the best interests of our community."
Stenger discussed on Wednesday a turbulent County Council meeting Tuesday night at which speakers repeatedly warned that his political support from County Prosecutor Robert McCulloch would haunt him at the polls on Nov. 4.
Referring to angry demands that he separate from McCulloch by noon Wednesday, Stenger said, "The answer is, 'no,' I'm not going to denounce Bob McCulloch. He has been our elected prosecutor for 25 years, and by state law he has been charged with doing a complete, thorough and unbiased job. And I truly believe he will do that."
Activists maintain the long-ago line-of-duty murder of McCulloch's police officer father by an African-American will influence his decisions in the investigation into the fatal shooting Aug. 9 of Michael Brown, a black teenager, by white Ferguson police Officer Darren Wilson.
Stream said Wednesday that he supported the appointment of a special prosecutor to shepherd the Brown case.
"(But) the die has been set in this case. Mr. McCulloch had a chance to step aside and frankly it would have removed all doubt about having a fair and independent investigation," Stream said.
Moving forward, Stream added, he supports the idea of naming a special prosecutor to handle all cases involving police shootings.
Stream, who has spent time in Ferguson over the past weeks, said he remained committed to running on his record as a legislator who crossed party lines to work with Democratic legislators on the Normandy school transfer bill and other issues important to North County voters.
Stenger and his campaign team meanwhile continue to maintain that the multitude of registered Democratic county voters will bring victory in November.
Erby and the municipal and state elected officials forming the Fannie Lou Hamer Democratic Coalition (named for the late Mississippi civil rights advocate) believe otherwise.
In a written statement announcing the creation of the group, Erby said, "We are all serving notice that we are NOT going to support candidates just because they have an insignia of a donkey behind their name."
Stenger said he didn't foresee the coalition's affecting his working relationship with Erby.
"I value her opinion and concerns a great deal," he said. "Directly and indirectly she has expressed her concerns for her community and our community. I hope this is the first step toward a meaningful dialogue."
Stream, who consulted with Hoskins and Erby prior to his victory in the August GOP primary, did not find the establishment of the coalition surprising.
"I think we are seeing an effort on the part of black elected officials who feel they have not received a fair shake and are looking for answers somewhere else," the Republican candidate said.
Jones contends the threats to derail the Stenger candidacy will have a negligible impact on the outcome of the coming election. Jones said the demonstrators lacked the "significant organization" required to carry out the threat at the ballot box.
Nor does Jones see credence in related threats to write in the name of Michael Brown or another unannounced candidate.
"You can write in a vote, but it's largely a symbolic gesture," said Jones. "It won't have any impact on the overall race."