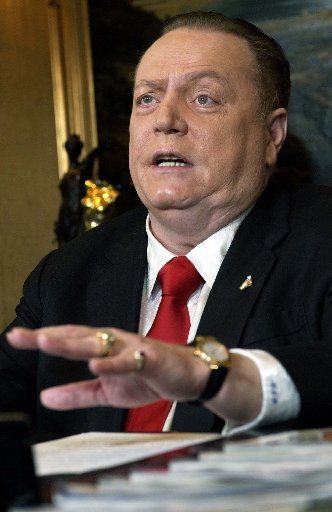 ST. LOUIS • Pornographic magazine publisher Larry Flynt has a right to join death row inmates in a lawsuit seeking to reveal the Missouri execution protocols, his lawyer told federal appellate judges here Wednesday. A government lawyer argued otherwise.
The three-judge panel of the Eighth Circuit Court of Appeals may not rule for months on procedural issues underlying one of two suits seeking the same result. The other case is to be heard in Cole County Circuit Court in Jefferson City next week.
Flynt, publisher of Hustler magazine, did not attend Wednesday. But a lawyer for the American Civil Liberties Union said Flynt deserved the same First Amendment right to intervene as anyone else.
"The public has a right to know what's going in the federal court, and when records are hidden, the public doesn't know," said Tony Rothert, legal director for the ACLU of Missouri.
The suit at issue was filed in 2012 in federal court in Kansas City by death row inmates, challenging the execution protocol in Missouri as under Eighth Amendment protection against cruel and unusual punishments. They lost and have filed an appeal.
Secrecy drew Flynt into it.
"This is an unusual case in which docket entries are sealed, even one of the court's orders is sealed," Rothert said. "That is really remarkable and not how things are done in America."
Flynt was shot and paralyzed by white supremacist Joseph Paul Franklin in 1978. Franklin spent years on Missouri's death row for a 1977 sniper killing outside a synagogue in Richmond Heights. He was executed in November 2013. Flynt became involved in this court battle weeks before Franklin's execution.
U.S. District Judge Nanette Laughrey, of the Western District of Missouri, denied Flynt's petition with a one-sentence order: "A generalized interest in a subject of litigation does not justify intervention."
The Court of Appeals is being asked to reconsider that order.
On Wednesday, Gregory M. Goodwin, an assistant attorney general, said it was a case about federal court rules, not the First Amendment. Flynt could file a separate lawsuit if he wants, Goodwin said, but should not be allowed to join this one.
Rothert said that anyone should be able to intervene but that Flynt "brings more attention to the case."
He noted that the plaintiffs, who are death row inmates, "are dropping off at about once a month because they are being executed, and soon there will be no one left to argue for the openness of court records if you have to have a plaintiff argue for it."
Next week's case in Cole County invokes the state Sunshine Law in seeking details of Missouri's executions. Rothert said he hopes it will reveal the identity of an anesthesiologist working for the execution team.
Organizations signing briefs in support of Flynt's intervention included the New York Times, the Washington Post, POLITICO and the Missouri Press Association, whose members include 250 newspapers, including the St. Louis Post-Dispatch. Public Citizen, a consumer watchdog group founded by Ralph Nader, also added its support.
The appeal is being heard by Judges William Jay Riley, C. Arlen Beam and Steven M. Colloton.