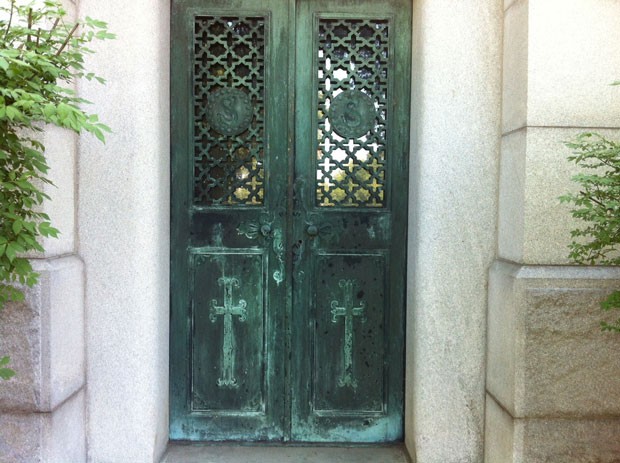 UPDATED at 12:05 p.m. Wednesday with archdiocese saying they are looking at ways to beef up security on the grounds.
ST. LOUIS • Thieves likely looking to get quick cash for scrap metal have made off with a heavy mausoleum door from the historic Calvary Cemetery.
Monsignor Dennis Delaney, director of Catholic cemeteries for the St. Louis Archdiocese, said the door was taken off its hinges and carted away sometime between 5 p.m. Monday and 6:30 a.m. Tuesday, when the groundskeeper arrived at work and saw it was missing.
Police are investigating the theft. Delaney estimates the door weighed several hundred pounds and will cost about $3,000 to replace.
The cemetery at 5239 West Florissant Avenue is the final resting place of some of St. Louis' most notable citizens, including Tennessee Williams, Dred Scott and Auguste Chouteau.
The door was taken from a family mausoleum. Family mausoleums at the cemetery typically house six to 12 crypts, and are protected by two large bronze doors, Delaney said. He didn't identify the family name associated with this mausolum. He said the archdiocese is still trying to contact relatives. The mausoleum is now boarded up and not accessible.
Nothing inside the mausoleum was disturbed. It is protected by two large doors. One was taken off its hinges and stolen; the other was tampered with but remains.
"It looks like they were scared away, maybe they were scared off or the traffic on West Florissant distracted them, or maybe it was too heavy to deal with," Delaney said.
Because the cemetery gates leading to West Florissant are locked with padlocks at 5 p.m., Delaney thinks the thieves found a way to get the heavy door over the gate.
"Our best guess is that they passed it over the iron fence to someone on the other side," he said. "We regret the fact that someone had to resort to this kind of vandalism."
He said it's valuable metal for scrap metal thieves. He said staff members went to local scrap yards on Wednesday morning "to reiterate we're anxious to get it back."
A spokeswoman for the Archdiocese confirmed that there have been occasional thefts in the past.
"It is a sad situation, one that is rare, but always unfortunate," the spokeswoman said in an email. "We pray for the families of those who have been hurt by any crimes of this nature, as well as for those who are responsible."
Because of this most recent case of vandalism, cemetery administrators will be looking at what can be done to beef up security on the property.