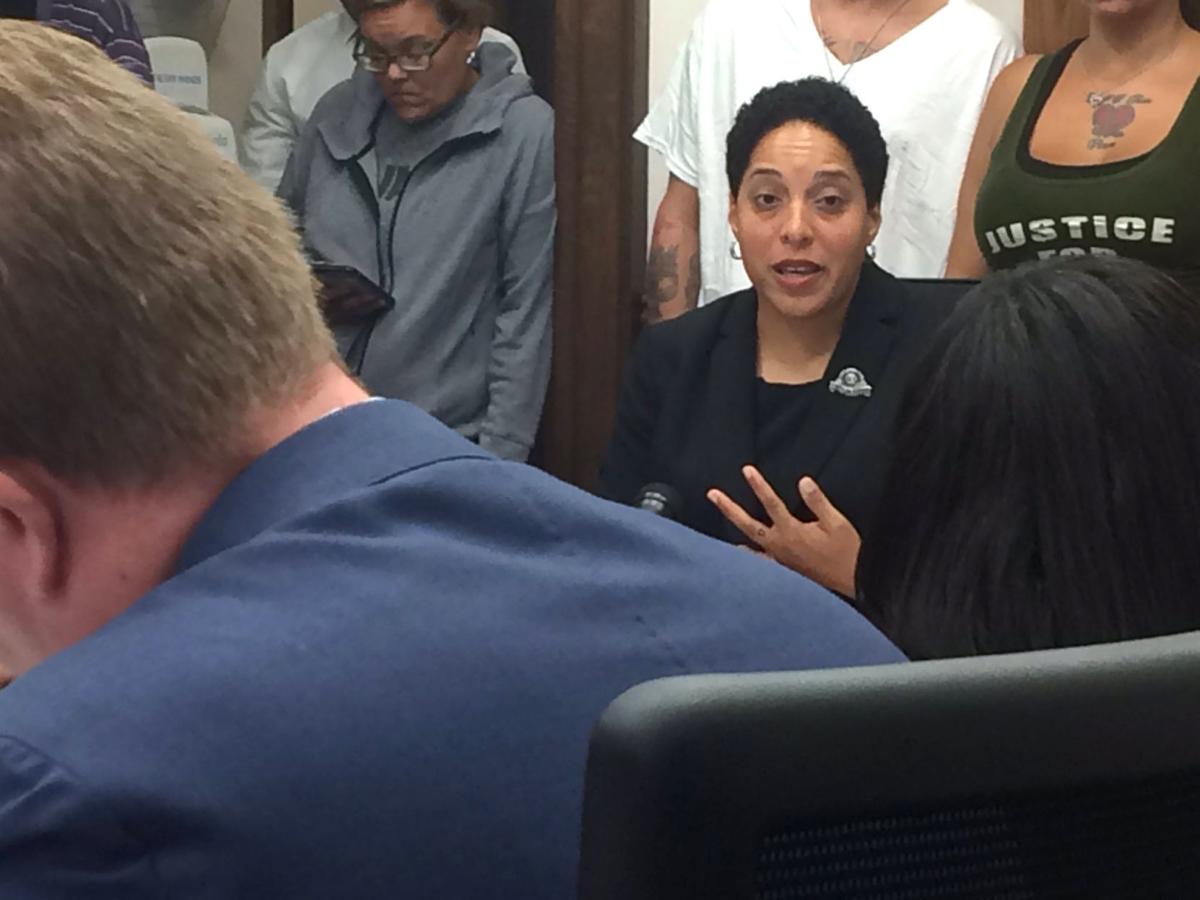 ST. LOUIS • Circuit Attorney Kim Gardner is asking for $1.3 million to launch an independent team to lead all police shooting investigations in St. Louis.
Gardner told the Board of Aldermen's public safety committee Tuesday that she wants to hire five investigators, four prosecutors and two support staff to effectively replace the police department's Force Investigation Unit formed in 2014.
The team would solely investigate police use-of-force incidents in the city, she said.
Its purpose would be to provide unbiased investigations that promote "confidence in the criminal justice system when so many people — especially people of color — feel the system is rigged against them."
"Public trust is a vital element for our criminal justice system to work effectively," Gardner told committee members. "This trust determines if the community will report crime, assist in holding wrongdoers accountable, and have confidence in our court's outcomes. Assuring a fair and impartial process for officer-involved shootings is central to establishing that trust."
Gardner's proposal comes fewer than three weeks after a judge found former St. Louis police Officer Jason Stockley not guilty of premeditated murder in the 2011 fatal shooting of a drug suspect following a chase. The judge's ruling has sparked protests.
Under Gardner's proposal, the team would lead all investigations into police shootings starting from the moment yellow tape surrounds the scene. Her investigators would guide all witness interviews and the collection of evidence.
"It is no longer acceptable for police to be investigating themselves," Gardner said.
Creating a team giving Gardner the authority over police shooting investigations probably would require a new ordinance or charter amendment, Alderman Terry Kennedy, public safety committee chair, said Tuesday. It is unclear whether money for the new unit would come from general funds or the police budget.
Force Investigation Unit
For three years, police shootings have been handled by the Force Investigation Unit led by Lt. Roger Engelhardt. Its formation was controversial among police union leaders who feared officers would be unfairly scrutinized.
The team has investigated more than three dozen police shootings, spending "hundreds of thousands" on training the team, Engelhardt said. The team turns over all evidence to prosecutors without making recommendations about charging police officers.
"They are the independent investigator — they are the independent voice," Engelhardt said of the circuit attorney's office.
After the 2015 police killing of 18-year-old Mansur Ball-Bey, then-Circuit Attorney Jennifer Joyce announced her office would begin separate but parallel investigations from the Force Investigation Unit.
Maj. Mary Warnecke said last week that since parallel investigations began, the circuit attorney's office has stopped asking police for evidence. But Gardner on Tuesday said Warnecke mischaracterized the nature of the side-by-side investigations, saying, "It's not truly a parallel investigation because FIU controls the scene."
Engelhardt said that he has always cooperated with prosecutors and has delayed shutting down a crime scene, sometimes for hours, to wait for prosecutors to arrive.
"I welcome them personally to the scene and tell them everything I know that we have gathered," he said. "They can listen in on interviews with witnesses at our homicide office, and can even text questions to detectives who are doing the interviews."
A big backlog
Gardner's proposal exposed tension between her office and the police department. She said Engelhardt's unit has intentionally withheld evidence from her office in 25 pending police shooting cases — including more than a dozen cases this year.
"Right now, the process we're using is not working," Gardner said.
But Engelhardt attributed delays to the departure of prosecutor Cynthia Copeland, who handled police shooting cases and left Gardner's office months ago. He said he has been asking prosecutors whom he should send reports to and that no one seems to know. He said he has been unable to get through to Gardner.
Committee members asked Gardner if high turnover in her office may have caused the backlog. At least 27 prosecutors have quit Gardner's roster of about 60 attorneys since she took over in January; some of them blamed Gardner's leadership skills and poor internal communication. Gardner on Tuesday blamed the turnover on low salaries and high caseloads and said turnover is common whenever there is a change in leadership.
On Tuesday, Engelhardt said, he received a letter from First Assistant Circuit Attorney Robert Steele requesting documentation in all open cases since October 2014.
"I'll be happy to turn over everything we have," Engelhardt said.
Aldermen asked Engelhardt for his opinion on Gardner's proposal. He said, "There's never going to be a divorce of the police department and the circuit attorney's office. We need them, and they need us."
Alderman Jack Coatar asked Gardner about having the Missouri attorney general take over the investigations into shootings by police. She said she was entrusted by residents to hold police accountable, having campaigned last year on the issue of restoring public trust in the criminal justice system. The proposal she presented was modeled after a unit in San Francisco.
Four investigators won't be enough to handle what Engelhardt and Gardner agreed are complex cases, said Engelhardt. He said he already must outsource some technical tasks, such as analyzing video evidence, to other members of the police force.
Gardner said she would likely hire police officers and people with other skills as investigators. She mentioned Steele, a former public defender of 24 years who was among three prosecutors on the Stockley murder trial.
'Nothing to hide'
One problem in prosecuting police shooting cases — especially nonfatal cases where a suspect may face charges — is that officers have refused to provide statements, which limits her ability to prosecute violent offenders, Gardner said.
"Pleading the Fifth (Amendment) prevents us from pursuing charges against dangerous people and makes it impossible to prosecute," she said.
In June, after a judge denied a continuance in the case, the circuit attorney's office dismissed assault and armed criminal action charges against a woman who was shot multiple times by police in 2015.
Jennifer Morgan-Tyra, then 41, was shot during a call May 8, 2015, after she refused to drop a gun and raised it toward Officer Andrei Nikolov, said Nikolov's lawyer Brian Millikan.
Millikan said Nikolov intended to invoke his Fifth Amendment right not to testify because the criminal investigation by the circuit attorney's office was still pending.
"The idea that they don't want to testify in the prosecution is not true," he said. "We're trying to balance out officers' rights under the Constitution with the need and desire to prosecute these defendants."
Millikan estimates that he has about 20 clients who may not testify because they remain under investigation.
"If you're telling the truth, you have nothing to fear," Gardner said.
But Millikan said that's not true, citing the Stockley trial. "We just went through a murder trial that never should have been issued or prosecuted," he said.
The St. Louis Police Officers Association said in a statement Tuesday that it has "serious concerns" about the effectiveness of Gardner's oversight in police use-of-force cases and said the Force Investigation Unit should remain in place. It also said it would welcome reviews of cases by the attorney general's office.