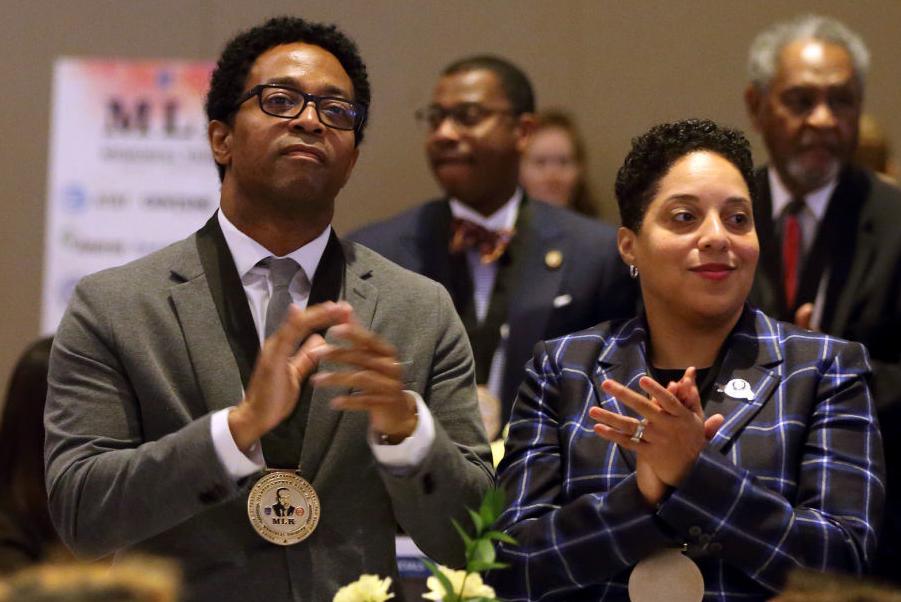 CLAYTON — The St. Louis area's top law enforcement officials said Friday they were disappointed they have been shut out of an ongoing discussion about fundamentally changing the way laws are enforced in St. Louis and St. Louis County — one that has already moved the city and county police departments to experiment with joining forces in a high-crime area.
That's what happened Oct. 6 in a meeting of 14 people, including the leaders of three of the area's biggest companies, Mayor Lyda Krewson, County Executive Sam Page, the city and county police chiefs and consultants.
The effort even has a name: Regional Public Safety Project, according to an agenda obtained by the Post-Dispatch from Page's office through a public-record request. Those in attendance got a briefing on one of the first efforts to come out of that project: an experiment designed by consultants to combine a county police precinct and a city police district for 120 days to jointly tackle a high-crime area that straddles the city-county line. That top-secret plan got underway in late October, according to memos obtained by the Post-Dispatch.
But St. Louis Circuit Attorney Kimberly M. Gardner and St. Louis County Prosecuting Attorney Wesley Bell said Friday that they were not invited to the meeting and did not know what the group was planning.
The agenda from the Centene-led meeting suggested the experiment was part of a more comprehensive effort related to the region's safety — one neither Gardner nor Bell had been invited to be a part of.
Gardner said in a statement on Friday: "The residents of the city of St. Louis expect that their highest elected officials will, at a minimum, inform the city's Circuit Attorney of discussions of this nature. The Circuit Attorney will ultimately prosecute the crimes resulting from the proposed public safety experiment. The private sector has an important interest in making our city a safer place for all, but they cannot replace the elected representatives of the people."
Sam Alton, Bell's chief of staff, said in an interview: "It's difficult to imagine how that conversation can take place without including our office and the office of the circuit attorney." He said Bell felt a conversation about public safety "was a good thing, however, all the relevant parties need a seat at the table to come together and make the county as safe as it can be."
Elected officials angry
The newspaper disclosed the existence of the project in stories last week. In response, elected officials in Jennings and north St. Louis said they were furious and humiliated that St. Louis-area companies were directing police policy in a majority Black area without their input. And LJ Punch, a St. Louis County police commissioner appointed by Page last year, quit rather than "becoming complicit" in the secret plan.
An email invitation sent to Page's office from Centene, also uncovered in the newspaper's public record request, indicated that the meeting had been organized by Centene CEO Michael Neidorff and that the invited participants from area businesses were Andrew C. Taylor, CEO of Enterprise; David Steward, chairman and founder of World Wide Technology; and Kathy Osborn, executive director of the Regional Business Council.
In addition to Page and Krewson, St. Louis Public Safety Director Jimmie Edwards, U.S. Attorney Jeff Jensen, St. Louis police Chief John Hayden and St. Louis County police Chief Mary Barton were listed as participants.
The rest included retired St. Louis police Chief Dan Isom, a criminology professor at the University of Missouri-St. Louis; and three consultants from Teneo, a New York- and London-based CEO advisory group that have been reviewing the city and county police departments on behalf of Centene and other St. Louis companies.
The agenda suggests Neidorff planned to open the meeting with a five-minute overview of the project. Then, consultants from Teneo would give an overview about a "120-day crime reduction/community engagement" project. Presumably, it was the effort to have the 8th Precinct in the city of Jennings join forces with the city police department's 6th District in north St. Louis.
Then there would be a 20-minute discussion, followed by a presentation from the police chiefs about the project's "next steps," and five minutes of closing remarks by Neidorff.
Barton has not talked about the effort. The department did not make her available to comment on previous Post-Dispatch stories, and she hung up on a reporter last week.
Asked by a reporter on Friday to disclose what was discussed at the meeting, Barton referred a reporter to a public information officer, who emailed a statement: "We have been discussing a multi-faceted approach to increase the safety and quality of life of those we serve. We are still sorting out the details and engaging stakeholders in the conversations. It would not be appropriate to discuss a lot of the specifics at this time, but we hope to provide more context in the coming days and weeks."
The newspaper asked a spokesman for Page what was discussed at the meeting and an overview of the long-range plans for the public safety project.
Page said in a statement: "It was a meeting about public safety in St. Louis County. We listened to concerns about rising crime rates in St. Louis County and we all agreed we are eager to see the final report from the consultant, which should come by the end of the year."
Jennings, a city of 15,000 residents that abuts the city's northwestern edge, disbanded its own scandal-plagued police department in 2011. The much larger county police department has patrolled the city since then under a renewable contract. The city is paying $4 million this year for 38 police officers, including a captain and seven sergeants. The agreement expires in May.
The Jennings City Council on Friday scheduled a special meeting for Monday with two items on the agenda: the Post-Dispatch article and the future of that contract.