A St. Louis Circuit Court jury of nine women and three men deliberated one hour and 40 minutes before finding Elizabeth Vega, 49, guilty of assaulting an officer, a misdemeanor. Vega remains free on bond pending her sentencing on Nov. 21. She faces up to a year in jail.
Vega, of the 2200 block of Portis Avenue, participated in the protests after a Ferguson police officer shot and killed Michael Brown, 18, in August 2014. She became prominent in similar demonstrations in St. Louis that began two months later, when an off-duty St. Louis police officer killed VonDerrit Myers Jr., also 18, in an exchange of gunfire in the Shaw neighborhood.
Among those protests was one she led on May 19, 2015, outside the home of Circuit Attorney Jennifer Joyce, who earlier that day had declined to charge the officer who shot Myers. Joyce lives in the Holly Hills neighborhood north of Carondelet Park.
Dotson and Vega testified Tuesday in the courtroom of Associate Circuit Judge Nicole Colbert Botchway. Dotson said she approached him in the street, cursed him and the police department, and wiped pepper spray from her arm onto the front of his white uniform shirt. Vega denied cursing anyone and said the chief initiated the contact, which she called unintentional.
The prosecution showed a 15-minute cellphone video taken by a police sergeant showing protesters shouting and cursing officers. It did not record the Dotson-Vega encounter. Police officers fired pepper spray at some protesters, including Vega.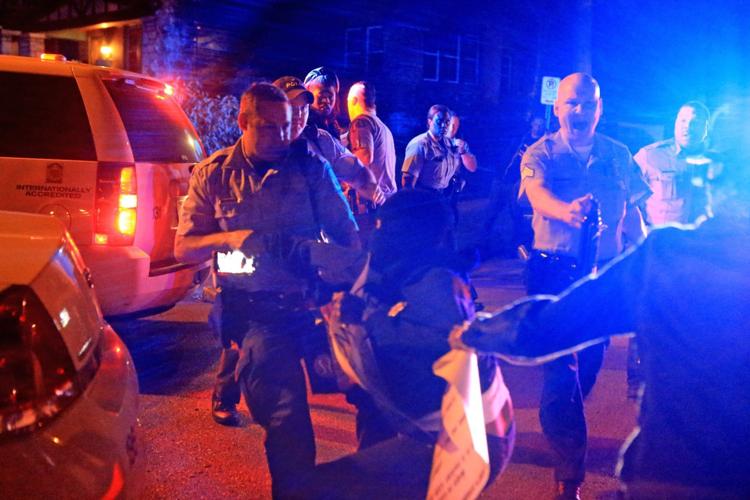 About a dozen of her friends were in the courtroom for the verdict, watched closely by six sheriff's deputies. There was no outburst, although two friends angrily left the room.
Afterward, Vega wept in the hallway as supporters took turns hugging her.
"All I have is my truth, and a broken system that I will continue to fight until it becomes truly just," Vega said. "I chose to fight (in court) so that power be held accountable, but clearly accountability only goes to protesters, not police officers who use pepper spray or chiefs who lie on the stand."
Reached afterward, Dotson said the case "isn't about her and it isn't about me, but about all the officers doing their jobs. It's no secret that protesters approach and taunt police. That's part of our job. But when you put your hand on an officer, that crosses the line," he said.
In closing arguments Wednesday, assistant circuit attorney Stanislav Levchinsky took a similar approach.
"No one was arrested that night for shouting," Levchinsky said. But, he said, "you cannot in any circumstances initiate physical contact with an officer in that situation."
Dramon Foster, Vega's lawyer, said in his closing that Vega approached the chief to complain about "the outrageous conduct she witnessed by police officers ... She wanted to make a point, not make an impression on his shirt."
He asked jurors to understand that some of the conduct recorded on the video, while rowdy, "was the way these protesters decided to express their displeasure" in being hit with pepper spray and seeing colleagues get arrested.
"None of them made any threats," Foster said.
He said he will appeal the verdict.