CLAYTON • Twenty-two protesters arrested during a demonstration Saturday at the St. Louis Galleria were released Sunday as the American Civil Liberties Union of Missouri raised concerns about force used by police in taking them into custody.
About 200 protesters gathered Sunday afternoon outside the St. Louis County Justice Center in Clayton to meet those released. At times they blocked the street or marched through downtown Clayton as they waited for the final arrestees to be freed.
Seven were charged with state crimes, including misdemeanor counts of rioting and interfering with or resisting arrest. One woman was also charged with a felony, assaulting a law enforcement officer.
Police say the woman, the Rev. Karla Frye of St. Peter AME Church in St. Louis, jumped on an officer's back as she tried to stop him from making an arrest. Police say he was taken to a hospital to be treated for a back injury. There was no update on his condition.
Photos taken by a Post-Dispatch photographer show her grabbing an officer from behind as he appears to be trying to arrest someone. A photo also shows her arrest, with a police officer's hand at her neck. Protesters complained that she was being choked.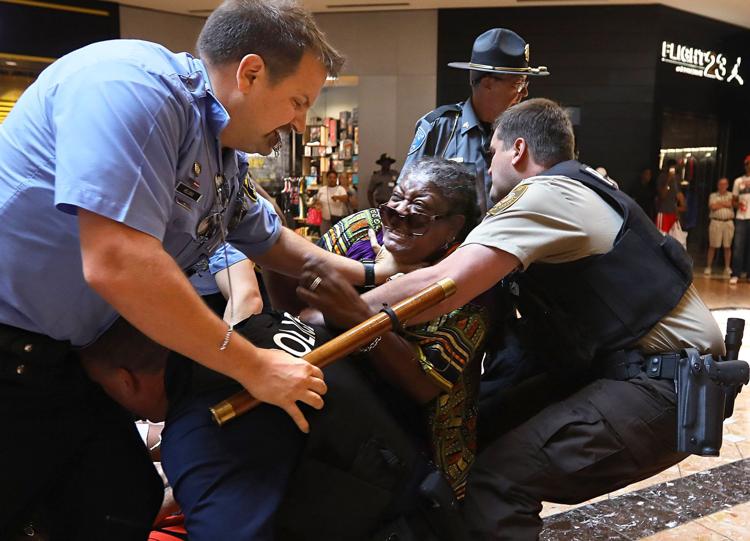 "Defendant resisted her own arrest with physical force," a court document filed in her case says. It says Frye and others "collectively refused police commands to disperse, and reacted to police commands with physical force and violence."
Family and lawyers say Frye was responding to the rough treatment of her 13-year-old grandson by police. The boy was taken into custody, but later released to family who say he was bruised and hurting from the encounter. But his arm was not broken, as had been rumored.
Bail for Frye, 56, of Bellefontaine Neighbors, was set at $10,000, with 10 percent needed in cash to free her. Protest leaders gathered donations from demonstrators outside the Justice Center to pay the bail.
Of the six other people charged, at least one had been arrested a week earlier during a protest in St. Louis that brought its own set of controversial arrests.
Fifteen other people were held overnight at the county jail but released without state charges. They will be referred to the Richmond Heights Municipal Court for local charges, police said.
Police say the arrested protesters had failed to head warnings to leave the Richmond Heights mall Saturday during a protest amid the continuing reaction to the acquittal Sept. 15 of a white police officer in the shooting death of a black drug suspect.
Police said about 150 other people followed dispersal warnings and "peacefully left." But some protesters told the Post-Dispatch they had not heard an order to disperse, just whistles and then police moving in to arrest people.
The ACLU of Missouri complained about the nature of those arrests in a letter to St. Louis County Executive Steve Stenger, St. Louis Police Chief Jon Belmar and Richmond Heights Mayor Jim Thomson on Sunday.
"We've seen images of what appears to be unnecessary use of force by police at the St. Louis Galleria, such as tackling people to the ground, and arresting them in ways that cause bodily injury," wrote Anthony Rothert, legal director of the organization.
"Yet again, the nation watches St. Louis," the letter said. "This is a unique time in our region. In order to move forward, we must learn from the lessons of our past. That means we must continue to allow nonviolent, robust freedom of speech. We must allow the community to continue to express its outrage, pain, and grief."
The nonprofit ArchCity Defenders law firm, meanwhile, complained that its lawyers had difficulty reaching clients inside the jail. The group said the courthouse was simply shut down.
"At every turn, our lawyers were met with delay, miscommunication, and a general indifference to the rights of the people arrested and the attorneys who work with them," Thomas Harvey, executive director and co-founder of ArchCity Defenders, said in the statement.
Among those released Sunday was Zach Becker. On Saturday, a friend had worked to get needed medication to the jail for Becker, who had a kidney transplant. After the friend had trouble getting police attention at the jail, a legal observer got in touch with a nurse to get the medication inside.
Upon his release, Becker said he was going to a hospital to get checked out.
Denise Hollinshed of the Post-Dispatch contributed to this report.