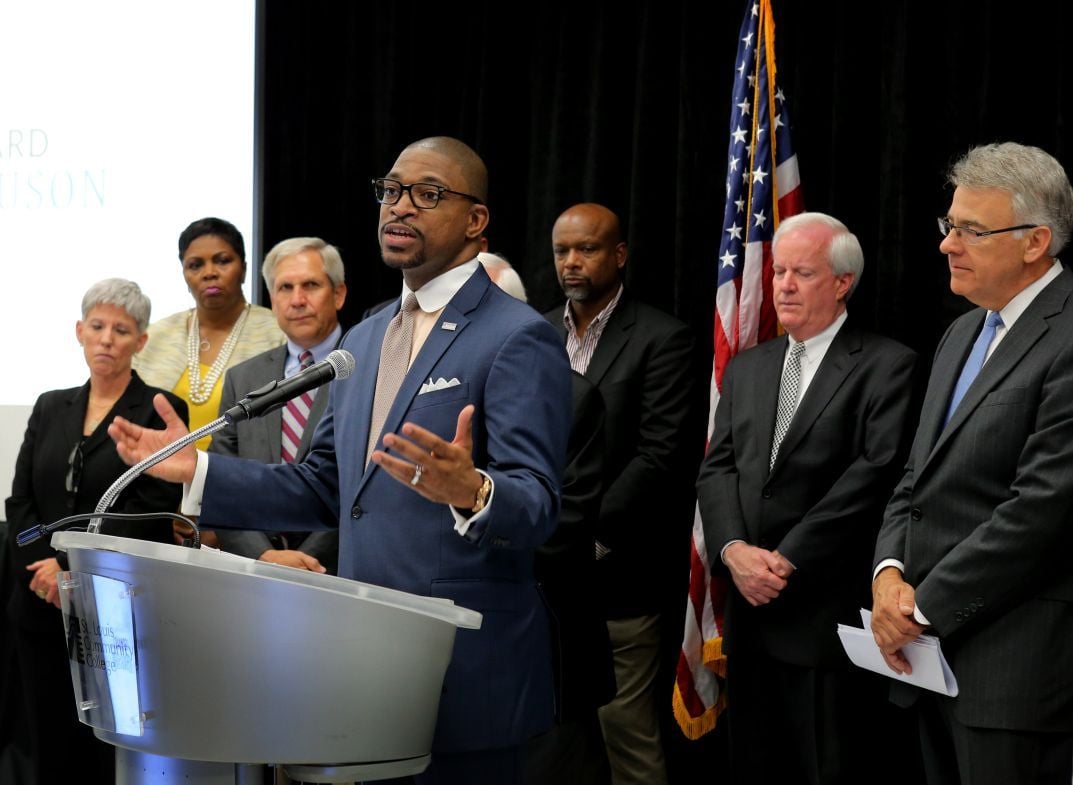 ST. LOUIS COUNTY — Two months before the death of Michael Brown, Qiana Williams was arrested at a sobriety checkpoint in Pine Lawn. A police officer did not test her sobriety but ran her name and found she had failed to appear in court on a traffic case.
The 36-year-old black single mother could not come up with $350 bail. She spent two weeks captive in the Pine Lawn jail.
There, she remembers a jailer mocking her: Why didn't friends and family bail her out? What bridges had she burned?
The jailer viewed Williams — squatting in an eight-by-eight cell, so poor that her family could not produce $350 — as less than human, she said last week. "This was punishment beyond any perceived crime that I may have committed," she said.
Weeks later, the fatal shooting of Michael Brown brought international attention to systemic inequality in the region's police, jails and courts, giving hundreds a voice and jump-starting criminal justice reform here.
Highway shoulders are no longer lined with officers aiming radar guns. Municipal jails are typically empty, and several have closed. Lines for court no longer wrap around street corners, and 13 of the smallest courts consolidated into hubs in Normandy and St. Ann. Municipal court collections in St. Louis and St. Louis County were down 60% in 2018 from their 2014 levels. Nineteen municipalities in St. Louis County and the city of St. Louis saw their collections down at least 70%.
TABLE: Municipal court fine collections drop by double digit percentages since the shooting of Michael Brown
| Municipality | 2014 | 2018 | Percent_change |
| --- | --- | --- | --- |
| Pine Lawn | $2,263,349 | $123,383 | -95% |
| Country Club Hills | $245,825 | $13,975 | -94% |
| Bellefontaine Neighbors | $1,280,165 | $145,004 | -89% |
| Jennings | $1,182,765 | $147,427 | -88% |
| Berkeley | $1,284,643 | $161,520 | -87% |
| St. Ann | $3,293,985 | $527,746 | -84% |
| Uplands Park | $51,327 | $8,510 | -83% |
| Ferguson | $1,998,950 | $346,659 | -83% |
| Velda City | $319,301 | $57,932 | -82% |
| Ellisville | $475,517 | $93,485 | -80% |
| Richmond Heights | $789,516 | $170,118 | -78% |
| Beverly Hills | $221,193 | $50,142 | -77% |
| Northwoods | $622,329 | $143,058 | -77% |
| Des Peres | $442,483 | $105,582 | -76% |
| Ladue | $640,033 | $154,130 | -76% |
| Hanley Hills | $90,838 | $22,282 | -75% |
| Moline Acres | $523,193 | $129,996 | -75% |
| St. Louis city | $9,997,725 | $2,800,896 | -72% |
| Dellwood | $366,864 | $109,927 | -70% |
| Edmundson | $500,305 | $150,091 | -70% |
At the time of Williams' arrest, Pine Lawn, a 0.6-square-mile municipality abutting the northwest St. Louis city line, had warrants out for 20,000 people, six times its population. Residents there have since seen their mayor and their acting police chief arrested and sent to federal prisons, their police and court merged into other jurisdictions.
And court revenue in Pine Lawn has dropped 95%.
Under a state law, cities cannot pile on charges when a defendant does not show up in court and are limited to raising no more than 20% of their general revenue from minor traffic fines. Under Missouri Supreme Court rules, judges across the region now must provide alternatives for defendants who can't pay, and they can't issue arrest warrants until the defendant fails to show for two court dates. And municipal courts in St. Louis County work with monitors from the Missouri Supreme Court to help them comply with those standards.
Area municipalities, which were condemned worldwide for running debtors' prisons, dramatically scaled down their ticket, fine and jail operations to embrace community policing.
Some that were squeezed by the new limits had to dial it back. But even leafy suburbs like Ladue and Ellisville, which have vastly more sources of revenue, practically stopped ticketing.
The value of humanity
Many say no. Symptoms may be abated, but the sickness — a failure to respect other human beings — proves resilient.
For some, the most glaring example is the St. Louis Medium Security Institution, known as the Workhouse. For decades, it has been the subject of lawsuits complaining about conditions there, including one filed in 2017, still pending in federal court, alleging inadequate ventilation, medical care and sanitation. But city leaders such as Mayor Lyda Krewson have said the building is not inhumane and is needed.
And the nonprofit law group ArchCity Defenders has sued the city of St. Louis alleging that it routinely denies due process by holding people in jail who can't afford to post bail. In June, a federal judge blasted city officials and judges for failing to comply with a court order mandating hearings for those jailed because they are too poor to pay bail.
In the aftermath of unrest, the Ferguson Commission, appointed by then-Gov. Jay Nixon, issued 47 "signature" calls to action. Forward Through Ferguson, the advocacy group that grew out of the commission's work, said earlier this year that only five of those had been achieved.
Progress related to criminal justice, on average, lagged most of all, the group said last year.
Even though many abuses have been addressed, the group said, the St. Louis area has barely budged toward reforms that would keep abuses from recurring. Among them: consolidating all municipal courts into four, preventing conflicts of interests among judges and prosecutors, and collecting municipal court fines and fees like any ordinary unpaid bill.
"At the most basic level, it gets down to the value of humanity, hierarchy of human value," said the Rev. Starsky D. Wilson, president and CEO of Deaconness Foundation who served as co-chairman of the Ferguson Commission. "We came to that conversation because of the touch point of the criminal justice system. So the reality is we had … a distorted negative perception of the human being that is Michael Brown."
Most of the changes have been voluntary, he noted. Municipalities have behaved better because they were embarrassed, but not because they were made to.
Wilson said he's hesitant to say anything is fixed. "We are slow to assume that the state of any progress is permanent without overriding oversight and reform," Wilson said. 
Among the nine municipalities with the biggest declines in court revenue, public-interest law groups including ArchCity Defenders have filed class-action lawsuits against seven alleging constitutional violations by police and courts, hoping to force judgments, settlements and change. 
"Towns could always revert back to past practices if no one is paying attention," said ArchCity Defenders co-founder Michael-John Voss.
Only one of those, Jennings, has settled its case, agreeing to pay more than $4 million to people who spent time in jail for traffic tickets. The city now turns all unpaid fees and fines over to a collection agency. 
Giving up
Some municipal officials feel like much of what happened since the Ferguson unrest has been unfair. They say public safety was put at risk when the Supreme Court made it harder for municipal courts to issue arrest warrants.
"Police are now suspects in everything," said Velda City Police Chief Daniel Paulino. His department wrote 4,800 traffic tickets in 2014, and just 1,100 in 2018.
"What's the point of enforcing speeding and driving with no insurance and driving while revoked, and no left turns, and no signal, when there is absolutely no teeth?" he asked. "Their license can be suspended 1,000 times and they just continue to drive."
"All it has done is empower people to commit more crime," he said. "We've gone backward. Everyone wants to make this a racial issue. But black, white, Mexican, rich or poor, a crime is still a crime."
Some municipalities inexplicably give up on municipal court cases, even when they can still pursue them. A Post-Dispatch reporter found that a significant portion of Bel-Ridge court cases have been inactive for months or years, with no attempt by court officials to compel defendants to appear.
In 2014, the city issued more than four arrest warrants per day. Last year, it issued about one per week.
The cases in limbo range from speeding to assault. In June 2017, Bel-Ridge police officers responded to a report of a man flourishing a gun during a drug deal. A witness said a suspect put the gun into a van and tossed the keys to Marcia Bynum, 41.
When an officer ordered Bynum to give him the keys, she shouted profanities and refused, according to the Bel-Ridge police report. Police arrested her and a municipal prosecutor charged her with obstructing police and giving false information.
Bynum's court file indicates she received a summons for court, but it was not clear whether she appeared. Her case was was continued six times. It dropped off the city's active caseload on Oct. 17, 2018. 
Reached by phone, Bynum told a reporter she never knew she had to go to court. The call abruptly ended, and she did not respond to a text.
Cases like hers frustrate police.
"It seems far less defendants are interested in appearing," said Mark Harris, Bel-Ridge police chief. "The most troubling situation for police departments is when victims of assaults or larcenies … don't get the justice they deserve because defendants never show up to court."
Caught in the middle
Even with reduced powers to fine or arrest defendants, municipalities continue to use the courts to enforce compliance with local ordinances.
Five years ago, Roy McDavid, 62, and his wife Sally, 61, might have been in serious legal trouble for defying the city of Ferguson the way they are doing today. Even jailed.
The couple was cited with a violation of the city property code several months ago. They say they refuse to comply because the city is treating them unfairly.
In January 2017, the couple bought a three-bedroom ranch house in Ferguson from a limited liability company. Not long after, a code enforcement officer cited the McDavids for failing to cover exposed wires at the rear of their house. A contractor said it would take $1,200 to fix the problem.
The McDavids say they don't have the money. Representing themselves in Ferguson court, they have refused to comply with the order. The wires were like that when they bought the house. They wonder how the city could have allowed them to occupy a house that was not up to code. Shouldn't the previous owner have fixed it?
At a recent court date, Ferguson Judge Will Goldstein called the McDavids to the bench and, almost jovially, said he would continue the case while they worked out the dispute with the city.
Outside the courtroom, a city code official told the McDavids there was a simple way to end the court case: comply. He acknowledged the seller should have fixed the problem before the sale was complete. But he said it should have come up in the inspection.
And if the McDavids were the ones who hired the inspector, he said, then it was their responsibility.
Sally McDavid was incredulous, accusing the inspector of "crookedness."
"You can't fault the people who moved in," she told him. "You have to go back and do your homework like I did my homework."
A reporter approached the code official and asked why the city hadn't caught the violation before the McDavids bought the home and were allowed to occupy it.
What about tracking down the seller to remedy the problem? Was there some other way to fix the problem rather than taking the McDavids to municipal court?
"I don't have an answer to that until I do my research," he said.
The Ferguson protests showed people were fed up with how police and the courts treated them. And the focus soon zeroed in on the municipal cou…
After Darren Wilson shot Michael Brown, the protests, fueled by social media, continued for weeks and spread across the country. Here, from th…
---
Five years after Michael Brown's death, tell us: What has changed?
Loading...
We will publish some of the responses we recieve.
 Janelle O'Dea of the Post-Dispatch contributed to this report. 
Shake off your afternoon slump with the oft-shared and offbeat news of the day, hand-brewed by our online news editor, Mandy St. Amand.