ST. LOUIS — Police Chief John Hayden on Monday assured aldermen that his department's internal affairs probe of racist, anti-Muslim and other offensive Facebook posts by some officers will be "an extensive process and a competent process."
"I believe that messaging through discipline is one way culture (within the department) can change," Hayden told the aldermanic Public Safety Committee. The discipline can be strong, he said.
Hayden and Public Safety Director Jimmie Edwards added, however, that there are differences among the hundreds of Facebook posts by 22 current officers cited in a recent report by the Philadelphia-based Plain View Project.
Hayden noted that the posts range from some "deeply insensitive" to others "not as insensitive" but still of concern.
Another complication, Edwards said, is that some Facebook posts noted by Plain View were put on the social media site by others and "liked" or shared by St. Louis officers.
"Do you fire a person because they said they liked something or they laughed at a racially insensitive joke?" Edwards asked.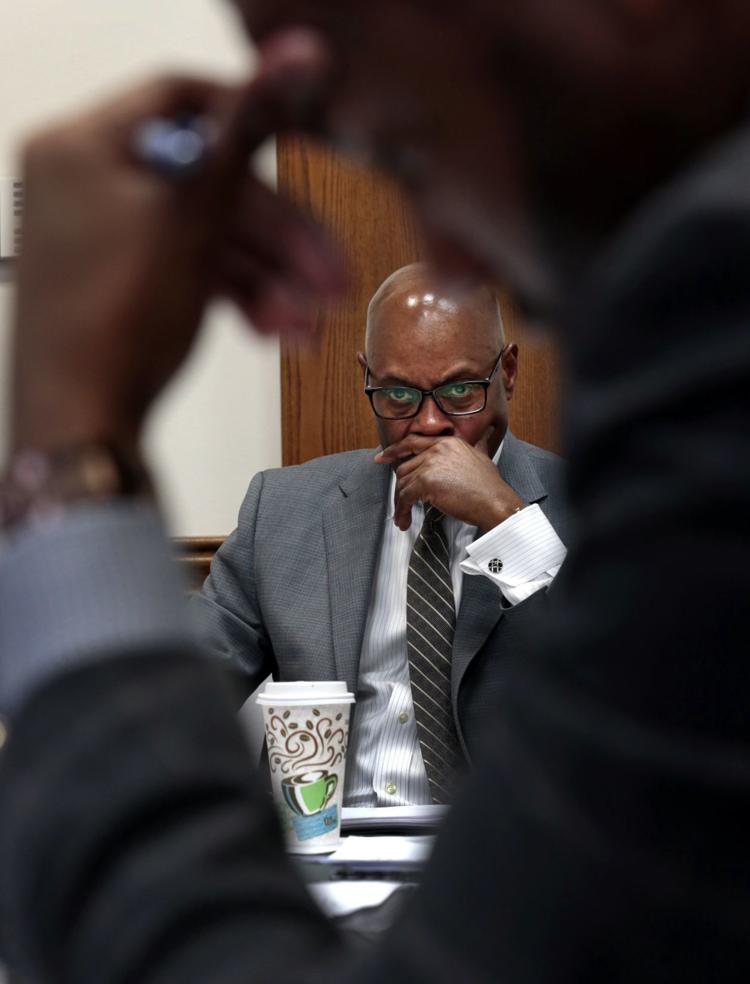 He also noted that most posts by St. Louis officers cited by Plain View were in 2015, 2016 and 2017, prior to the city's implementation of specific restrictions on personal use of social media by police and other employees.
That policy went into effect last July and was updated in September.
"I don't like what I saw," Edwards said of the posts in the Plain View report. "I have to address what I saw within the boundaries of the law."
Asked by Alderman Jeffrey Boyd, D-22nd Ward, whether disciplinary action could take place regarding posts made prior to the specific city social media restrictions, Hayden said a more general department rule would apply.
That rule, the chief said, requires officers to conduct themselves in a way that would not bring discredit to the department.
City Personnel Director Rick Frank said in an interview that it's more difficult to make a case for punishment under that rule. "It would have to be something so egregious that it brought discredit to the city service," he said.
Meanwhile, Edwards said three officers on the Plain View list had been placed in desk jobs to keep them from interacting with residents while the internal affairs probe proceeds. That had been announced Friday by Mayor Lyda Krewson but she didn't give a specific number.
Edwards said it was "very, very troubling" to him that each had more than 25 years' experience on the force. He said they were responsible for "the most egregious posts."
Edwards also disclosed that a 23rd current officer had been added to the list being investigated.
Frank and Edwards on Monday also repeated for the committee the city's recently-announced plans to step up training of employees on anti-discrimination, anti-harassment and social media rules in response to the Plain View report.
Edwards, however, said he realized that such training isn't enough. "I can't change their attitude, I can't change their heart but I can certainly change … behavior," he said.
He added that "if you're shocked to see this type of behavior in the city of St. Louis, then we are being naive. It's been in our face, we have to understand it, we have to fix it."
Also Monday, city officials disclosed that two firefighters, one white and one black, had been dismissed for violation of the social media policy begun last year. Both involved racist comments, Frank said.
Frank added that there had been three "lengthy suspensions" in the police department for social media policy violations prior to the recent Plain View Project release.
He also said since the social media policy was begun by the city, "there's been a marked decrease" in such complaints brought to the personnel department's attention.
The aldermanic committee also allowed anyone attending the hearing to speak. Most were sharply critical of police.
Tracy Spies, with a group called the Anti-Racist Organizing Collective, said the officers on the Plain View list should be dismissed and that the Facebook posts were indicative of a more general problem with racism in the department.
"These are just the ones we know are foolish enough and smug enough to put it out there like they did," she said. "These are not just a few bad apples; these are the ones that got caught."
Sgt. Heather Taylor, president of the Ethical Society of Police — which represents black officers — said her group's members are angry about the Facebook posts.
"We don't trust them; we don't expect them to have our back," Taylor said of those on the Plain View list.
Bill Monroe, an African American who formerly was a city police officer, said racism in the department isn't going away with sensitivity training.
Committee chairman Joe Vaccaro, D-23rd Ward, who has criticized the posts as inappropriate and hateful, noted that only a small percentage of officers were involved. Edwards said, however, that is still too many.