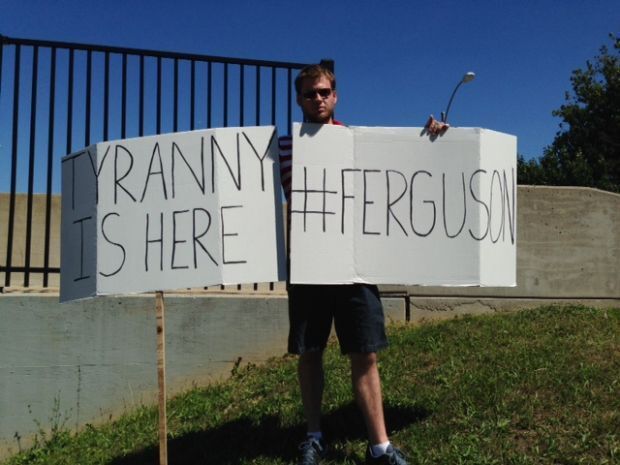 Owen Shroyer spent two hours today on the Tamm Avenue I-64 overpass with a sign reading "Tyranny is here" to protest what he calls government overreach and a police state that has led to unrest in Ferguson after the fatal shooting of Michael Brown.
Shroyer, 25, hosts a radio talk show from 10 p.m. to midnight on 1380 AM and said his audience has doubled this week with the Ferguson police shooting and aftermath as the topic.
His goal is to move the discussion beyond race and police brutality to what he believes is citizen oppression brought on by the government's war on drugs.
The protesters in Ferguson "don't deserve tear gas and guns pointed at them," said Shroyer, of St. Louis. "The issue is a tyrannical government, an oppressive system that we all need to buck."
Three staff members from the city's parks department stopped to see what Shroyer was up to. They were supportive of the protest and showed Shroyer to a spot where his signs could be better seen by motorists on the highway. About 50 eastbound cars honked at Shroyer, he said.
Shroyer plans to continue his protests on the radio show.