Reed, whose campaign did business with John Rallo, calls for city to exit Economic Development Partnership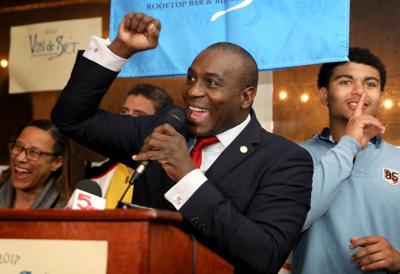 ST. LOUIS — Aldermanic President Lewis Reed on Thursday called for the city to withdraw from the economic development partnership formed with St. Louis County in 2013, citing "several troubling incidents and investigations surrounding" its leadership included in the federal indictment of former county executive Steve Stenger released this week.
Reed's campaign, though, appears to have paid one of the companies central to the indictment — a company federal prosecutors say was set up solely to secure a sham marketing contract from the St. Louis County Port Authority, an entity run by the St. Louis Economic Development Partnership.
The campaign expenditure was unrelated to Reed's criticism of the Partnership, a top Reed aide said. 
"We would have come to this decision (pulling out of the Partnership) no matter who the players were," Tom Shepard, Reed's chief of staff said. 
Reed's campaign account paid $17,800 to Cardinal Creative Consulting LLC in late 2016 and 2017 for what Reed said were printing services. One $1,000 expenditure says it was for insurance.
Cardinal Creative was the company formed by businessman John Rallo, whose campaign donations to Stenger in exchange for Partnership contracts are described in the indictment. 
The Stenger indictment says Cardinal Creative, which was paid $130,000 by the county port authority, was used as a conduit to pay $25,000 to someone identified as "JC" who was close to a public official.
"JC," sources told the Post-Dispatch, is political operative John Cross, who they described as close to Congressman William "Lacy" Clay. Cross has worked for many local officials, including Reed, who paid his company $41,000 for field operations and outreach in his 2019 reelection as board president.
Reed said his call for the city to quit the Partnership had nothing to do with the payments to Cardinal Creative — which appear to be the only payments any Missouri campaign has made to the company. 
He said Rallo was his contact at Cardinal Creative, and that the company made a "cold call" to his campaign. Their pricing was competitive for printing and mailing services, and he liked the idea of using a local company rather than one outside of the region. They "beat our number doing it in-house," he said, adding they "came very highly recommended by one of the major printing companies." 
"There were just some issues that we were not happy with, which is why we delayed on payment," Reed said, explaining why all but $1,000 of his campaign's payments to Cardinal Creative were made after the March 2017 primary election was over. One $5,800 payment was made in August.
"Lesson learned," Reed said.
In June 2016, Reed's campaign received a $1,200 donation from B&B Packaging Group, another company registered to Rallo.
Unlike the issues in the Stenger indictment, in which public money from a St. Louis County Port Authority contract was used to pay Cardinal Creative, these were Reed's campaign funds in a race where it was "difficult to raise money," he said.
Reed said the Stenger indictment shows the need for "checks and balances" in the Partnership to "protect our investments and taxpayer dollars." He added that he had concerns with the arrangement from the beginning and felt the city had too little influence over the Partnership and therefore received fewer benefits than the county.
"We need a total revamp so no one gets to play dictator over our development agencies and also be able to pick up a phone and tell someone to do something that's absolutely illegal," he said. 
St. Louis County contributes about $4 million annually to the Partnership, while the city's development arm, St. Louis Development Corp. (SLDC), gives about $1.1 million. The St. Louis mayor appoints four members of the Partnership's 13-member board.
Mayor Lyda Krewson pushed back against Reed's withdrawal call, saying the joint agency had "curtailed the competition between us" and is "a structure for us to try to think regionally." She said the Partnership was among several topics she discussed with new St. Louis County Executive Sam Page in a phone call Wednesday.
"I think it's obvious some changes are needed there," she said. "Some have already been made."
Page, in a statement, said he agreed with the mayor: "The Partnership is too important to walk away from. It worked well in the past, prior to the Stenger administration."
The Partnership board in December ousted former CEO Sheila Sweeney, who Stenger used to steer contracts and other favors such as political hires in the Partnership. 
What role the Board of Aldermen would play in voiding the city's cooperation agreement with the Partnership, though, is unclear. The SLDC, the city's real estate-focused economic development arm, has its own board and is the entity that actually funds the Partnership. And the SLDC receives no general revenue from the city budget. It is entirely funded with fees from its real estate activities and with state and federal money through Community Development Block Grants and other sources.
The St. Louis Board of Aldermen does hold some control over the pass through of those funds, and two of its members — Aldermen Joe Roddy and Joseph Vollmer — sit on SLDC's 11-member board.
Reed said his staff had requested the agreement establishing the Partnership and was beginning to research it. 
"We will have a better idea of how we can deconstruct it," he said. 
St. Louis County Executive Steve Stenger's fall: Some background reading
Here's a collection of Post-Dispatch stories looking at some of the controversies surrounding former St. Louis County Executive Steve Stenger.