ST. LOUIS • Homicide Detective Dan Fox uses the cliché about trying to find a needle in a haystack when talking about identifying a little girl found decapitated in an abandoned apartment building 30 years ago — but, in his mind, the haystack just got a little bit smaller.
Since then, researchers from the University of North Texas and the Smithsonian Institution have examined the child's remains at the St. Louis Medical Examiner's Office, testing for DNA as well as for minerals to narrow down the girl's origins based on the water she drank.
DNA testing confirmed the profile St. Louis experts already had, but the mineral tests, or stable isotope analysis, revealed the child probably spent most of, if not all of, her life in one of 10 southeastern states: Florida, Georgia, Alabama, Mississippi, Louisiana, Arkansas, Texas, Tennessee and the Carolinas.
"When you're working with nothing, and you go from considering that she could be from anywhere in the entire world to a six- to eight-state range, that's helpful," Fox said.
The detective said the researchers' findings gave him a direction to focus his investigation. He also said he plans to use the findings for a media blitz targeting the Southeast in hopes of triggering a memory from one of the lost child's loved ones or from a potential witness.
And now that Fox and other researchers believe everything that can be done with the remains from a scientific standpoint is completed, the medical examiner has referred the case to the Garden of Innocents so the child can be buried in a plot maintained by the nonprofit organization that inters indigents at Calvary Cemetery. The child, referred to as "Little Jane Doe" or "Hope," is scheduled to be buried there at 10 a.m. Feb. 8.
"It's not many times in a homicide detective's career that you deal with a case where you can't identify your victim," Fox said. "It has haunted a lot of people in our department through the years, and it was an additional slap in the face when we couldn't locate where she was buried.
"A lot more people will be more at peace once she's reburied. … In this case where there's no suspect, no family members to talk to, there really is nothing left other than the people who worked it in one way or another."
Fox's predecessors, including Joe Burgoon, now a cold case investigator for the St. Louis County police, thought the case would be easy to solve when the remains were first found Feb. 28, 1983. Two men whose car had broken down found the child's body when they went into an abandoned apartment building at 5635 Clemens Avenue looking for pipe to fix their car.
The medical examiner estimated the girl's age between 7 and 12 and concluded she was African-American, weighed about 60 pounds and was about 4-foot-10 without her head, which had been removed after death. It was never found. Investigators couldn't be certain whether the girl had been sexually assaulted.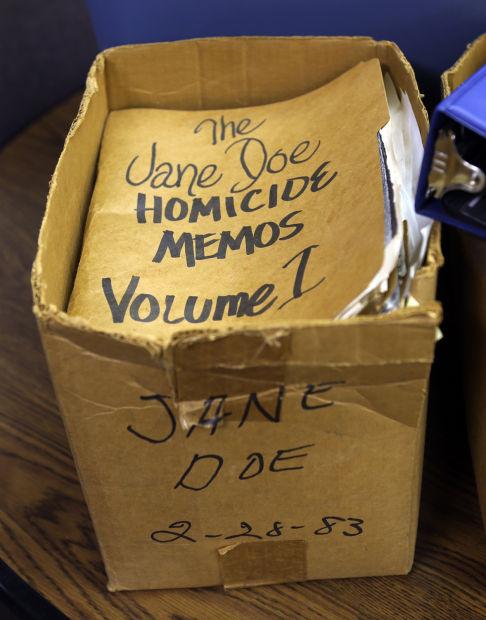 Police accounted for every child in area school districts, leaving Fox and others convinced that the girl must not have come from here.
"This report now validates that for us," Fox said.
But Fox believes her killer was local. The building where she was dumped wasn't near any major thoroughfares, which a transient likely would have used.
"You don't really want to be driving around with a body in your car and risk the chance of being pulled over," Fox speculated about the killer's mindset.
The city paid to bury the girl in the Washington Park Cemetery about nine months after she was found. Then, in May 1984, students from Livingston, Ill., raised money for a white headstone, which reads: "The saddened hearts were healed in knowing the pain of life is over and the beauty of the soul revealed."
But it was put on the wrong grave.
In 2009, then-St. Louis police detective Tom Carroll tried to exhume the remains and found three bodies near the girl's marker, none of them hers.
In March, a Post-Dispatch story outlined the efforts of a small army of volunteers led by Calvin Whitaker, a funeral director and contractor who transports bodies to area morgues, to restore the cemetery and find the grave.
At the time, Whitaker said the group was hoping to have the little girl reburied in a new plot at the defunct cemetery they are still working to restore. He bought a casket for her, one he says he is still willing to donate even though she is being buried at Calvary. He said he understands why she's being moved, given the circumstances. He also is willing to move the headstone and transport the remains to Calvary from the morgue.
The story in March also included pictures of the child's original burial, provided by Ed Sedej, of Belleville, who covered the funeral as a photojournalist for the old St. Louis Globe-Democrat. Reader Charles Fuchs showed the story to his niece, Abby Stylianou, a research associate in the Department of Computer Science & Engineering at Washington University.
Armed with Sedej's photographs, Stylianou and a group of her fellow researchers pinpointed the grave using aerial images from the U.S. Geological Survey. They predicted it was just to the left of a full-grown tree that wasn't there 30 years before. They were right. And in June, Fox stood among a crowd of media, forensic experts, volunteers and detectives past and present to watch the exhumation.
Now, he's expecting to stand among much of the same crowd when she is laid to rest once more.
---
EDITOR'S NOTE: An earlier version gave an incorrect name for the Smithsonian Institution.