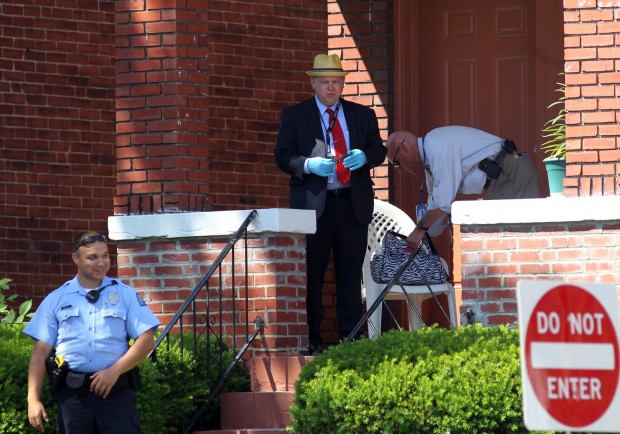 UPDATED at 1:30 p.m. with additional details from police.
ST. LOUIS • Wednesday's shooting death of a man at a house on Labadie Avenue was justified because he was breaking into the home at the time, police said Thursday.
No charges are being filed against the resident who fired the fatal shot. Police say the case has been classified as a justifiable homicide.
It's the latest use of Missouri's Castle Doctrine, which allows people who encounter an intruder in their homes or vehicles to use deadly force without fear of being charged or sued.
The dead man was identified Thursday as Jerome Burse, 38. Police say Burse, who had a gun, and a second man armed with a knife broke into a home in the 4700 block of Labadie Avenue at about 2:30 p.m. Wednesday. They took money and jewelry from people at the home.
Shots were fired inside the house, police said. One of the adults in the home was a 23-year-old man, who chased the intruders outside and fired shots at them. Burse collapsed on Marcus Avenue about a half block from the house.
Burse was taken to a local hospital, where he died. Burse had lived in the 4200 block of North 20th Street.
Police recovered Burse's gun at the crime scene.
The second suspect got away. Police say they don't know if the second man was shot. Police continue to investigate who that man might be.
Police did not identify the man who killed Burse and were not seeking charges against him. The other victims of the home invasion were identified only as two women, ages 19 and 22, a 66-year-old man and a 7-month-old girl.
According to court records, Burse's criminal past in St. Louis includes unlawful use of a weapon in 1993 and drug possession a year later. He pleaded guilty in both cases. He was sentenced to a 120-day shock jail time in the drug case and 167 days in jail for the weapons violation.
-Joel Currier of the Post-Dispatch contributed to this report.