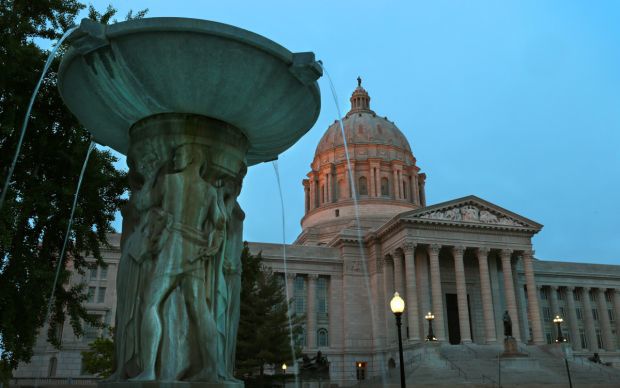 JEFFERSON CITY • The Missouri Senate only just began to debate right-to-work legislation on the floor on Monday, but neither the proposal's supporters nor the state's labor unions are waiting for final passage to make contingency plans.
Sensing an inevitable passage of right to work legislation, which would limit unions' abilities to collect dues from their members, AFL-CIO President Mike Louis in December filed petitions for the 2018 ballot that would essentially reverse any right-to-work law passed this year.
They would give employers and employees the "unalienable" right to negotiate contracts that would require workers to pay fees covering the cost of union representation.
Former Missouri Secretary of State Jason Kander approved the ballot title language of those petitions, among dozens of others, before leaving office on Jan. 9. 
Backed by the National Right to Work Foundation, a Missouri nurse and two Kansas City police officers are now challenging the petitions on the grounds that their summaries are "insufficient and unfair," asking a court to rewrite them with more detail about union dues, collective bargaining agreements and the right-to-work law they would supercede.
Louis' petition would amend the Missouri constitution to read the following:
"That employees shall have the right to organize and to bargain collectively through representatives of their own choosing," it reads. "No law or ordinance shall restrict or impair an agreement which requires employees to support their chosen collective bargaining representative."
The lawsuits filed Monday – one for each of Louis' petitions – allege that the language is misleading, as it "fraudulently presents itself as an 'employees' rights proposition" when it only protects those organized in labor unions, not employees who "choose to withhold their support."
The petitions would block lawmakers' efforts to "prohibit forced-unionism agreements, to the detriment of employees who seek to exercise their Right to Work without being compelled to subsidize a labor organization."
"These deliberately misleading initiative petitions are nothing more than an attempt by Big Labor to confuse voters in hope that the confusion will result in overturning popular Right to Work protections," said Mark Mix, president of the National Right to Work Foundation, in a statement.
Louis, in a statement, dismissed the foundation as a "dark money group."
"Why is a DC-based special interest group, funded by the uber-rich, challenging the rights of hard-working Missourians to have their voices heard at the ballot box?" Louis said. "Missouri voters wanted to see the swamp drained, that means putting the power back with the people."
Senate lawmakers have begun to debate right-to-work proposals this week. Measures have already passed the House 100-59 on Thursday.
Republicans, who say the proposals will create jobs and bring in more business, have worked quickly to make Missouri into a right-to-work state now that Gov. Eric Greitens has assumed office with vows to sign legislation that would do so. 
Meanwhile, Democrats have tried to attach a voter referendum to the bills that would put the issue before voters, but haven't been successful.
During initial debate in the Senate on Monday, a similar attempt by Sen. Jason Holsman, a Kansas City Democrat, proved futile. 
The Senate bill differs from the House legislation with its inclusion of a grandfather clause protecting labor contracts negotiated before the law takes effect, until they expire on their own. 
"We felt it was probably proper to honor those contracts that are in effect now," said Sen. Dan Brown, R-Rolla, on the Senate floor.
Senate Majority Leader Mike Kehoe, R-Jefferson City, said last week he intended to allow "plenty of time" for debate on the Senate floor, but that he ultimately expected the bills to sail through.
"It's been a priority issue that everyone has been talking about for a long time, it's been through this chamber before, several times, and it's going to go through it again," Kehoe said.
But Senate Minority Leader Gina Walsh said she hoped the Republican supermajority didn't try to "slam-dunk this and move-on."
"I just think we need to have a thorough discussion on this. And I don't think a thorough discussion is two hours on the Senate floor on a Monday night," she said.