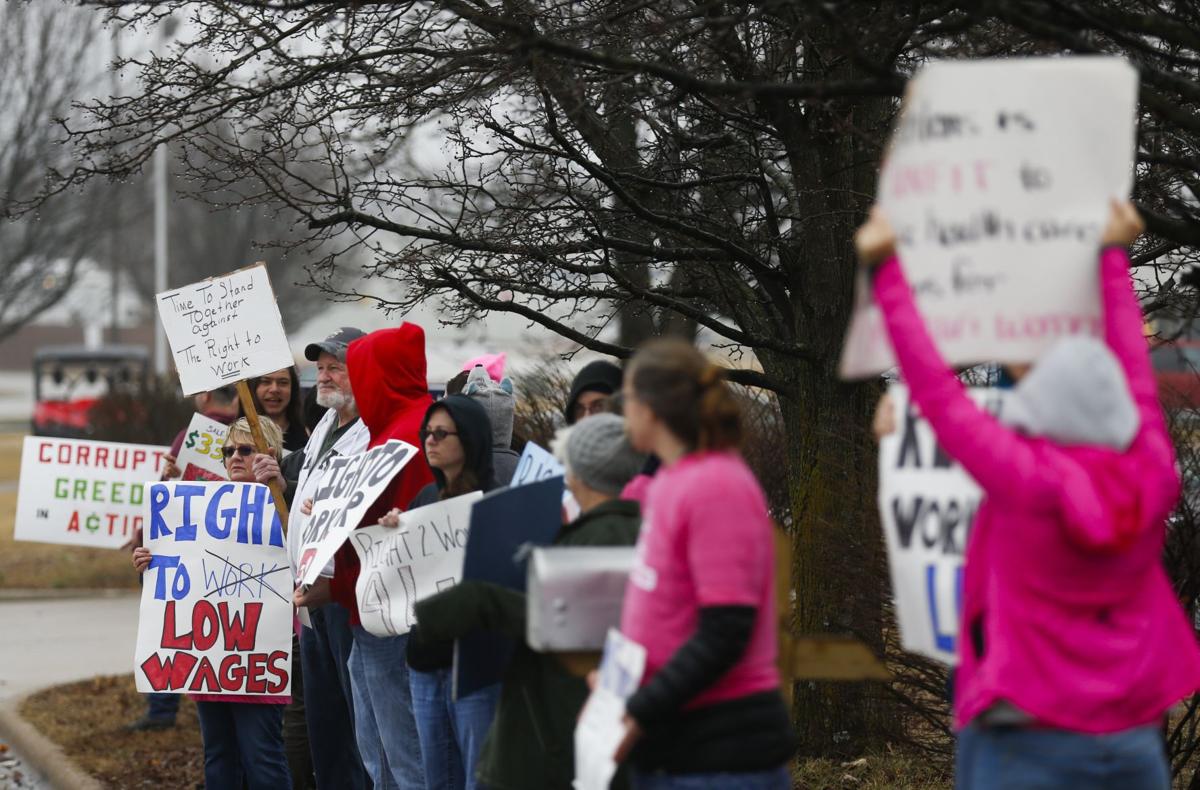 JEFFERSON CITY • Supporters of Missouri's new "right to work" law have filed another lawsuit seeking to scuttle an attempt by labor officials to put the issue before voters for an up-or-down vote.
In a suit filed Friday in Cole County, attorneys representing two Kansas City police officers and a nurse from Liberty allege that wording for a proposed ballot initiative is riddled with "embarrassing" grammatical errors and is therefore unfair.
The lawsuit is seeking that the summary statement approved last month by Republican Secretary of State Jay Ashcroft be replaced.
"The summary statement should accurately reflect both the legal and probable effects of the proposed initiative and be fair and impartial so that the voters are not deceived or mislead," the lawsuit notes.
In a statement, Ashcroft defended the petition, saying his office has provided voters with clear, concise and complete language.
"I am saddened that some are playing politics with the right of the people to exercise their constitutional right, and I am confident the court will quickly and correctly let the will of the people decide this issue," Ashcroft said.
The legal action represents another attempt to stymie labor officials, who want to give voters the chance to weigh in on the issue after it was pushed quickly through the GOP-controlled Legislature this year and signed into law by Republican Gov. Eric Greitens.
The new law, set to go into effect Aug. 28, would allow employees in unionized workplaces to opt out of paying unions for the cost of being represented. Greitens says the change will boost the state's economy by attracting more businesses.
Democrats and labor officials say it will drive down wages and hurt middle-class families.
Missouri residents can call a referendum on a new law by collecting signatures totaling 5 percent of voters from two-thirds of the state's congressional districts. Supporters who feel right-to-work was an attempt to weaken union power have to collect an estimated 90,000 signatures by Aug. 28.
If petitioners get enough signatures, the new law won't take effect until Missourians get the chance to have their say in 2018.
The new lawsuit, if it moves forward, could further delay the time labor leaders have to collect signatures to get it on the ballot.
At the time Missouri AFL-CIO President Mike Louis said the attempt to derail the referendum was based on a "weak technicality."
Louis said the union began collecting signatures on April 4 after Ashcroft approved a revamped petition. He said he is hopeful the latest attempt to scuttle the effort is rejected.
"I hope its a failed attempt, not only because they are trying to waste our time but because they want to circumvent the people's thoughts and just do whatever they want," Louis told the Post-Dispatch on Monday.