This story was published in the Post-Dispatch on Nov. 20, 1993
ST. ANN • After school, 9-year-old Angie Marie Housman would usually enter her house in St. Ann, set down her blue-and-white book bag and share stories about her day.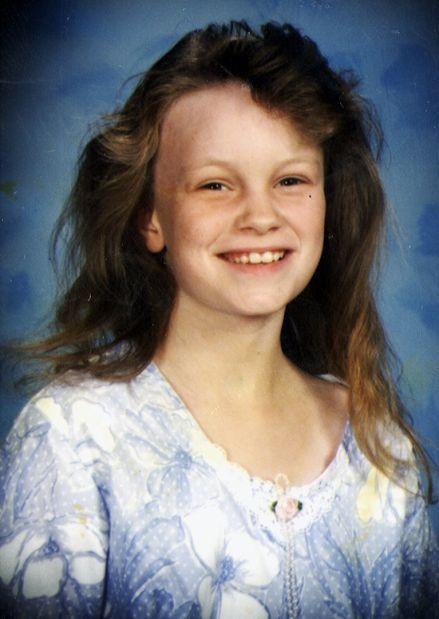 "She's always proud about what she'd make in school," her mother, Diane Bone, said Friday. "She'd come in and say, `Look mommy!' She is always happy. Very outgoing. She'd always tell me if she was going to a friend's house."
That didn't happen Thursday. Angie apparently was abducted between her bus stop and home a half-block away, police say.
St. Ann police used dogs and helicopters with infrared sensors Friday to search for her.
A pupil at Ritenour's Buder school, Angie was last seen about 4 p.m. Thursday when she hopped from the school bus and walked north on Wright Avenue toward her parents' duplex eight houses up.
Police don't think she ever made it home.
"Right now, we're handling it as an abduction because of her age, and the length of time she's been missing." said Sgt. Jim Mantle of the St. Ann Police Department. "She's not the type who just takes off."
Mantle said Angie's disappearance might be connected to an attempted abduction in Maryland Heights on Nov. 8.
In that case, a man grabbed an 11-year-old girl - who looks similar to Angie - just after she got off her school bus about 3:50 p.m.
He pulled her into some bushes along a road, but she managed to break free.
Police were still looking for that man Friday and distributed copies of a composite sketch to police officers who set up roadblocks in St. Ann near Angie's home.
Angie was last seen carrying the blue-and-white Christian Hospital Northeast book bag and wearing blue jeans, white tennis shoes and long pink coat with hood.
She is about 5 feet tall, 65 pounds, with blue eyes, brown hair and a scar on her chin.
Anyone with information should call St. Ann police at 314-427-8000.
Mantle said a girl on the bus remembered seeing Angie walking down Wright Avenue alone. Duplex homes would have been to Angie's right; to her left, a large evergreen tree and St. Gregory's School parking lot.
St. Charles Rock Road is a half-block beyond Angie's home.
About 1 a.m. Friday, detectives used a St. Louis County police helicopter with heat sensors to search every park in St. Ann and the Cold Water Creek area that runs north of St. Charles Rock Road.
At the time Angie should have arrived home, Bone was asleep as was Angie's 2-year-old brother. Angie's stepfather, an auto mechanic, came home about 5 p.m. and woke up Bone; there was no sign of Angie or her book bag.
Her family and neighbors searched the neighborhood before flagging down a police car about 7 p.m.
By Friday evening, Bone had been given a sedative; she hadn't slept for 23 hours. As she watched dogs sniff for clues around dusk, the dogs lost her daughter's scent in the middle of the road, she said.
"I just hope to have her back as soon as possible, so I can put my arms around her," Bone said.