UPDATED 11:00 p.m. Sunday with identification of the victim.
ST. LOUIS — A security guard for MetroLink was shot and killed just after 10 a.m. Sunday at the Delmar Loop MetroLink station.
St. Louis police Major Shawn Dace said that the security guard was alerted that someone was causing a disturbance. When the guard confronted the individual, the individual pulled out a weapon and shot him.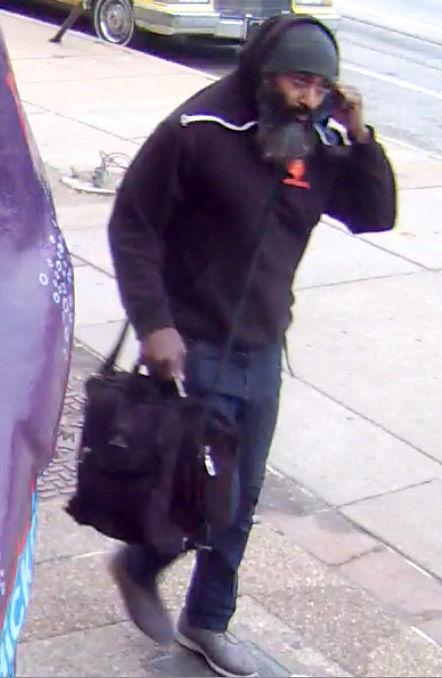 The security guard was identified as James Cook, 30, of south St. Louis County.
The suspect fled on foot, and officers were searching the area, Dace said.
Cook worked for a private security firm hired by MetroLink, according to Dace. It is unknown if he also worked as a police officer with another agency.
MetroLink stopped running between the Wellston and Forest Park-DeBaliviere stations while police investigated the shooting, officials reported.
Initial reports by St. Louis police stated that a man was shot in the face near the station at Delmar Boulevard and Hodiamont Avenue.
Police released a statement and a photo Sunday evening asking the public for help in identifying the suspect, who is described as a Black man in his 40s wearing a black hooded sweatshirt with "football" in orange letters, a black coat, dark blue gaiter face mask, a stocking cap with orange lettering, a black computer bag with a strap, dark pants and graying hair and facial hair.
The suspect is armed with a pistol and may frequent the MetroLink, officials said. Police say the man may have interacted with the security guard earlier on Sunday morning before the man shot the guard.
"Unconfirmed accounts attribute the prior contact to violation related to sleeping on the train," police officials said in a statement.
"This is a deeply sad and tragic day for Bi-State Development and Metro Transit," Bi-State Development President and CEO Taulby Roach said in a statement Sunday afternoon, adding that the security guard was killed "due to an evil and senseless act of violence."
"All of our thoughts and prayers go out to his family and those close to him," Roach said. "Our Public Safety team and MetroLink Police Task Force are providing any and all information and assistance available to aid in this investigation. The MetroLink Police Task Force has pledged to enhance law enforcement patrols on the Metro Transit system, starting immediately.
"Our region is challenged by these random acts of violence, and our transit community is not immune to their impact. We are committed to working with our regional leaders and law enforcement partners to confront this crisis."
Police are asking anyone with information to contact CrimeStoppers at 866-371-8477. CrimeStoppers has posted a reward of $25,000.