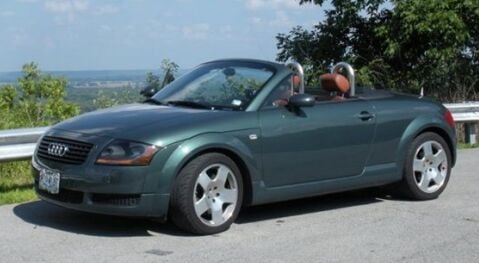 ST. LOUIS • The director of catering at the Chase Park Plaza, who was gunned down as he sat in his convertible early Sunday, had just celebrated being five years cancer-free in March, his parents say.
John Paulsen, 48, was in the Bevo neighborhood, in the driver's seat of his Audi, closing the convertible top, when he was fatally shot.
"I know young people are taken all the time, but it's just so hard to understand," said the victim's mother, Janet Paulsen, 73. "It was just a senseless shooting, particularly when he had just survived cancer."
Janet Paulsen herself was just diagnosed a month ago with a rare cancer, and she said her son gave her a boost the last time they spoke on Saturday morning.
"John was telling me to be so brave, because he had gone through it," she said Friday. "He was such a loving person. He told me I would get through it."
The next morning, he was killed. He was found unconscious in his driver's seat, bleeding from gunshot wounds to the arm and chest about 3:25 a.m. Sunday in the 4200 block of Neosho Street in St. Louis. He died later at a hospital.
Police have made no arrests in the case and won't discuss a motive. Police spokeswoman Leah Freeman confirmed that nothing was stolen from Paulsen.
Investigators said Paulsen had stopped his sports car and that a gunman approached and fired toward the car, then ran off. That gunman was described as 6 feet to 6 feet 2 inches tall, with a slender build and shoulder-length dreadlocks.
Anyone with information is asked to call CrimeStoppers at 866-371-TIPS.
John Paulsen lived in a brick bungalow in the 900 block of Dover Place. He was shot about two miles from his home. Paulsen's father, Jim Paulsen, 72, said his son was on his way home from a wedding that he helped cater at the Chase on Saturday night.
Paulsen's boss at the Chase, Bill Derbins, said it wasn't uncommon for Paulsen to leave at that hour after a catering job. "He was wonderful," Derbins said Friday. "Our whole team is pretty shook up about this."
John Paulsen grew up in Kansas and graduated from Northwestern University with a degree in music performance in the opera program. He wound up moving to St. Louis about 10 years ago for a job in catering.
After he was diagnosed nearly six years ago with lymphoma, his parents left their home in Goodland, Kan., not far from the Colorado border, and lived with him for nine months while he underwent several rounds of chemotherapy and radiation. His mother will never forget the grim news the doctor at Barnes-Jewish gave them at the start.
"It was Stage 4 cancer, and the doctor said we'd better love him while we were there because he would be gone by Christmas," she said.
As they tended to their son in St. Louis, both parents said they were struck by the amount of crime news in the media, but their son felt he was in a safe neighborhood.
Paulsen, who was single, is survived by his parents, a sister and a nephew. His body was cremated and sent to Kansas to be buried near his grandparents. His parents say they will plan a private service for him at a later date, once his mother completes a round of chemotherapy. The Chase also is planning to hold a private memorial for his co-workers.