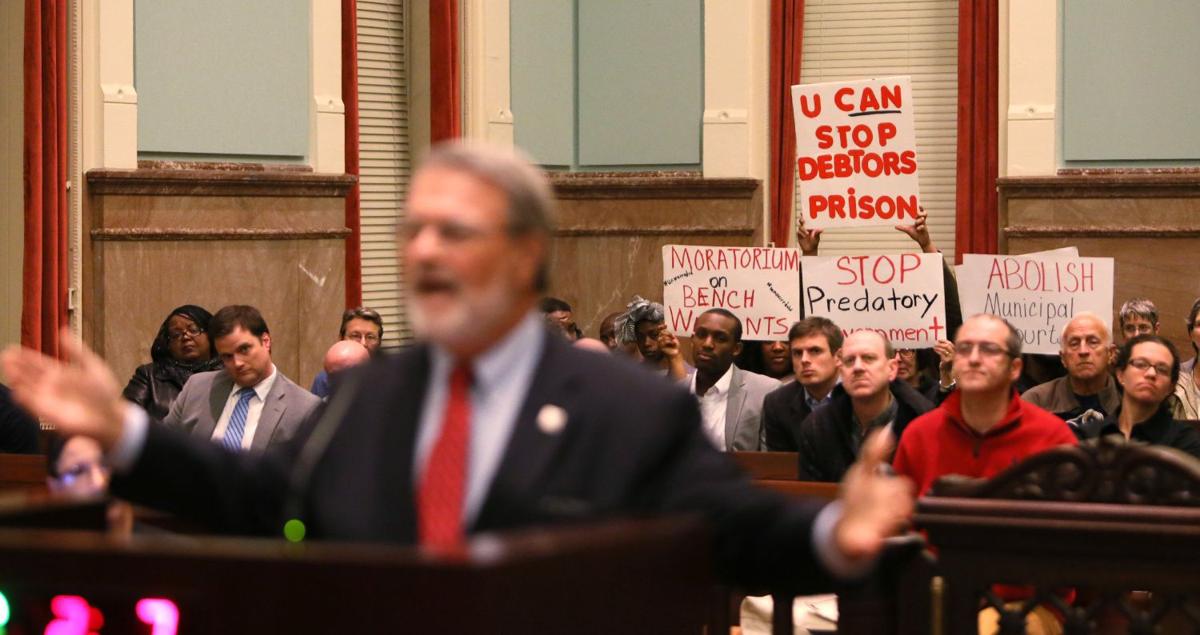 Municipal court operations in some of the smallest communities in St. Louis County are being folded into larger ones, in a program announced Tuesday by the Missouri Supreme Court.
Municipal courts in Charlack, Northwoods and Vinita Park are moving to St. Ann municipal court. And the courts in Bellerive Acres, Cool Valley, Glen Echo Park, Greendale, Pasadena Park and Uplands Park are working on plans to consolidate within Normandy municipal court.
The population of the nine cities joining larger courts is about 10,500, about 1 percent of the county's total population.
"By reducing costs, sharing operations, as well as clerical and judicial personnel, we hope to reduce the incentive to use municipal divisions as revenue generators rather than to ensure public safety," Missouri Chief Justice Patricia Breckenridge said in a statement.
The courts joining St. Ann have agreed to pay flat fees to run their court operations based on the volume of their caseload; terms were not immediately available Tuesday.
St. Ann will provide the judge, clerks and file storage. The cities will retain their own prosecutors and their dockets will remain separate. For example, Charlack will have its own court night in St. Ann, said St. Ann City Administrator Matt Conley.
Details about exactly how the courts will consolidate in Normandy were still being worked out. Some of the cities were already using Normandy city hall for court, although with their own judges and court staff. Normandy Mayor Patrick Green said the city was looking for a new building to handle courts for as many as 10 municipalities.
"What we'd like to see is condensing down the judges and prosecutors," Green said in an interview. "That makes us more effective."
Brendan Roediger, an associate law professor at St. Louis University who has sued several courts in St. Louis County on behalf of poor clients, said the consolidation was a "small move in the right direction."
Many critics have pointed to the lack of supervision of the municipal courts. While they are divisions of the county's circuit court system, the 80 municipal courts have for years operated independently.
"The fewer courts there are the more one can imagine the court being supervised meaningfully by the presiding judge" of St. Louis County Circuit Court, Roediger said.
While a working group assigned by the Supreme Court to study the problems said the high court lacked the authority to force municipal courts to consolidate, the Supreme Court appears to be encouraging small courts to combine on their own.
The high court on Sept. 20 issued minimum standards for municipal courts, a long-awaited response to charges that municipal courts in the St. Louis area are unconstitutional debtors' prisons that routinely violate the rights of the poor. Breckenridge said the standards went into effect immediately.
The high court established a requirement for municipal courts to have a judge on duty at all times to rule on warrants and bail, and to offer alternative sentences for people who are too poor to pay fines.
It also set some standards for transparency. Under the new rules, courts must have a clerk on duty for at least 30 hours a week. They must be pursuing court automation to allow payments online and make available free online access to information about pending cases, outstanding warrants and scheduled dockets.
And courts must meet in a space that's large enough to accommodate the public.
The proposed Normandy consolidation was spearheaded by Beyond Housing, a nonprofit community development organization, which Green said worked to facilitate communication in the 24 cities that make up the Normandy School District.