ST. LOUIS — A St. Louis man told police that he accidentally shot 7-year-old Xavier Usanga, and then stole $50,000 the next day with a relative's help as part of a plan to flee the city, a police detective said Tuesday.
Malik Ross, 23, called his aunt after the Aug. 12 shooting and told her that he was the one that "killed that boy" and needed help getting out of town, police Detective John Anderson said in court Tuesday.
The next day, Ross was driving an armored car for his employer, Garda World Cash Logistics, and dropped a coworker off to make a cash delivery at a St. Louis Bread Company.
While the coworker was in the store, Ross drove off, opened the truck's door and dropped a bag containing the $50,000 in cash onto North Broadway downtown, Anderson said. Ross' aunt drove to the bag drop, stopped her car in the street, and picked up the bag, he said.
Later in the day, Ross again dropped his coworker off for a delivery, this time to the Currency Exchange on Olive Street. There, Ross abandoned the truck, threw away his uniform and fled, Anderson said.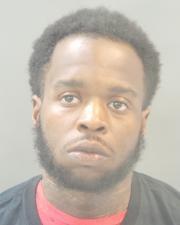 Both the money drop and Ross' abandonment of the truck were caught by surveillance cameras, Anderson said.
The next morning, police and deputy U.S. marshals arrived at a home in the 4300 block of Prairie Avenue where they arrested Ross, Anderson said. He tried to escape from the building, Anderson claimed, and then tried to pull his hands out of handcuffs while in the backseat of a police vehicle, he said.
Inside the house on Prairie, police found $24,000, still wrapped in bands labeled "Garda," Anderson said. At the police station and later at the jail, Ross spoke to police, Anderson said, implicating his aunt and admitting participation in the theft. 
Ross wanted to leave town for about six months, Anderson said. His aunt also packed up her personal items and took them to her storage unit in garbage bags, Anderson said. She later showed police her storage unit, and $3,000 to $4,000 cash was seized from her car, Anderson said. She has "pretty much denied" any role in the theft and gone into hiding, he said.
Ross also told police he didn't mean to shoot at Xavier, Anderson said. 
Under questioning on Tuesday by Ross' federal public defender, Robert Wolfrum, Anderson said that in a four- to five-hour police interview Ross "said he never saw a child." Ross said he heard a gunshot and "saw someone on a porch with a gun," Anderson said. Ross told police that he wasn't trying to hurt anybody; he was trying to get away from the scene, Anderson confirmed under questioning from Wolfrum.
Anderson also confirmed that Ross told police, "It was them or me," and "I am innocent. I am a good person."
Ross' self-defense claims could complicate any decision on charging him for the shooting.
Wolfrum said in court that there had been an unsuccessful attempt to charge him in state court for the shooting.
The St. Louis circuit attorney's office did not immediately respond to a request for comment. But almost two weeks ago, spokeswoman Susan Ryan said the circuit attorney's job is to hold the "right person accountable."
"There remains a lot of police work before charges can be filed with sufficient evidence," Ryan said then. "Prosecutors have provided police with a list of information that is needed to secure a conviction in court."
Area residents told Xavier's parents that the shooting stemmed from a dispute over a basketball game between Ross and the 18-year-old who was wounded in the shooting.
Anderson demurred when asked by Wolfrum how many weapons had been spotted by witnesses or seized by police, and whether Ross legally owned a gun, saying he was not investigating the shooting. Ten to 11 spent cartridges were recovered at the scene, according to court testimony, all from the same gun.
Anderson's testimony came in a two-part hearing in U.S. District Court in St. Louis. Assistant U.S. Attorney Allison Behrens said that Ross, who was charged by complaint last week with stealing, would not be indicted on the federal charge until next week, necessitating a preliminary hearing to determine if there was evidence to support that charge. Prosecutors are also asking U.S. Magistrate Judge Patricia Cohen to order Ross held in jail until his trial.
A pretrial services report said he could be released with strict conditions, including electronic monitoring, but Behrens said there was both a danger to the community and a "tremendous flight risk." She emphasized that although Ross may not have seen Xavier, at a minimum his "reckless conduct" caused the boy's death. She said the gun that fired the shots has not been found.
Wolfrum said that Ross has never been arrested before, is a high school graduate and has no history of aggression towards others. If released before trial, he would stay with his mother. He had been living with his ailing grandmother, the lawyer said. 
Wolfrum also challenged the charge facing Ross, saying it applied to bank employees, but Cohen replied that prosecutors would have to prove that it applied at some later point.
Cohen said that she will likely not make a decision on either matter until the end of this week or next week.
On Monday, the Post-Dispatch reported that police found some of the stolen cash at the Prairie Avenue home and two guns at a home in the 1600 block of 17th Street where Ross went after abandoning the truck, but it's not clear who owned the guns.
Xavier's shooting outraged area residents and city officials, and has prompted calls for action and a $25,000 reward for information about four recent fatal shootings involving children.
Malik Ross, 23, appeared in court on an unrelated charge: Prosecutors said he stole $50,000 from an armored car company for which he worked.
Coverage of children who died in the St. Louis area in 2019
These are the local incidents of homicide or neglect involving children, based on Post-Dispatch reporting. This list doesn't include children killed in car accidents (unless a criminal charge was filed) or incidents not being investigated by homicide detectives.