ST. LOUIS • How much of a role outrage over an electric bill played in a lone gunman's decision to take the lives of two utility workers and his own may never be known, but a day later it was the only clue as to what set Clinton Willis off on Thursday.
The victims were identified Friday as Alex Boschert, 27, of St. Charles County and William Froelich, 52, of Jefferson County. Boschert was remembered as an outdoorsman and Froelich as a family man. Both men were white and their killer black, but police said they ruled out race as a motive based on a background investigation and interviews with Willis' family and friends.
Willis, 51, did not have a history of mental issues but did have a criminal history dating to the 1990s.
Sources said his family and friends had told police that Willis, of the 5800 block of Highland Avenue, was upset about an electric bill from Ameren Missouri. Representatives of the utility company would not say whether it had been in contact with Willis recently or whether he had paid his most recent bill, saying it would not comment on customer information due to confidentiality policies.
But the company did release a statement saying that Willis' account was not "under the threat of disconnection."
"Our thoughts and prayers continue to be with the victims' family members and co-workers at Laclede Gas during this difficult time," the statement continued.
Boschert lived in the 2000 block of Highway Y northwest of O'Fallon, Mo., and Froelich lived in the 3000 block of Stuart near De Soto.
Laclede Gas spokeswoman Jenny Gobble said a fund for the victims' families had been established through the United Way.
Donations can be made online at www.stl.unitedway.org/lacledegas or by mailing a check to United Way of Greater St. Louis, Attn: Laclede Gas Workers Memorial Fund, P.O. Box 954281, St. Louis, MO 63195-4281.
Gobble also said that the company was providing extra security to some of its crews in the wake of the shooting.
"When we believe our crews are at risk while working in our communities, we provide additional security based on each job," she said. "Since Thursday, we have expanded our security coverage of certain crews."
The security firm that hires off-duty police officers for Laclede asked for additional officers to escort Laclede crews in the city for $50 an hour around the clock through the weekend. Officers overwhelmingly volunteered to do so, and some had to be turned away.
The scene of Thursday's shooting in the 5900 block of Minerva Avenue is about a mile southwest of Willis' home. Two yellow hard hats hung from a memorial made out of pipe in the shape of a cross there Friday afternoon.
Boschert was shot in the chest and pronounced dead at the scene. Police said Froelich was shot in the chest and taken to a hospital, where he died a short time later.
Boschert's family released a picture of him and a statement: "Alex Boschert was a hard-working young man, who loved the outdoors and being on the farm. He treasured his family and friends. Please be respectful of the family's privacy as they grieve. We are thankful for your thoughts and prayers. Thank you for your understanding during this difficult time."
Boschert's Facebook page included pictures of him and his wife.
A woman who answered the door at Froelich's home declined to comment. Mark Korte, who said he had played baseball with Froelich, said Froelich's family did not want to comment until funeral arrangements had been made. Froelich's Facebook page included pictures of him and his wife.
"This was a tragedy his son William and daughter Krissy will miss him very much," Korte wrote in a Facebook post. "He was a great friend and father and husband and will be missed."
A criminal past
Willis shot himself in the head and also was pronounced dead at the scene. Police found a gun near Willis' body.
A man who went into Willis' home Friday identified himself as Willis' cousin but would not give his name. He said Willis' family was still trying to find out why this happened and is upset.
"It's out of his character," the cousin said. "He's nothing like that."
A neighbor, Anita Daniels, said Willis had lived there for about five years with a roommate who still lives there. She said she saw him in passing but did not know him well.
"I'm still surprised," she said.
Willis' criminal history dates to the 1980s and 1990s.
According to court records, Willis pleaded guilty to second-degree burglary in 1985 and a drug charge in 1991. He was sentenced to four years of probation in August 1991.
In 1995, he was charged with two counts each of first-degree assault and armed criminal action after allegedly choking a man during a dispute. When another man intervened, a probable cause statement alleged, he pulled out a revolver and shot the man in the thigh and shoulder, and then chased the first man down the street while firing at him.
In 1997, he was found guilty of all charges during a trial and was sentenced to 14 years in prison.
Earlier in 1995, Willis had been charged with drug trafficking in the second degree after he was found with more than two grams of crack cocaine, according to a probable cause statement. Court records listed a different date of birth from what was listed in the assault case. He pleaded guilty to the charges in 1997 and was sentenced to eight years in prison, to be served concurrently with the 14-year sentence.
According to a 1997 transcript, Willis had an 11th-grade education and at the time had not earned a GED.
Willis was put in prison in March 1997 and paroled on Jan. 8, 2008. He was discharged from supervision on Sept. 10, 2009, according to the Missouri Department of Corrections.
His Facebook page includes multiple references to how thankful he is to God for his children and his girlfriend.
Job hazards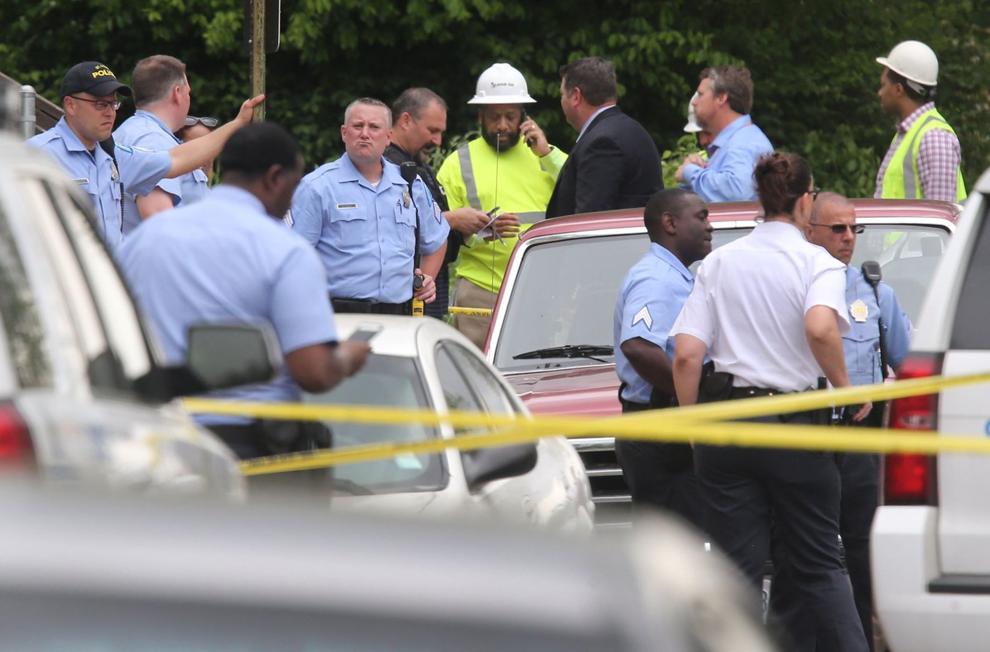 Utility workers have been involved in violent encounters in the St. Louis area before.
In November 2015, a 22-year-old contractor for ADB Utility Co. fatally shot a 17-year-old whom police say was trying to rob him and two of his co-workers in an area of unincorporated St. Louis County bordered by Dellwood, Ferguson, Moline Acres and Bellefontaine Neighbors.
Thursday's deaths were just the fourth and fifth deaths on the job in the 80-year history of the Gas Workers Local 11-6, said Pat White, president of the Greater St. Louis Labor Council and a former gas worker himself. The last union member to die on the job was killed when a leak caused a house to explode in Jefferson County in 1993, White said.
White said leaders of the local union were meeting with Laclede Gas representatives Friday to discuss safety procedures.
"I know that our members going forward are going to be extra careful," White said. "This happened so fast, I don't know if there was anything anyone could do."
The St. Louis Gas Workers union has about 1,000 members, White said.
White said utility workers including himself had witnessed shootings on the job or been held up at gunpoint, but he didn't recall any of his colleagues' being shot in the past.
"We've never had anything of this magnitude," White said.
The two killings were the first homicides of the year in Hamilton Heights, which had three homicides in 2016 and four the year before.
As was the case with much of the city, the neighborhood experienced a drop in reports of violent crime from the mid-2000s up until 2014, according to police statistics. Reported violent crime in the area rose in 2015 and in 2016, and is 14 percent above last year's pace as of the end of March.
Walker Moskop and Stephen Deere of the Post-Dispatch contributed to this report.