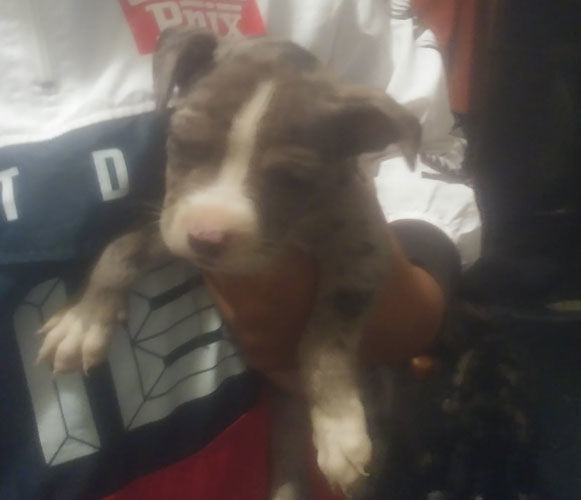 ST. LOUIS •  Eleanor Wallace was walking her three Alapaha Blue Blood bulldog puppies Tuesday in front of her home when a man popped out of nowhere.
"Lemme see them puppies," he told her, and Wallace was happy to oblige.
But soon, the man yanked open the front of his green Army jacket to reveal a gun, strapped to his body, from his chest to his waist. "Give me the puppies," he ordered.
Wallace, who walks with a cane, handed over the leashes. "I'm not gonna argue with that," she said.
Wallace, 59, said the man dragged the 2-month-old pups around the corner to an awaiting car.
"I heard them howling," Wallace said.
Shaken but unhurt, Wallace recounted the holdup to a Post-Dispatch reporter on Wednesday.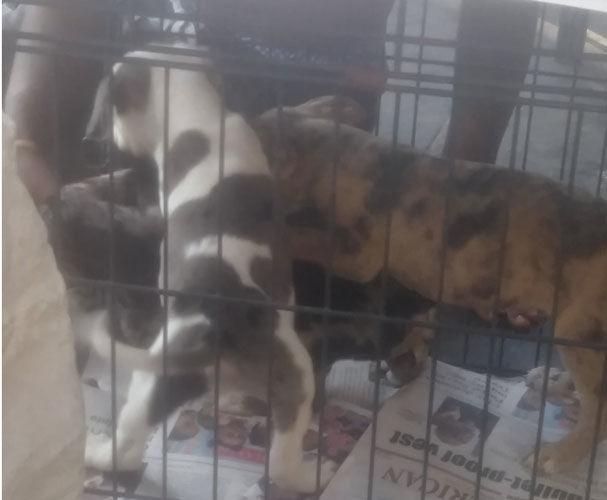 Evita Caldwell, a spokeswoman for the St. Louis Police Department, said police are still investigating the robbery and have made no arrests. The holdup was at about 4:30 p.m. Tuesday, in the 5100 block of Terry Avenue, in the Kingsway West neighborhood. The pups are still missing.
Wallace's neighbor, Ella Hamilton, didn't see the robbery, but saw Wallace moments before and after and can attest to Wallace being upset. When Hamilton went up the street to a gas station, she saw Wallace on Terry Avenue walking the puppies. A few minutes later, when Hamilton returned home, Wallace was empty-handed and told her what happened.
"She said, 'Someone just jacked my puppies,'" Hamilton said. "She said, 'Damn the dogs. Just glad I'm okay.' All she remembered is that big black gun."
Wallace recalled the gun being long. She called it a semiautomatic. She said the man never pointed it at her, just revealed it.
Police said the suspect is a black man, 5-foot-6 to 5-foot-7, 165 pounds with a medium build and medium brown complexion. The man wore red sweatpants and a green Army jacket. He drove off in a dark gray sedan.
Bobby Robinson said he was away from home, cutting grass in south St. Louis, when his wife was robbed.
"It angered me," he said. "She had an aneurysm three months ago and needs a hip replacement. She walks with a cane. She barely moves, you know, and she's always in pain."
The breed alapaha blue blood is not recognized by the American Kennel Club, said Alaina Caraballo with the AKC in New York. A group called the Alapaha Blue-Blood Bulldog Association says "there is an alarming increase in the number of so-called Alapahas being produced" without regard for temperament and health. Some promote the dogs as guard dogs and advertise them for sale for $1,000 and up.
Wallace said she had advertised hers for sale online for much less. She already sold three of the litter, born Aug. 21, for $200 or $250. She said she doesn't think the robber knew she was selling them. "I think he just saw me out walking yesterday," she said.
Bobby Robinson said he doubts the robber just happened upon Wallace walking the dogs. "I think someone else was involved," Robinson said. "Someone who had the inside scoop about her and the puppies."
Wallace said she still has the pups' mother, with her gorgeous Merle patterned coat, and father. She said she hopes to be reunited with her stolen puppies,  one girl and two boys.
"I'm praying to God," she said, "that I get them back."
---
EDITOR'S NOTE: This story has been updated to clarify that the detailed physical description of the gunman, including his height and weight, came from the Police Department, not the victim.