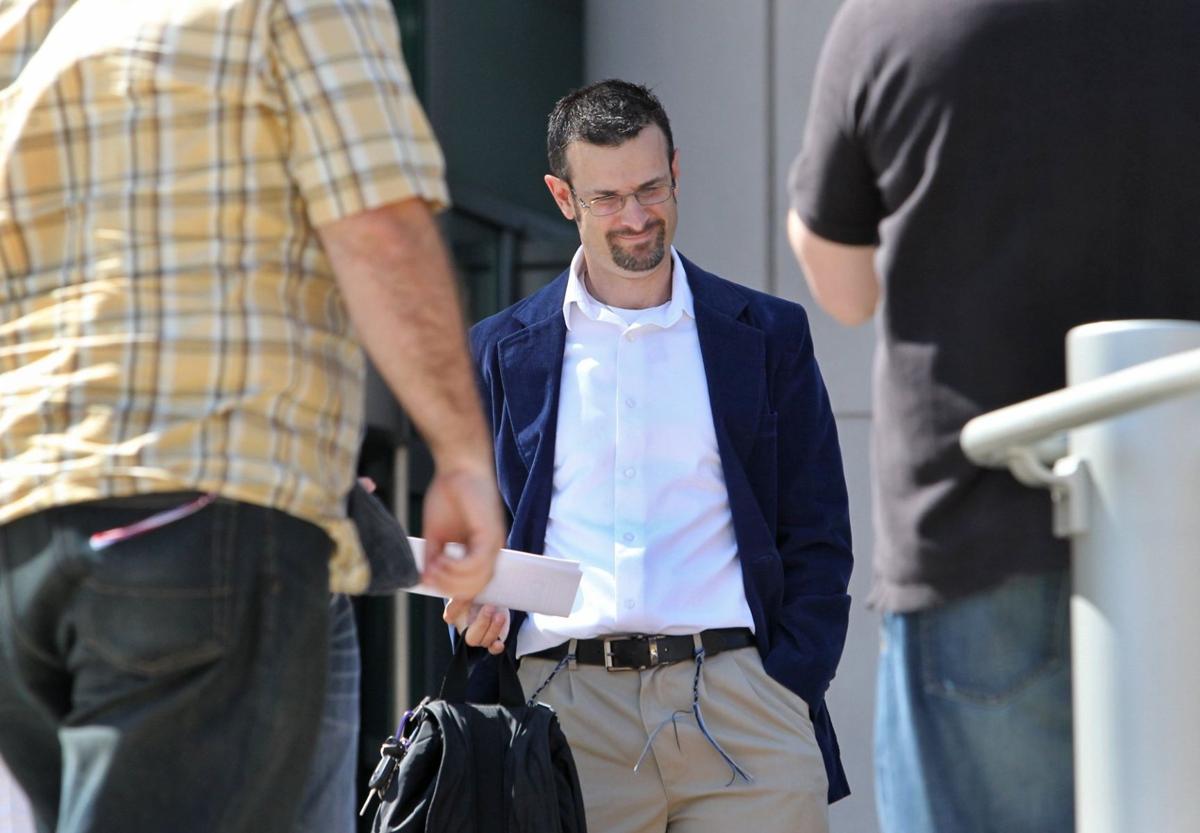 ST. LOUIS • A controversial St. Charles pastor was sentenced Wednesday to seven years in federal prison and ordered to repay $3.3 million to elderly investors he defrauded in an investment scam.
Jim Staley, 40, pleaded guilty in April to four counts of wire fraud, admitting that he cheated others while making $570,000 for himself.
In court Wednesday, some victims and their relatives called him "sick, manipulative and deceitful" and a "disgusting and sickening criminal." They said some elderly investors trusted him because of his professed Christian faith and family values, and some because they were slipping into dementia. Officials said none of them was a member of his church.
Staley began with basement Bible study, incorporated the Passion For Truth Ministries in 2008 and began live-streaming messages in 2009. He has since appeared on multiple Christian TV networks and radio stations nationwide. His church has about 200 local members, and an international following of believers in the "Christian Roots Movement," who advocate adherence to the Bible's core teachings.
Defense lawyer Scott Rosenblum asked the judge for a five-year term. Assistant U.S. Attorney Dianna Collins wanted something within the federal sentencing guidelines of nine to 11¼ years.
In ordering seven years, U.S. District Judge E. Richard Webber cited Staley's solid marriage and home life and his complete lack of a criminal record or any drug or alcohol abuse. But Webber also said Staley showed "very little interest so far in making restitution" and had repeatedly played down his crime.
In a 35-minute video response to critics posted in 2013, Staley insisted, "I was not conning little old ladies out of their money." After his indictment last year, he blamed investor losses on an economic downturn.
Although he was warned after the guilty plea not to continue denying responsibility, he said in an Aug. 1 sermon that he simply was in "the wrong place at the wrong time" and had not yet been allowed to share his side. "I know the truth and my King knows the truth," he said.
Because of those statements, Staley lost a credit that federal sentencing guidelines allow for accepting responsibility.
He has repaid just $1,950 — a tiny fraction of the restitution owed to victims — despite an annual church compensation of $127,000, including rent in a $1 million house, according to court testimony.
Rosenblum described Staley's acceptance of responsibility as a "process," and said that after an epiphany last week, his client stopped parsing words and accepted that he had nefarious intentions at some point.
Holding back tears, Staley, in a blue button-down shirt and jeans, apologized to the court for being overzealous, not doing enough research on the investments and failing to warn investors of possible losses.
He vowed to repay victims, explaining, "My faith requires it."
Victims and officials have said that Staley promised guaranteed returns, and persuaded some to cash in annuities, knowing it would result in "substantial" sums lost to penalties. They said he falsely claimed that billionaire Warren Buffet was an investor, and that companies were using the investments in their 401k plans.
Prosecutors said he continued to sell the investment — bundled life insurance policies — and recruit salespeople after realizing the product wasn't selling and after being ordered to stop. He failed to tell investors about a state cease-and-desist order.
Staley worked as a sales agent for a California company named B&B Equity Group. Other agents and those who recruited them faced criminal investigations elsewhere.
Asked if it appeared that Staley truly accepted responsibility, Collins quoted an earlier statement by Rosenblum about some who put on different faces for different people. "That might just be the face that Staley put on today," she said.
After the hearing, the daughter of a man who lost $155,000 said she thought Staley's apology was "staged" for church members. Dozens of them showed up to support Staley — so many that spectators were sitting in the courtroom's jury box and some were forced to stand.
EDITOR'S NOTE: Earlier versions of this story contained an incorrect description of Staley's total compensation. The total compensation includes both salary and a housing allowance.