UPDATED at 6:25 a.m. Friday with autopsy and toxicology results on Christ.
BELLEVILLE • St. Clair County's judiciary was shaken Thursday with one sitting judge in jail, federal agents combing a lodge where another died, and a probation worker accused of supplying a fatal dose of drugs.
Federal prosecutors were preparing at least one drug possession charge against the 20th Circuit's drug court judge, Michael Cook, a source close to the investigation said.
The developments included fresh scrutiny on the death of one of the county's associate judges, Joseph D. Christ, 49. His body was found March 10 in the Cook family's hunting lodge near Pleasant Hill, Ill., in Pike County, about 65 miles northwest of St. Louis.
Cocaine was found under Christ's body, and investigators believe he died of a drug overdose, with Cook in the building, the source said.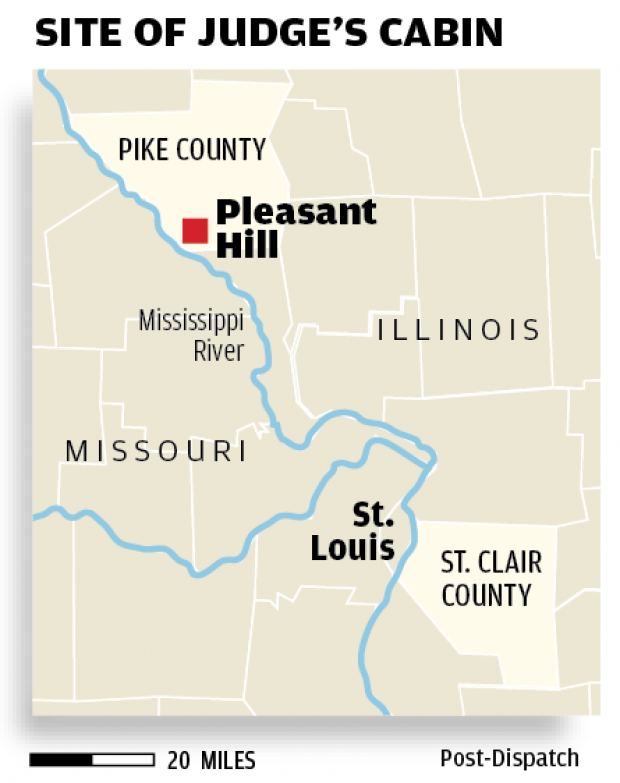 Pike County Sheriff Paul Petty, who also is that county's coroner, said Christ died of cocaine intoxication. Toxicology reports indicated he had cocaine and alcohol in his system. Cocaine and drug paraphernalia taken from the cabin were tested by the Illinois State Police forensic lab in Springfield, Ill., Petty said in a news release.
Petty added that Cook found Christ, and Cook was the only other person on the property at the time.
A St. Clair County probation department employee has been arrested and accused of supplying the cocaine to Christ, the source said.
The county's director of court services, Michael J. Buettner, declined to comment Thursday on what he called "employee matters." He said his office is cooperating with the U.S. attorney's office on an "active investigation."
Cook, 43, is the son of Bruce Cook, whose personal injury law practice in Belleville made him rich, and who has been a major contributor to Democratic Party causes, local and national. The elder Cook could not be reached for comment.
The circumstances roiled the county seat, where lawyers, judges and Democratic politics have long been deeply intertwined.
Law enforcement officials were almost silent about the case Thursday, referring questions to the U.S. attorney's office, which declined to comment.
Michael Cook, a circuit judge, was arrested Wednesday night, the source said, outside the home of a former drug defendant, Sean D. McGilvery, on North 38 Street on the west side of Belleville.
McGilvery was arrested elsewhere the same night. He was charged in U.S. District Court in East St. Louis late Thursday with conspiracy to distribute, and possession with intent to distribute, heroin. The charges claim he sold more than a kilogram.
Charging documents say that McGilvery and others pooled their money and made repeated trips to buy heroin in Chicago to resell locally. In 2008 alone, McGilvery and another person allegedly made more than 20 trips to obtain more than a half-kilo of heroin.
Cook is not mentioned in those court documents.
McGilvery's mother, Linda Gibson, told a reporter Thursday that agents with the FBI, Drug Enforcement Administration and Illinois State Police "tore the house to pieces" while searching in a raid Wednesday night.
She said Cook and her family had been friends for years.
"Mike came by the house sometimes, not often," Gibson said. "I thought it was because he was Sean's friend. I never thought for a second that they were doing drugs. This is not a drug house."
Gibson described her son, 34, as a recovering heroin addict who had been undergoing treatment at a methadone clinic.
"He had been doing so good. He was really trying to stay clean," she said.
In addition to numerous traffic offenses, McGilvery has twice been charged with felonies — in 1997, for allegedly stealing a .38-caliber pistol and in 2011 for allegedly possessing cocaine. Both charges were eventually dismissed.
In the 2011 case, court documents show, it was Cook who dismissed the charge, after McGilvery completed a 41-day stint in "drug school."
Chief Judge John Baricevic said the dismissal seems typical of such cases. He said the program is run by prosecutors, and the judge's only involvement is signing off on a dismissal order when the prosecution sees fit.
McGilvery's lawyer, Charles Baricevic, declined to comment Thursday. He is the chief judge's son.
HOME, OFFICE, LODGE SEARCHED
Cook's home, court chambers and the family's lodge were searched by authorities. Yellow crime scene tape barred entry to the office on the fourth floor of the courthouse in downtown Belleville. FBI agents and Pike County deputies searched the lodge Thursday afternoon.
The 2,500-square-foot, red-roofed, tin-sided lodge has a three-car garage, Jacuzzi and covered porch, according to Pike County records. It sits amid rolling hills, near the flood plains of the Mississippi River.
Kenneth Davis, a caretaker, said he did not know anything about the drug and death investigation, but he noted, "They were good people. Never bothered nobody and treated me right."
He said the Cooks liked to hunt ducks.
Although Bruce and Sandra Cook own the property, according to county records, Davis said, "It was mainly Mike and his buddies" who use it.
Chuck Prater, a volunteer firefighter in Pleasant Hill, said he arrived early that evening and a judge named Mike told him he'd just gotten out of bed and found his friend dead in the bathroom.
"We could tell he'd been down a while so we didn't start CPR," Prater said. He noted that Mike "was upset."
He said he was told the men had gone to a hunters' banquet the night before, in Pittsfield. "I guess they partied all night; I guess they didn't go to bed until morning, the way he talked," said Prater, formerly the fire chief.
St. Clair County State's Attorney Brendan Kelly filed papers Thursday asking for Cook's cases to be transferred to another judge. The motions said his office "assisted in and advanced" the federal investigation of Cook.
Kelly also said that he filed complaints against Cook with the Illinois Judicial Inquiry Board and the Attorney Registration & Disciplinary Commission. Their investigations are not public at this stage.
Cook will remain a judge, Baricevic said, unless he is removed by the state. The chief judge said he has no disciplinary authority over other judges.
Baricevic said he already has moved all Cook's pending cases to another judge, former state's attorney Robert Haida.
It was not clear whether the accusations against Cook might have any effect on past cases.
One lawyer, Tom Daley, said that he was unlikely to seek the reopening of any clients' matters. "I can't think of a thing that didn't go the way I wanted it to go," he said.
Cook, who lives in Belleville, is a former assistant public defender who practiced for a while in his father's firm and was elected associate judge in the 20th Circuit, which includes St. Clair County, in 2007. He was appointed to fill a vacancy as full circuit judge in 2010 and elected as a Democrat to a six-year term later that year.
Baricevic called the situation "a blow to the integrity of the system" but said he cannot make a judgment without knowing the facts.
"It is the public's right to expect honest officials, officials with integrity," he said. "It is important that they have trust in us."
He said he had "no complaints" about Cook's work as a judge.
Baricevic said Christ, the judge who died, had been "one of the hardest working prosecutors they had." Christ, of O'Fallon, Ill., had been a judge only about 10 days. Christ's widow did not respond to messages seeking comment Thursday.