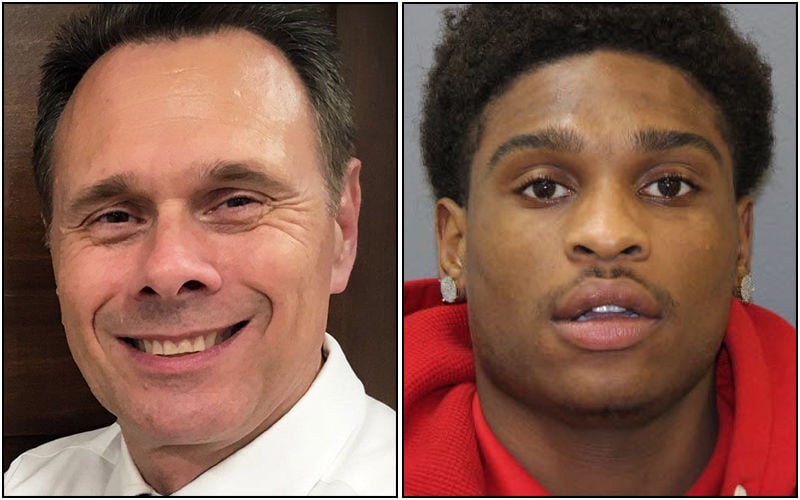 BELLEVILLE — St. Clair County Circuit Judge Ronald Duebbert, who has been accused of lying during a murder investigation, sued police and prosecutors this week, claiming they fabricated evidence against him in an unrelated sexual abuse case.
Duebbert's lawsuit, filed on Tuesday in U.S. District Court in East St. Louis, says officials were unhappy that Duebbert, a Republican, had unseated incumbent Judge John Baricevic, a Democrat, in the November 2016 election. Those officials were trying to oust Duebbert, the suit says.
The suit names the county, the state, prosecutors, the city of Belleville, Belleville police, one of Duebbert's former clients and that client's new lawyer. It alleges a conspiracy to deprive Duebbert of his constitutional rights, malicious prosecution, intentional infliction of emotional distress and other counts, and seeks $10 million in damages.
The suit says the former client presented a sworn but false affidavit to Belleville police claiming that Duebbert grabbed the client's genitals through his underwear.
Then-St. Clair County State's Attorney Brendan Kelly sought the appointment of a special prosecutor, and the sexual abuse and intimidation case was almost brought to trial despite officials knowing that the client had lied about at least some of the things in his affidavit, the suit says.
The case was dismissed July 6, 2018, before officials would have had to produce electronic communications between prosecutors and a victim's advocate, the suit says.
At the time of the dismissal, Duebbert lawyer Scott Rosenblum also complained that the case was politically motivated.
Duebbert, 57, is currently assigned to administrative duties in the courthouse. He was accused by a state judicial board last year of lying to police about his contact with an ex-roommate, David E. Fields, who was charged with murdering a man in east Belleville. The board said Duebbert lied about the location of a cellphone Fields had the night of the Dec. 30, 2016, shooting death of Carl Silas, 28, in an east Belleville apartment. They also said Duebbert lied to the Major Case Squad about the last time he spoke to Fields.
That judicial complaint is pending.
Fields, now 23, of East St. Louis, was acquitted of murder at trial last year.
Kelly and current State's Attorney Jim Gomric declined comment. The client's lawyer could not be immediately reached. Duebbert's civil lawyer, Michael Lawder, said the lawsuit "speaks for itself."