ST. LOUIS — Officials in St. Francois County have agreed to pay $1.8 million to settle a wrongful death lawsuit claiming jailers kept a screaming man in a restraint chair for 24 hours and failed to address his medical needs, according to court testimony Wednesday.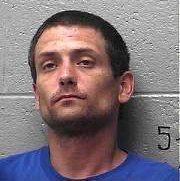 William "Billy" Ames III, 36, was arrested on Nov. 8, 2018, after a traffic stop and died three days later in the St. Francois County Jail in Farmington. Just before his arrest, he swallowed a baggie containing the street drug "flakka," a combination of methamphetamine, cocaine and bath salts, according to a 2019 lawsuit.
Ames was not evaluated by a nurse at the jail and she did not give him the anti-seizure medication he needed three times a day for a brain injury he suffered years before, the suit says. Despite knowing that he was on drugs, jailers strapped him into a restraint chair and left the screaming, suicidal man there as he begged for help, the suit says, not even releasing him to use the bathroom. Other inmates were also pleading for jailers to help Ames, the suit says.
Ames, of Bismarck, died of acute meth intoxication. The county denied the lawsuit's claims in court documents, and said Ames did not tell jail staff of his medical needs, nor that he'd ingested drugs.
Ames' parents, who filed suit in U.S. District Court in St. Louis against St. Francois County, the sheriff's department and employees, will split the money. The sheriff's department and one employee were earlier dismissed from the suit.
William A. Hellmich, a lawyer for the county and county employees, tried to seal the settlement and close Wednesday's hearing, but U.S. District Judge Stephen R. Clark rejected the attempt. Clark said the settlement is available under Missouri open records laws and explained the public has a right of access to court documents and government records.