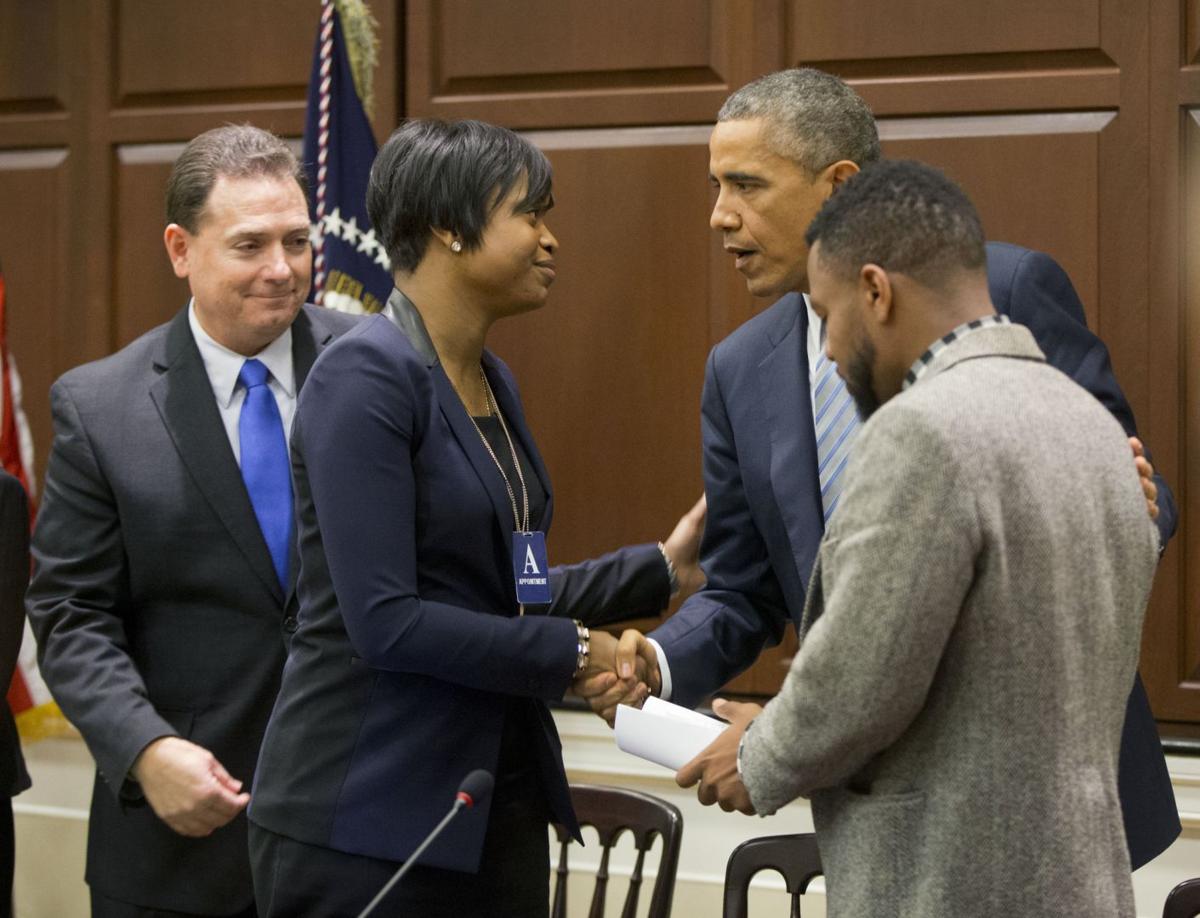 WASHINGTON • President Barack Obama on Thursday unveiled the members of a commission on "21st Century Policing" formed in the wake of the Ferguson shooting, and he wants the diverse group of law enforcement personnel, lawyers and civil rights activists to report initial findings by March 2.
Its members will include Brittany Packnett, executive director for Teach For America in St. Louis, who also is on the Ferguson Commission. Packnett is a former aide to Rep. William Lacy Clay, D-St. Louis. She was one of eight young civil rights activists who met with Obama Dec. 1 at the White House for a meeting called in the wake of a St. Louis County grand jury's decision to not indict Ferguson police Officer Darren Wilson in the Aug. 9 shooting death of Michael Brown.
"I see this as an opportunity to do important work and to take important steps," Packnett said Thursday.
Packnett, 30, said she will work to ensure the younger voices of the movement are represented. "I want to make sure the struggle and hope of our community here in St. Louis is at the table," she said.
White House senior adviser Valerie Jarrett told reporters that the task force will operate with a sense of urgency.
The president "has emphasized again and again the need to meet our challenges head on, and to be honest about the complexity of the problems" between police and some communities they serve, Jarrett said.
She said the task force will have considerable say over what it considers and will cast a wide net on witnesses and ideas. "The door is wide open for new and creative ideas that perhaps none of us has considered before," she said.
Jarrett said Obama insisted that several young people be on the commission after being struck by what he heard from the community activists, including Packnett, whom he met in early December.
"When I hear the young people around this table talk about their experiences, it violates my belief in what America can be to hear young people feeling marginalized and distrustful, even after they've done everything right," Obama said then. "That's not who we are."
Ronald L. Davis, the head of the U.S. Justice Department's Community Oriented Policing Services office, will be executive director of the task force. He is the former chief of police for East Palo Alto, Calif.
The co-chairs, previously announced by Obama, are Philadelphia Police Commissioner Charles H. Ramsey and George Mason University professor Laurie Robinson.
Other members of the commission:
• Jose Lopez, lead organizer for Make the Road New York, a Brooklyn-based civil rights organization.
• Bryan Stevenson, founder and executive director of a nonprofit organization called the Equal Justice Initiative in Montgomery, Ala., and a professor at the New York University School of Law.
• Susan Rahr, executive director of the Washington State Criminal Justice Training Commission; she was the first female sheriff of King County, Wash., from 2005-2012.
• Yale Law School professor Tracey Meares, who served as the deputy dean of that school from 2009-2011
• Constance Rice, a civil rights attorney and co-director and founder of the Los Angeles-based civil rights organization, the Advancement Project.
• Tucson, Ariz., Police Chief Roberto Villaseñor.
• Sean Smoot, director and chief counsel for the Police Benevolent & Protective Association of Illinois and the Police Benevolent Labor Committee.
• Cedric L. Alexander, deputy chief operating officer for Public Safety in DeKalb County, Ga., and the president of the National Organization of Black Law Enforcement Executives.
Davis said he believed the moment was right to talk about how police forces and communities can regain trust, and that his COPS office had started a review earlier this year, even before the Michael Brown shooting. "This has been an ongoing dialogue," Davis said.
Elisa Crouch of the Post-Dispatch contributed to this report.
Shake off your afternoon slump with the oft-shared and offbeat news of the day, hand-brewed by our online news editor, Mandy St. Amand.