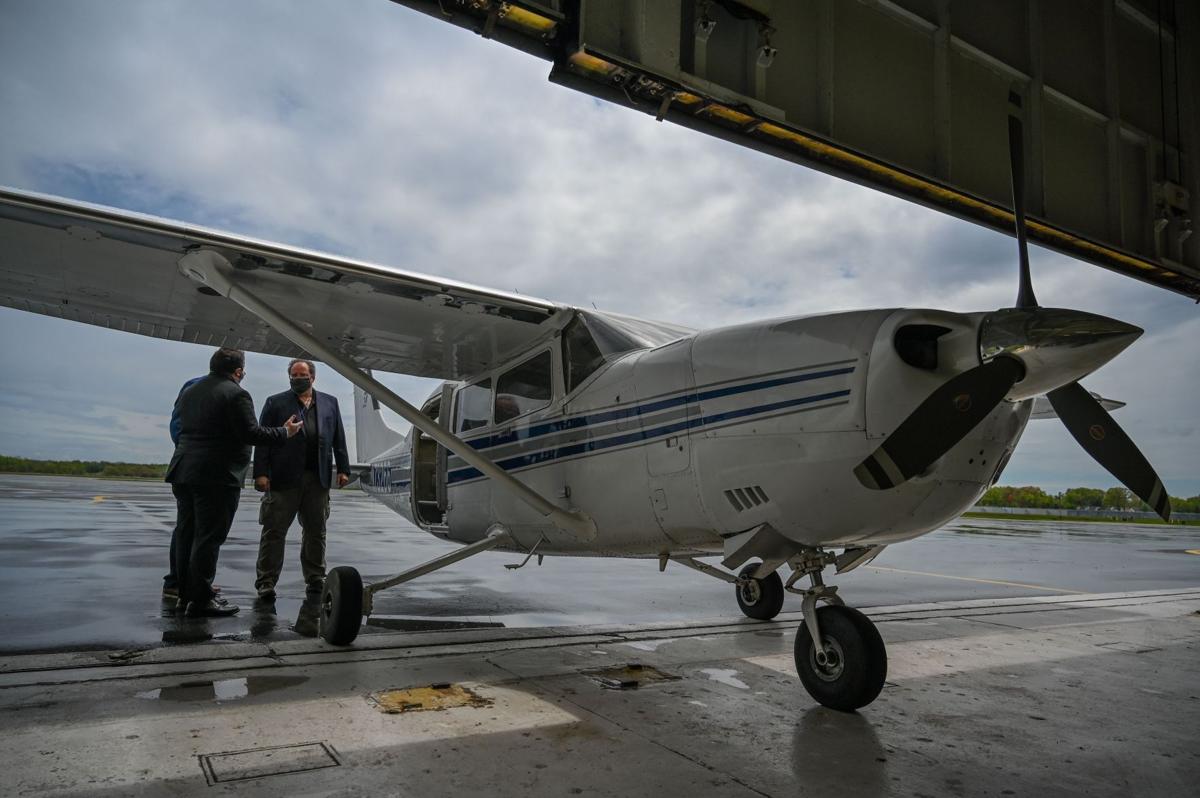 ST. LOUIS — By the narrowest of margins, the Board of Aldermen on Friday endorsed a potential aerial surveillance program aimed at helping police investigate the city's soaring violent crime problem.
The board voted 15-14 to give preliminary approval to the measure. It would direct Mayor Lyda Krewson or her successor to contract with an Ohio-based company proposing to fly airplanes up to 18 hours a day over the city.
"Our city is in crisis mode," said sponsor Tom Oldenburg, D-16th Ward, citing the city's 262 murders last year, the highest total since 1993.
Backers say the aerial cameras could track the path of suspects and vehicles from key crime scenes and help in police investigations. The 18-month contract wouldn't kick in unless the company found private donors to cover the cost.
"We owe it to the victims past, present and future to proceed with this free trial program," Oldenburg said.
Opponents warned that the plan posed a threat to civil liberties because the cameras could track every movement on a wide swath of city streets at any given time.
Alderman Bret Narayan, D-24th Ward, called it "a dystopic, totalitarian way of monitoring every citizen and every worker in the city of St. Louis." Dan Guenther, D-9th Ward, said it was part of a dismaying trend toward the "militarization" of police.
Several aldermen from high-crime areas spoke out in support, saying some opponents just don't understand the fearsome conditions their constituents live in.
"Come live in the 4th Ward so you can see what we're going through," said Alderman Dwinderlin Evans, who represents that North Side area. "Give us some hope towards some normality of living."
Critics also said the city should wait until a study of the effectiveness of a six-month pilot program in Baltimore is completed. They also complained that Oldenburg didn't consult in advance with police, the circuit attorney and the city's criminal justice coordinating council.
Oldenburg said he talked with Krewson and public safety officials about his bill and made changes requested by the mayor. One bars the company from direct access to existing street cameras.
The revised bill also requires a written request from a police officer — Oldenburg says an email would suffice — before a company aircraft could zoom in on a crime scene after a shots-fired or 911 notification.
The mayor hasn't said if she will sign or veto the measure if aldermen pass it next week.
Among those voting in favor was Aldermanic President Lewis Reed, who is running to succeed Krewson in the March 2 primary. Another mayoral candidate, Alderman Cara Spencer, D-20th Ward, voted no. Mayoral candidate Tishaura Jones, the city treasurer, also has come out against the bill.
No workhouse election?
City residents may not vote on the city workhouse issue at the April 6 election after all because of a dispute between two supporters of a bill that would schedule the nonbinding referendum.
The chairwoman of the aldermanic Rules Committee, Sharon Tyus, D-1st Ward, on Friday said she wouldn't take up the bill until next week. Her committee isn't scheduled to meet until Wednesday, the day after the deadline in state law for qualifying an issue for the April ballot.
Tyus' decision kept the full board, which gave the measure preliminary approval last week, from passing the bill Friday. Tyus said while she supported the bill, it wouldn't be fair to take it up ahead of some others also pending. She also alleged that referendum sponsor Jeffrey Boyd, D-22nd Ward, held up some of her bills in a panel he chairs.
If Tyus' committee clears the bill next week and the board passes it next Friday, Boyd said he'd ask the city counselor to file suit to get a judge to schedule the referendum after the deadline. Krewson also has to sign the bill.
Tyus' committee performs the ministerial function of engrossment, a procedure aimed at ensuring that changes made to a bill during the legislative process were incorporated correctly.
Other action
The board on Friday also passed legislation requiring that outlets to accommodate electric-car charging stations be included in some new construction and major building rehabs in future years. In some cases, stations would be required.
And the board advanced a bill to give city officials authority to spend about $88 million in new federal coronavirus aid that the city expects to receive.
Updated at 8:30 p.m. Friday