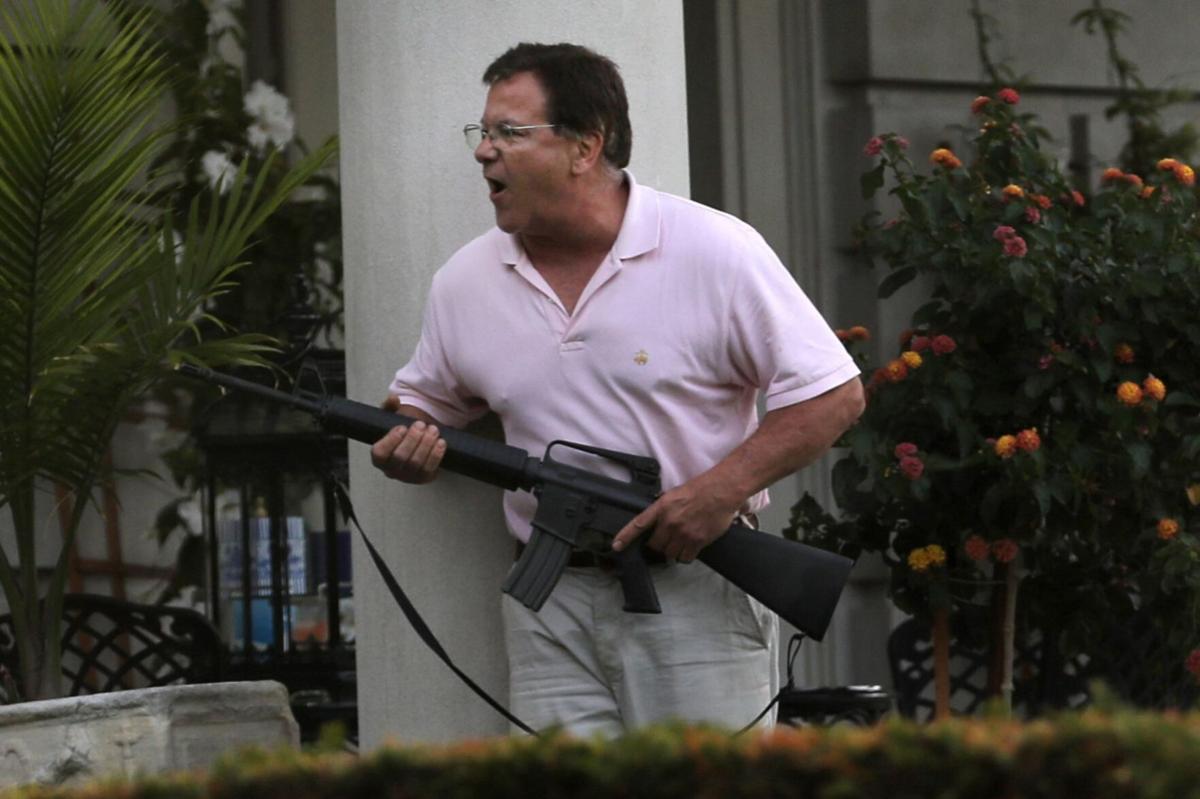 JEFFERSON CITY — Nearly a year after waving a long gun at protesters who had walked onto the street in front of his Central West End mansion, Mark McCloskey on Tuesday said he is running for U.S. Senate.
After the gun-waving incident last June made international headlines, Gov. Mike Parson promised to pardon the couple if they were convicted, and the two later spoke at the Republican National Convention.
McCloskey made his announcement Tuesday on Fox News' "Tucker Carlson Tonight" show.
"God came knocking at my door last summer disguised as an angry mob — and it really did wake me up," McCloskey said, adding that "as I campaigned for the president last fall" he learned people are "sick and tired of cancel culture and the poison of critical race theory and the big lie of systemic racism."
He went on to say voters don't want any more "poseurs and egotists and career politicians going to D.C."
His campaign website, mccloskeyforsenate.com, says that on the day of the gun-toting incident, "a mob came to destroy their (the McCloskeys') home and hurt their family" — a description that contradicts livestream footage and other accounts from the scene.
The live feed showed the first few protesters move through the gate onto Portland Place, away from the McCloskey property and onto the private street. No one was on his property when a rifle-holding McCloskey confronted the protesters, the Post-Dispatch has reported.
The crowd was headed to Mayor Lyda Krewson's house blocks away as part of racial justice protests.
Rep. Rasheen Aldridge, D-St. Louis, blasted Parson at the time for portraying the protesters at the McCloskeys' as "some bloodthirsty, rampaging mob."
"We practiced peaceful civil disobedience and had the threat of violence imposed upon us," said Aldridge, who said he was in the crowd.
McCloskey, 64, is a St. Louis personal injury attorney and the third Republican to announce a campaign for the Senate seat being vacated by retiring GOP Sen. Roy Blunt.
Former Gov. Eric Greitens and Attorney General Eric Schmitt have also announced campaigns. Neither campaign responded to a request for comment on Tuesday.
U.S. Reps. Vicky Hartzler, Ann Wagner, Jason Smith and Billy Long have also been mentioned as possible contenders for the Republican nomination.
On the Democratic side, former state Sen. Scott Sifton, as well as Marine veteran Lucas Kunce, startup owner Spencer Toder, Kansas City activist Tim Shepard and Air Force veteran Jewel Kelly are running.
Mark McCloskey is almost always in conflict with somebody, typically over control of private property, what people can do on that property, and whose job it is to make sure they do it.
On June 28, Mark and Patricia McCloskey say they felt threatened by a group of protesters who entered Portland Place, a private street in the …