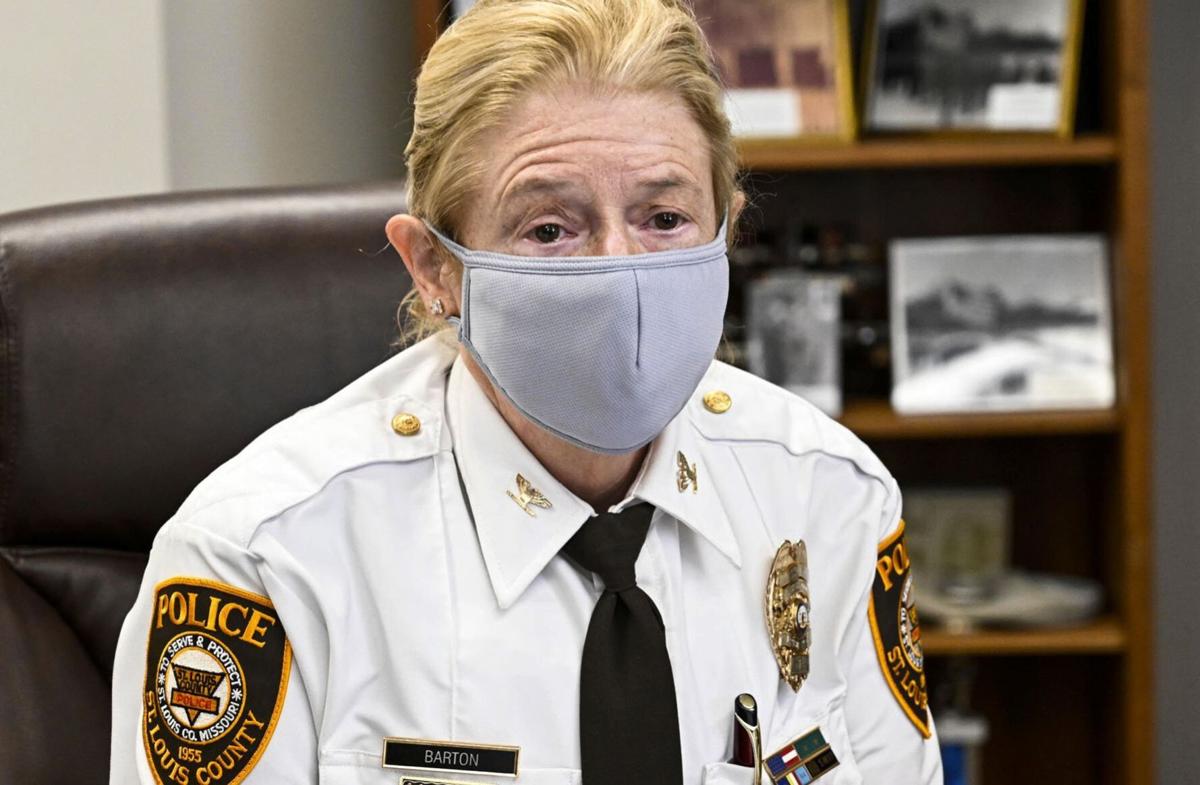 CLAYTON — The St. Louis County Council voted Tuesday to declare it has no confidence in embattled county police Chief Mary Barton.
The 4-3 vote, which broke along partisan lines, condemned Barton's leadership in a lengthy nonbinding resolution, saying the chief was incapable of leading the St. Louis County Police Department "in the right direction."
The move followed a year of widely publicized complaints of racial misconduct within the department and allegations of retaliation against officers who raised concerns.
Councilwomen Rita Heard Days, D-1st District, Lisa Clancy, D-5th District, Kelli Dunaway, D-2nd District, and Shalonda Webb, D-4th District, emphasized that many issues in the police department, including discrimination and low morale, preceded Barton and required substantial and systemic reforms. But Barton, after about a year as chief, proved incapable of enacting any meaningful changes, they said.
"If no one else is going to provide accountability, we must let our leaders know we are serious about accountability and change," Webb said.
Councilmen Tim Fitch, R-3rd District, Mark Harder, R-7th District, and Ernie Trakas, R-6th District, voted against the resolution, arguing that it unfairly blamed Barton for some matters that were outside of her control.
Fitch, a former police chief, said Barton "is one of the most ethical people I know," whose promotion from captain to chief posed a steep learning curve.
"Attacks on a brand new police chief who faces a steep learning curve — I don't think that is the way to go," Fitch said.
The move is largely symbolic. The county's legislative body has oversight of the police budget, but authority over the police chief lies with the Board of Police Commissioners, an independent five-member panel appointed by County Executive Sam Page. The board unanimously appointed Barton as the department's first woman chief last year.
Fitch said the resolution was misguided because the council should direct any concerns about the police department to the police commissioners.
"This is a wake-up call to the commissioners," Days said. "Get it done."
The council resolution asked police commissioners to hold Barton "accountable," but stopped short of further detailing recommended action.
Michelle Schwerin, vice chairwoman of the board, did not return a request for comment Tuesday. The board meets Wednesday.
In a statement responding to the council vote, Barton said, "I understand the resolution put forward but it amounts to your opinion … and that has no legal standing."
Page, asked by Fitch for an opinion on the resolution, said "the police commission directs the police chief, and I will let them receive this resolution and respond appropriately."
The police department has experienced a series of controversies involving race during Barton's tenure: Two contractors serving as academy instructors and a police dispatcher, who is Barton's brother-in-law, were reported for using racial slurs on the job.
A corporate-funded review of the department by the consultancy group Teneo listed a "serious racial divide" within the ranks as one of the most pressing issues facing county police and recommended a series of changes to department policy.
And on Friday, the Ethical Society of Police, a group that advocates for racial equity in local police forces, declared no confidence in Barton and accused the department of transferring a Black police officer in retaliation for her speaking to national media about minority recruitment.
In a statement Tuesday, the Ethical Society of Police and the National Association of Black Law Enforcement Officers wrote to the council in support of a no-confidence vote.
Eviction ban
The council voted unanimously Tuesday to advance emergency legislation that would temporarily stay nearly 600 evictions begun earlier this month, following a request by Page and U.S. Rep. Cori Bush, D-St. Louis.
But Fitch and Harder opposed a plan by the bill's sponsor, Trakas, and council Democrats to fast-track the bill for final passage. That would have required unanimous support to suspend normal rules requiring a 14-day wait between introduction and final passage of legislation.
Fitch and Harder questioned why the county was seeking legislation that would apparently conflict with a standing court order by St. Louis County Circuit Court Judge Michael D. Burton to allow evictions to resume.
The evictions were on hold for a year under a nationwide moratorium by the U.S. Centers for Disease Control and Prevention, which said evictions hurt public health measures to limit the spread of COVID-19 by forcing people out of their homes and into shared housing, shelters or the streets. The CDC in April extended the guidance through June 30, allowing qualifying households to apply for a stay on their eviction.
But an order signed March 23 by Burton allowed all evictions to resume April 5, noting a total of nearly $30 million in federal funding that became available April 1 to help tenants catch up on back rent and utility bills and landlords recoup losses.
At a news conference Monday, Page and Bush warned that evictions were happening before residents had enough time to apply for federal housing assistance and access the funds, and asked the council to halt evictions.
Burton, through a spokeswoman, would not comment Tuesday before the council vote.
The circuit court in the city of St. Louis has extended its eviction moratorium until May 3.
Anger about settlement disclosure


Also Tuesday, Harder sharply criticized County Counselor Beth Orwick after a Post-Dispatch report published online Tuesday evening detailed a settlement between the county and owners of the Crossings at Northwest over an office lease former County Executive Steve Stenger's administration inked with some of his most generous campaign donors.
Harder said he was surprised to see the report because Orwick's office forbade them from discussing the settlement outside of a planned closed-door council meeting with county attorneys.
"So do we have a mole in our organization that leaked all this or was this purposely leaked for some political reason?" he said.
Orwick said the settlement terms were available by a public records request under the Missouri Sunshine Act, but that the only way she or other county officials could discuss the agreement otherwise was in meetings closed to the public.
"If we're not going to be informed of this, then do our assistants need to ask for a Sunshine request to the government to let us know what is going on in the government? Is that the new procedure? It's just ridiculous," Harder said
All against the trolley


In other council action Tuesday, the council voted unanimously to adopt a nonbinding resolution opposing a request by backers of the troubled Loop Trolley for a $1.26 million grant from the East-West Gateway Council of Governments, a regional agency that oversees federal transportation dollars in the metro area.
Editor's Note: This story was updated to correct a vote on advancing emergency legislation to stay evictions.