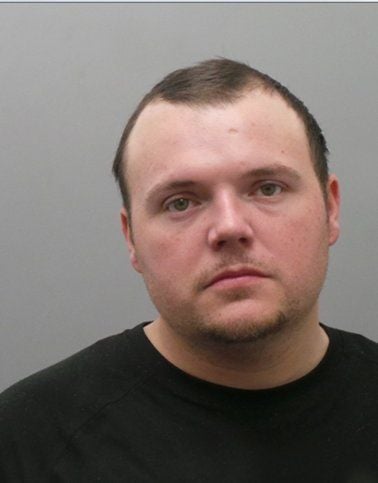 CLAYTON • The St. Louis County Justice Center provided "high-quality medical treatment" to an inmate who died in the infirmary on Saturday after being taken to the hospital twice that day with stomach pain, its director said Wednesday.
But at the same moment acting justice services director Julia Childrey emailed a statement defending her staff, her boss, County Executive Steve Stenger, issued a statement announcing the county had suspended and was in the process of firing a corrections officer accused of assaulting a different inmate in the infirmary just minutes before the other inmate was found dead. Both statements came in response to Post-Dispatch questions about the jail death.
The troubles inside the jail started early Saturday. John M. Shy, 29, of the Oakville area of St. Louis County, complained of stomach pain at 3:15 a.m. and was taken to the emergency room at St. Mary's Health Center in Richmond Heights. He returned to the jail at 6:31 a.m. and was held in the infirmary.
Shy complained of stomach pain again hours later. A Clayton police and fire dispatch record obtained by the Post-Dispatch through a public records request said a man had blood in his stool and was throwing up blood. An ambulance brought him back to St. Mary's about 9:55 a.m., but he returned to the jail at 12:30 p.m.
Shy was in a cell in the infirmary across from Ivan K. Henley, 23, who is being held on $1 million cash bail on second-degree murder and other charges stemming from the fatal shooting of a man in the Spanish Lake area on Feb. 17. Henley, who said he was the victim in the Spanish Lake case, was in the infirmary because he sustained several gunshot wounds in that incident.
In an interview Wednesday at the county jail, Henley said Shy cried and screamed in pain every 15 to 20 minutes for nine hours before he died, begging for someone to "(expletive) help me" and using a device on his bed to summon assistance "more times than I could count." Henley said corrections officers did respond when Shy summoned them.
"It wasn't like they were ignoring him," he said.
Henley said that about 8:40 p.m., two corrections officers came into Henley's cell, and one of them assaulted him by twisting his leg, which was riddled with bullet wounds from his toe to his hip. The other corrections officer reported the assault to a supervisor, Henley said.
At 9:38 p.m., the police and fire departments responded to the jail again where CPR was being conducted on Shy.
Henley said he could see Shy lying in the hallway after Clayton EMS workers carried him out of his cell. He said his shirt and socks were stained with blood, and he could see small pools of blood on the floor of his cell.
After the commotion died down, Henley said, the corrections supervisor pulled a Clayton police officer aside to report the guard's alleged assault of Henley.
Henley said Clayton police appeared to be taking the complaint seriously and returned to the jail to get a statement from him on Wednesday.
Stenger said in a statement that "an internal investigation revealed a corrections officer mistreated an inmate at the Justice Center. Because we will not tolerate inappropriate conduct or activities, we have suspended the corrections officer involved in the incident and have initiated termination proceedings against him."
Childrey's statement addressed only the death of Shy, who an aide to Stenger said was a heroin user. Shy "was suffering from multiple medical problems and was in a great deal of discomfort on Saturday. Justice Center personnel had him transported to a hospital twice that day. Upon release by the hospital and his return to the Justice Center, he received high-quality medical treatment while in our care. Nonetheless, he passed away as a result of his medical problems." The jail is conducting a "full internal investigation into this incident," she said.
St. Mary's Health Center President Travis Capers said in a statement: "Although we are bound by federal patient privacy laws and can't share specifics, St. Mary's is absolutely committed to providing every person we serve with high-quality, compassionate care. "
Clayton police provided the Post-Dispatch with heavily blacked-out dispatch reports indicating four visits on Saturday to the jail but did not respond to requests for incident report and incident log entries providing details of the cases.
The Missouri Sunshine Law provides that information about reported crimes be made available, including the name and age of the victim, the substance of the complaint and the factual circumstances surrounding the incident. The Post-Dispatch filed a complaint on Wednesday with the state attorney general's office.
It was at least the second death at the jail this year. A former assistant special agent in charge of the DEA St. Louis Division was found dead in the jail infirmary on Jan. 18. Larry "Jay" Reavis, 51, of Des Peres, had been arrested on suspicion of domestic violence. A report on the investigation of the death has not been released.