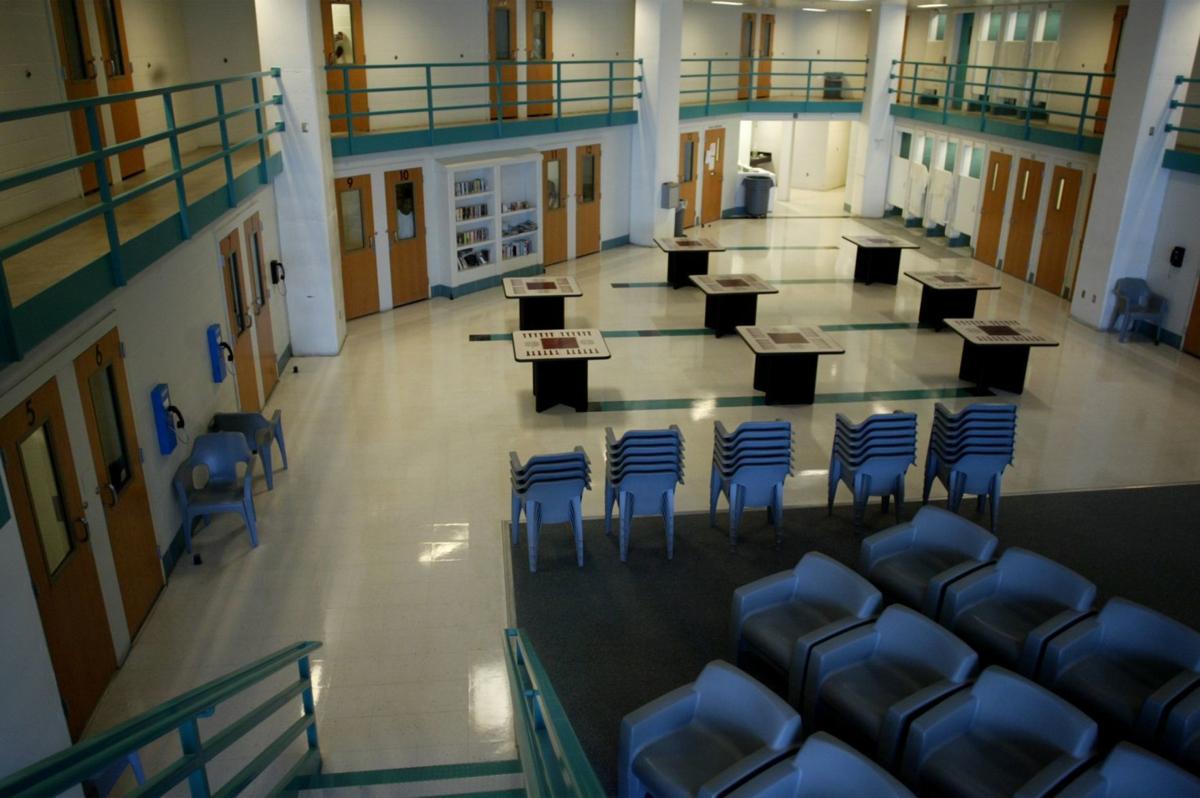 CLAYTON — While the number of people admitted to the St. Louis County jail has fallen over the past several years, the length of time many are held before their day in court has increased, University of Missouri-St. Louis researchers have found.
The study, released last week, comes out months after officials said publicly that the St. Louis County Justice Center was too full and understaffed to take on inmates from the city of St. Louis. The study makes clear that the length of time inmates are kept in jail began climbing before the COVID-19 pandemic slowed court processes in 2020.
Researchers examined county data from 2010 to 2019. While the number of people admitted to the jail fell 40% over that time, the average time they were held increased about 56%.
"I think the length of stay is really key — it's not just about who is in jail, but how their cases are being processed," said Professor Beth Huebner of the Department of Criminology and Criminal Justice at UMSL, who co-authored the study. She also sits on the Justice Services Advisory Board. "A few days longer and you can lose your job, you can be exposed to viruses and things like that. Every day really matters — even a couple days make a difference."
The jail was built to house 1,232 inmates. It got overcrowded in 2013, with an average of 1,300 inmates.
Two years later, the jail saw a significant drop in the number of people admitted, the result of criminal justice reforms after Michael Brown's death in Ferguson. The outcry for change also resulted in the passage of Senate Bill 5 in 2016, which removed jail as a punishment for nonpayment of traffic fines, among other effects.
The new law also is credited with helping to reduce jail admissions. They went from a high in 2012 of 33,976, to a low in 2019 of 20,216.
In 2018, Wesley Bell, a lawyer from Ferguson, ran for St. Louis County prosecuting attorney on a progressive platform. After he was sworn in Jan. 1, 2019, his office worked hard to move out lower-level offenders. "We don't want them in jail," Bell said this week.
Bell said his office had achieved a 30% reduction in the jail population from 2018 to 2019. The average daily population in 2018 was 1,203 people. In 2019, the average dropped to 827. Since then, the pandemic has lessened that impact, but Bell said the population is still down 16% from 2018.
The county runs a pretrial release program funded through the MacArthur Foundation, which is specifically aimed at getting people out of jail who don't pose a public safety threat. Huebner is also an investigator for the program, called the MacArthur Safety + Justice Challenge.
"Every Thursday the team meets together with low-level detainees who can be safely supervised in the community," Jail Director Doug Burris said. "Before, there were C, D and E felonies that stayed here for an extended period of time and research found they had the lowest risk of re-offending."
Bell said, "With serious and violent offenders, we are going to be more aggressive with prosecution. The overwhelming percentage of individuals at the justice center are there for serious offenses — 85 to 90%. So you can't just say 'Hey, we want to decrease the population,' because that's a public safety issue."
It's less clear what has led to the increase in the length of stay for inmates, Huebner said. The time spent in jail increased from an average of 14.9 days in 2010 to a high of 26.4 days in 2018, or an increase of about 77%. It dropped to 23.3 days in 2019.
One explanation could be bail amounts, Huebner said. Inmates with bail set higher than $5,000 have a tendency to remain jailed longer before trial, she said.
"A lot of people with $5,000 or $10,000 bail — it's the same thing as having no bail, because they simply cannot pay it," Huebner said.
Regardless of the charges, Burris said people are still being held too long before trial. Of the 891 people in the jail Monday, 147 had been there for over a year, he said. Sixty-eight had been there for more than two years, 33 more than three years, 10 more than four years and five for more than five years. One man has been held for more than six years, he said.
"Jails are here to hold people for up to a year as they process through the system. They're either released, or they serve short sentences before they go off to prison," Burris said. "We don't have an outdoors, and we're really designed to hold inmates up to a year."
The study, part of a collaboration with the John Jay College in New York, also notes a racial disparity. Black inmates were held an average of 12 days longer than white inmates in 2019.
"I wasn't surprised at the racial disparities," Huebner said. "It's really important we continue to show the very big differences we see in length of stay for different groups by race. Even controlling for offense type, we still see a Black person spending more time in jail."
Bell said his administration "from Day One" made efforts to reduce the jail population, including issuing summonses instead of warrants for suspects of victimless crimes.
"That way, they can show up to court like you would for a traffic ticket," Bell said. "There's a lot of things we could do … I have full confidence that as we start getting the courts to reopen, we'll see more of that, though the (delta) variant may cause problems. But we'll continue to get those numbers down, focusing on lower-level, nonviolent offenders."