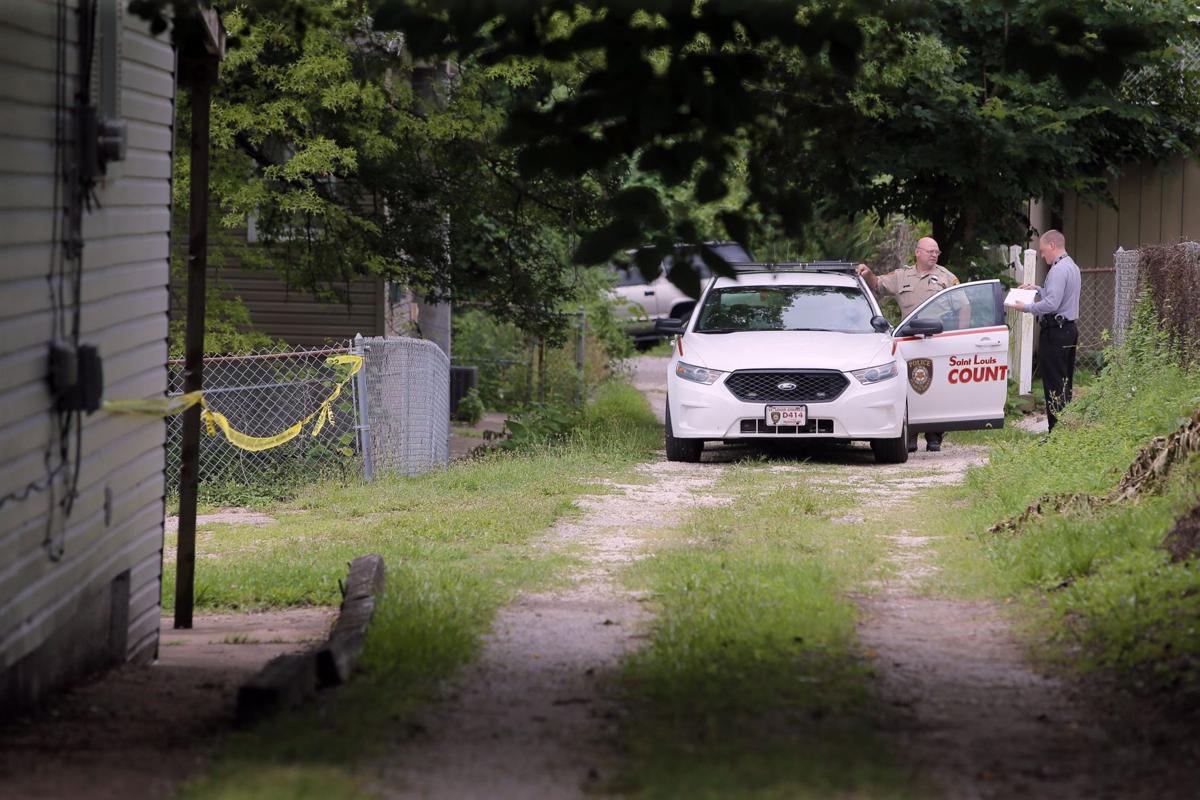 EDITOR'S NOTE: Updated Aug. 11 to add that while murders in St. Louis County this year were up about 30 percent over the same time in 2015, murders in the areas covered by county police, or in which county police investigators assisted, were down.
ST. LOUIS COUNTY • Police in various St. Louis County departments recently found themselves investigating six homicides in about as many days, continuing a bloody trend that shows murders increasing.
At least 10 more people have been slain in the county so far this year than in all of 2014.
In the latest numbers available, the medical examiner's office reported Tuesday that 47 people had been killed in the county this year, up 11 from the same time frame in 2015, an increase of about 30 percent. And 2015's total of 66 murders was up 78 percent over the 37 logged in 2014.
Meanwhile, murders in St. Louis were running behind year-to-date figures from 2015. That year ended with the highest total for 20 years.
Some major cities across the country have been experiencing homicide surges. St. Louis County has many of the characteristics of a city of almost 1 million people, although its policing is splintered among more than 60 departments.
Some of those investigate their own homicides. Some turn to the county police department, which directly protects more than a third of county residents, who live in unincorporated areas or in cities that contract for police service. Some other cities call on the Major Case Squad of Greater St. Louis, a cooperative of detectives from various communities.
Most departments belong to the St. Louis Area Police Chiefs' Association, which is led by Maryland Heights Police Chief Bill Carson. Violence has been a hot topic at monthly meetings, he said, and an attack by a traffic violator that left a Ballwin officer paralyzed July 8 underscores the spreading problem.
"The shooting of the officer in Ballwin, which is considered a safe community, shows that violent crime can really reach into all parts of St. Louis County," Carson said in a recent interview. "The belief is there are a lot of homicides that are drug-related, gang-related and a lot of these homicides are retaliation homicides."
He added, "It seems like the streets are flooded with weapons that either have been stolen or acquired illegally, in the hands of people that legally should not possess those weapons. Both state and federal prosecutors are trying to take a strong stance on prosecuting violent offenders found in possession of weapons."
That has been a recurrent theme for St. Louis Police Chief Sam Dotson as well.
Carson said agencies are working together to share intelligence. And he noted, "Some chiefs have called for stronger sentences for violent offenders. There are a lot of different ideas or recommendations and the targeting of violent offenders is certainly one way to attack that problem."
The wide distribution of killings is illustrated by the fact that the county police, an investigative resource for many smaller cities, is investigating 22 homicides so far this year — the same amount of killings it investigated at this time in 2015. 
But this year, only 12 of those homicides occurred within the areas they patrol. The other 10 occurred within municipalities that asked the county to investigate. 
Last year at this time, the county police were investigating 20 homicides within their borders, and only two municipalities requested their assistance, said Sgt. Shawn McGuire, the department's spokesman.
So from the county police's perspective, it's down by about 40 percent this year. 
McGuire said overall crime in his department's area is down so far this year by about 2 percent, although aggravated assaults with guns are up 9.4 percent.
Two of this year's county murders were in Pine Lawn and one in Wellston. They are among the seven cities of the relatively new North County Police Cooperative, which relies on investigative help from the Major Case Squad.
The North County cooperative's chief, Tim Swope, said his department's homicides are gang-related.
"These young kids, I'm talking 12- to 14-year-olds, are so brazen that they don't care about being caught," he said. "We've found them on social media trying to set up other people to corner them so they can shoot them. It's like nothing I have ever seen."
Swope said that since the arrests of about five young adults in recent weeks, the area's shootings have fallen nearly by half.
"It's much easier for us to make an impact on serious violent crimes than it would be for a bigger city," he said. "The arrest of five people can have a big impact on a community of a couple thousand people, but might not in a much bigger city."
St. Louis crime
St. Louis had 110 murders as of Thursday afternoon, down from 119 at the same time last year. The 2015 total of 188 was the highest number in 20 years.
But while city homicides were down about 7.5 percent, aggravated assaults with guns are down by about 9 percent, as is overall crime, Dotson said.
He said one reason murders are not falling as quickly as aggravated assaults is an increase in "very targeted attacks" that are intended to kill.
Dotson said it is not unusual to see upward of 50 shell casings left at a homicide scene, indicating that the shooting is more deliberate, and more likely fatal.
"Homicides are the toughest crime to get at, because most involve two individuals that many times know each other, and it's over things the police can't intervene in, like money, drugs, girls. But we are taking more guns off the street."
Carson said his fellow chiefs throughout the county also are seizing more guns, and collectively agree that car break-ins often are the root of the problem.
"A lot of people that are legally allowed to carry guns leave guns in cars and it seems like a lot of guns that we're finding from streets are stolen from law-abiding gun owners," he said.
| | Type of killing |
| --- | --- |
| | Shooting |
| | Unspecified Homicide |
| | Police Shooting |
| | Justified Homicide |
| | Child Abuse |
| | Vehicular Homicide |
| | Suspicious Death |
| | Stabbing |
| | Arson |
| | Asphyxiation |
| | Beating |
Related:
| | Crime |
| --- | --- |
| | Shooting |
| | Unspecified Homicide |
| | Police Shooting |
| | Child Abuse |
| | Vehicular Homicide |
| | Suspicious Death |
| | Stabbing |
| | Arson |
| | Asphyxiation |
Related:
Shake off your afternoon slump with the oft-shared and offbeat news of the day, hand-brewed by our online news editor, Mandy St. Amand.