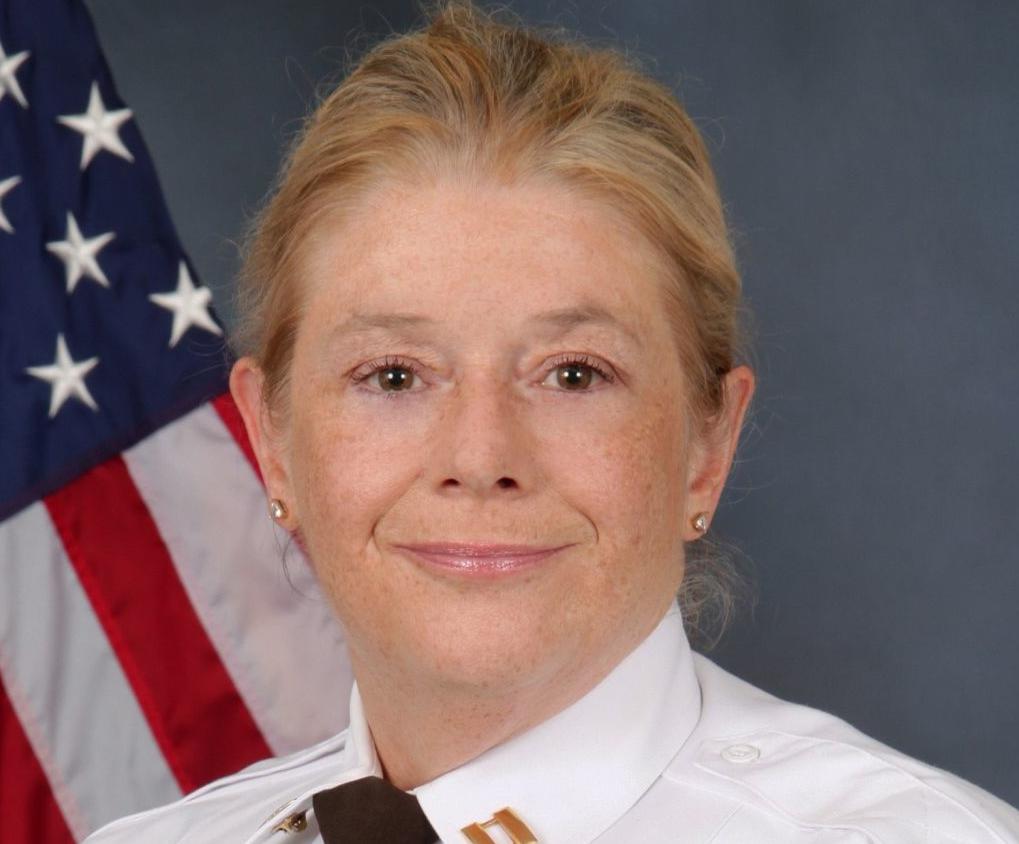 CLAYTON — The St. Louis County Board of Police Commissioners on Thursday selected police Capt. Mary Barton as the ninth chief in the department's history and the first woman to serve as its leader.
Barton, who has been with the department for more than 41 years, is commander of the department's West County precinct. She is set to assume the top position on May 1, the day after Chief Jon Belmar's retirement.
The police board had invited five lieutenant colonels and 18 captains to apply. The board on Thursday selected Barton from a field of three lieutenant colonels and five captains who applied and promoted her to lieutenant colonel for the transition. Board chairman William Ray Price Jr. said the vote was 5-0.
After a six-year tenure, Belmar announced his departure on Feb. 10, hours before the county finalized a settlement to pay a gay lieutenant $10.25 million for a workplace discrimination case.
County Executive Sam Page tweeted Thursday that Barton was taking command "at a moment of uncertainty. We do not yet know what unprecedented challenges the current state of emergency will present nor for how long it will present them."
He added, "The chairman of the Police Board that selected her assures me that the Board and the new Chief will work closely with county government."
Barton could not be reached for comment. A spokesman for the police department said she was not available on Thursday.
In a statement, Joe Patterson, executive director of the St. Louis County Police Association, called Barton's appointment "historic."
"Women represent the fastest growing demographic of law enforcement officers and Lt. Col. Barton's appointment is a beacon of light for those officers."
Black leaders disappointed
The choice disappointed some leaders in north St. Louis County, who had advocated for Lt. Col. Troy Doyle, an African American, to be selected.
"He's always stepped up and took on tasks and handled them in a very intelligent and productive way," John Bowman, president of the St. Louis County NAACP, said in an interview. "I can't express how disappointed I am in this decision. I'm very interested in knowing how the police commissioners came about making this decision."
Barton joined the police department in 1978 and has held positions in patrol as an officer and supervisor. She was a detective in the bureaus of drug enforcement and special investigations, a supervisor in the bureau of communications, a patrol lieutenant, and bureau commander of staff services, security services and logistical support. She commanded the North County Precinct and was recently assigned to command the West County Precinct.
Barton also served over 25 years in the Greater St. Louis Area Major Case Squad as an investigator, supervisor, deputy commander and chief report officer.
Barton has also taught classes at the County and Municipal Police Academy in interpersonal communications, cultural diversity and workplace survival. She has won several awards, commendations and letters of appreciation. She's a member of the International Homicide Investigator's Association, and has been a member of the Public Safety Advisory Board to the Special School District for more than 30 years.
She has a bachelor's degree in criminal justice from Southwest Texas State University, a master's degree in management and human resources training and development from Webster University, and is a graduate of the FBI National Academy. She also graduated from the Senior Management Institute for Police in Boston.
Over the past month, the police oversight board held three listening sessions to ask county residents what qualities they wanted in their next chief. About 50 residents answered.
'Excellent police officer'
Price said in an interview that "COVID-19 was on everyone's mind, but that wasn't the only thing that concerned us. We were looking for a candidate that would carry the department into the future, a candidate that would truly address the issues of openness and inclusion and issues of treating all people in an out of the department with respect. She's also an excellent police officer."
"While we move the department forward, we have to make sure that we maintain integrity and the ability to serve and protect the people of St. Louis County. She had a breadth of experience in the field, and rose through the ranks as a woman. She is open and caring for all the people she deals with."
Punch called Barton "an experienced leader with a clear vision of an equitable future for both the Department and the community we serve."
Belmar said he was confident that Barton "possesses the abilities to lead this police department."
Barton's appointment marks a year in which the police department has seen a sharp rise in leadership assumed by people who are not men.
Over its 64 years, the board never had more than one woman, but after appointments by Page in December, the board has two women and two men. Punch said she identifies as genderqueer, a term for people who do not believe their gender conforms with socially constructed norms associated with their biological sex.