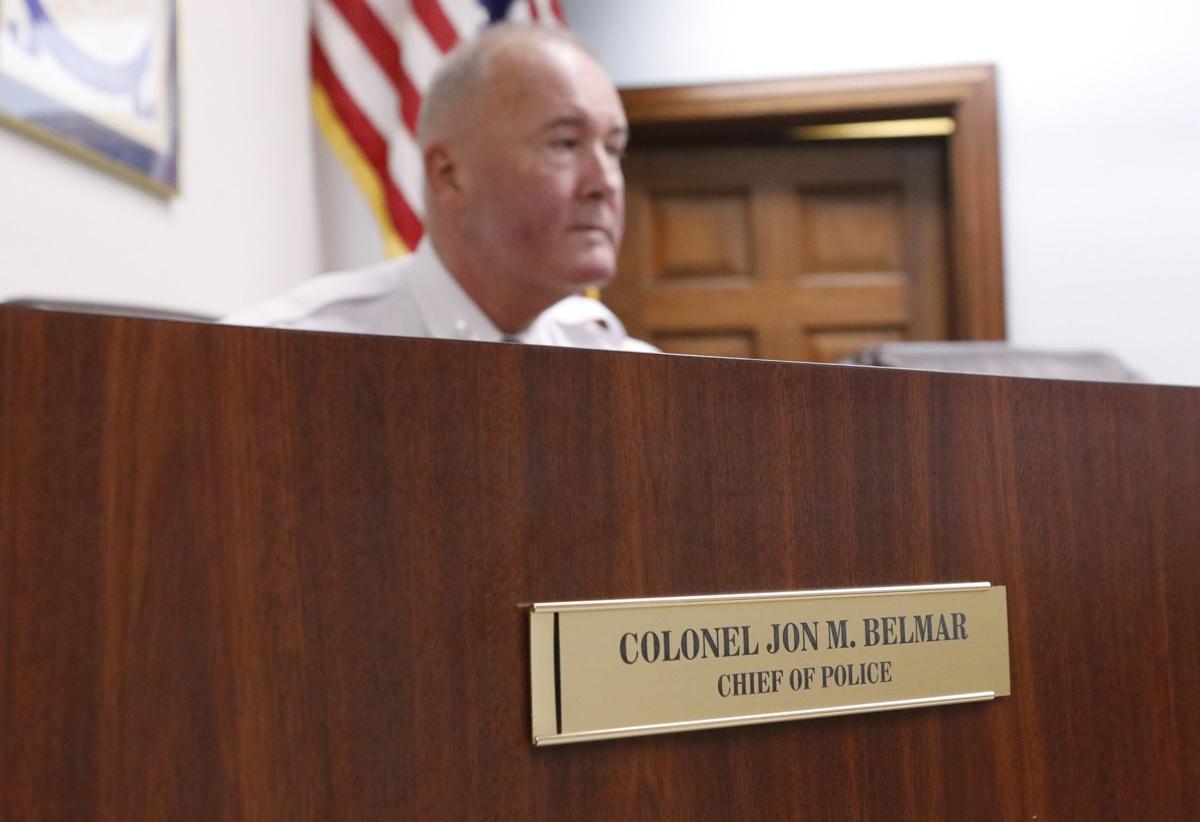 CLAYTON — St. Louis County Executive Sam Page, Centene CEO Michael Neidorff and other business leaders threw their support behind embattled county police Chief Jon Belmar on Wednesday morning.
"Chief Belmar is not a quitter, he is a leader," Page told the crowd of several hundred gathered at the Ritz-Carlton during the fourth annual St. Louis Police Foundation Breakfast with the Chief event.
Even the St. Louis County Police Association said the department must change.
"We are anxious to move forward toward a more inclusive police department," the union said in a statement released after the breakfast. "We sincerely hope the department changes course and restores remedies for discrimination and retaliation which our organization has been fighting tirelessly for in current contract negotiations."
But at the breakfast on Wednesday, business leaders backed Belmar.
The room rose to its feet after the nonprofit's vice-chairman of events, Joseph Stieven, CEO of Stieven Capital Advisors, said his wife is one of the best judges of character, and she is among Belmar's supporters. The St. Louis County Police Department issued a press release following the event estimating the crowd at more than 550.
"I want to thank Belmar for his tireless leadership and I hope it continues for years," he said. "You absolutely have our support, period."
The measure of a good organization, Neidorff said, is how it weathers difficult times. He said he had "full confidence that the county executive will take appropriate steps."
One of Neidorff's employees, veteran political aide Tom Irwin, called a meeting in March with regional CEOs and officials, including Belmar, to discuss city-county police cooperation.
The Post-Dispatch was asked to leave the breakfast when Belmar took the stage Wednesday.
Belmar's spokeswoman, Sgt. Tracy Panus, said the event was closed to the media and that it wouldn't be fair to allow the Post-Dispatch to attend after denying access to other reporters.
The event was emceed by KMOV (Channel 4) anchor Steve Savard. The Post-Dispatch has covered various St. Louis Police Foundation breakfasts and luncheons since the organization was founded in 2007.
The nonprofit has raised more than $15 million to pay for training and equipment needs in the St. Louis and St. Louis County police departments, according to its website.
The St. Louis County police press release stated that the event garnered about $450,000 for the nonprofit.
Read the coverage of the Wildhaber suit, trial and decisions after the verdict
County leaders call the Wildhaber suit, trial and verdict 'wake-up call.'