CLAYTON • St. Louis County Police Chief Jon Belmar told his bosses Wednesday that the department could have projected a better image in managing last month's crisis in Ferguson.
He suggested that the body of Michael Brown should have been moved more quickly after he was shot Aug. 9 in a confrontation with Ferguson police Officer Darren Wilson.
"The optics made a difference," Belmar told the St. Louis County Police Board of Commissioners, which questioned him for more than an hour in the first meeting since the controversy began. "But you should have seen it in person."
He made no apology for use of tear gas and other aggressive tactics against crowds that turned violent during nights of protests along West Florissant Avenue, near where Brown was killed.
"At the end of the day, we didn't kill anyone because of our actions or seriously injure someone," Belmar said.
Those tactics have drawn condemnation from critics. Many were riled that the body of Brown, 18, remained in the middle of Canfield Drive for 4½ hours while police investigated his shooting. Officials have said it was not an extremely long time in a death investigation, especially given delays from an incident that had drawn detectives to the other end of the county and the hostility of the crowd at the scene.
Police board Chairman Roland Corvington, formerly special agent in charge of the FBI office in St. Louis, asked Belmar to explain why snipers pointed rifles at the crowd from the roofs of vehicles.
"There is a safety on the trigger," Belmar replied, "and the scope serves as a really nice set of binoculars. But it didn't look good, and we learned from that."
Officers on the ground depend upon the one perched above them to return fire should someone be shot, the chief explained. He said he had an obligation to protect his officers from harm as best he could.
He said he instructed tactical units to remain off site the first night of rioting, until commanders at the scene reported that officers were encountering gunfire and being targeted by rocks, cinder blocks and Molotov cocktails.
"We responded to gunfire with tear gas," Belmar said. "Regardless of the optics on tear gas, it prevented us from having to take a life or having one of ours taken."
After Corvington asked about whether county police used rubber bullets, Belmar responded, "A bullet fired from a gun, whether it's lead or rubber, will kill you."
He said his officers used only tear gas, pepper balls that emit pepper-spray-like powder when they strike, and sting balls, which deliver bright flashes and rubber pellets to cause disorientation.
Corvington said the "inconvenience of tear gas" was better than "what could have occurred."
Board member Laurie Westfall asked why police stood by at one point, after the Missouri Highway Patrol had assumed command of the operation, and watched as businesses were looted.
Belmar said the initial thinking was that property wasn't worth a violent confrontation.
But, he added, "We understood after that evening that's not sustainable. You can't have 200 police officers who have taken an oath stand in a line and watch that happen.. ... These are minority-owned businesses. We cannot afford to sit back. Protecting property is part of this, too."
Tactics then began to change, Belmar said. Arrests increased. Officers donned riot gear.
"It's like a chicken or the egg thing. It's difficult to tell a 25-year-old police officer with a toddler and maybe an expectant wife at home, 'Don't wear a helmet because you don't want to look bad.' If a police officer got shot and I was asked what did I do to protect them, what would I say?"
Belmar said police made about 200 arrests in just one night. He said his officers logged $2.4 million in overtime and county police vehicles suffered more than $100,000 in damage.
He also told the board he frequently sought advice about Ferguson from Philadelphia police Commissioner Charles Ramsey, who had suggested that detectives photograph bodies and move them away more quickly.
"I'm not saying that what we did was the right thing to do," Belmar told the meeting, "but I'm asking, 'How can we do that in the future without compromising the scene?' "
He said nothing occupied his mind more than a conversation with a woman who didn't understand why police dealing with the rioting didn't come into her apartment complex on Canfield, near where Brown died.
"She said, 'It made us feel like we were abandoned and on our own,' " Belmar explained. "I think about a lot of things, but I think about that about once every five minutes."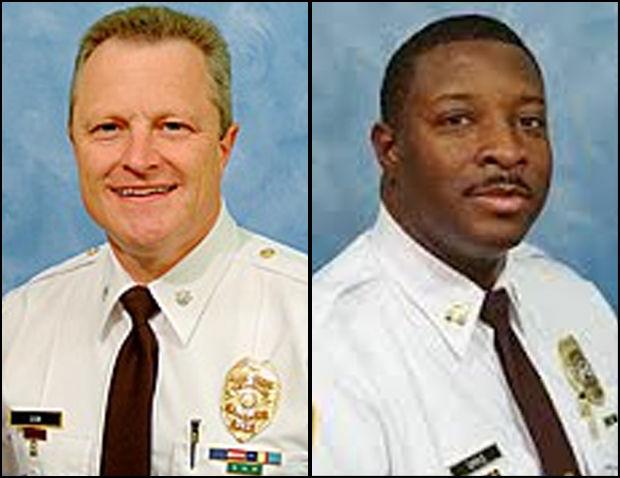 One lesson, he said, is that communicating with the public can be a chief's top priority. So in a surprise move Wednesday, he promoted Lt. Col. Kenneth Cox to assistant chief and Capt. Troy Doyle to lieutenant colonel.
The chief said he wanted Cox to run the department on an administrative level, to allow Belmar time to become more of an "ambassador." He described Doyle as a go-to guy for reaching out to community leaders and residents.
"In an 1,100-member department, it's hard to do the ambassador work and attend community safety meetings, speaking engagements and be the chief executive of the department," he said. "I realize this could be a pivotal point in the United States of America. … This will allow me to focus on relationship building."