CLAYTON — A jury agreed Friday with a St. Louis County police sergeant who alleged his department had discriminated against him because he is gay. The jury said the department should pay Sgt. Keith Wildhaber nearly $20 million.
Wildhaber's case in the weeklong trial included testimony about him being passed over 23 times for promotion and his transfer to the Jennings precinct from the Affton precinct after filing an EEOC complaint, plus accounts by other employees in the department.
The jury deliberated about three hours before awarding Wildhaber $1.9 million in actual damages and $10 million in punitive damages on the discrimination allegation. It added $999,000 in actual damages and $7 million in punitive damages for the retaliation allegations.
"We wanted to send a message," the jury foreman told reporters. He was identified only as juror No. 4. "If you discriminate you are going to pay a big price. … You can't defend the indefensible."
Four jurors who spoke with reporters after the verdict pointed to photographs presented Friday in court as key evidence in their decision.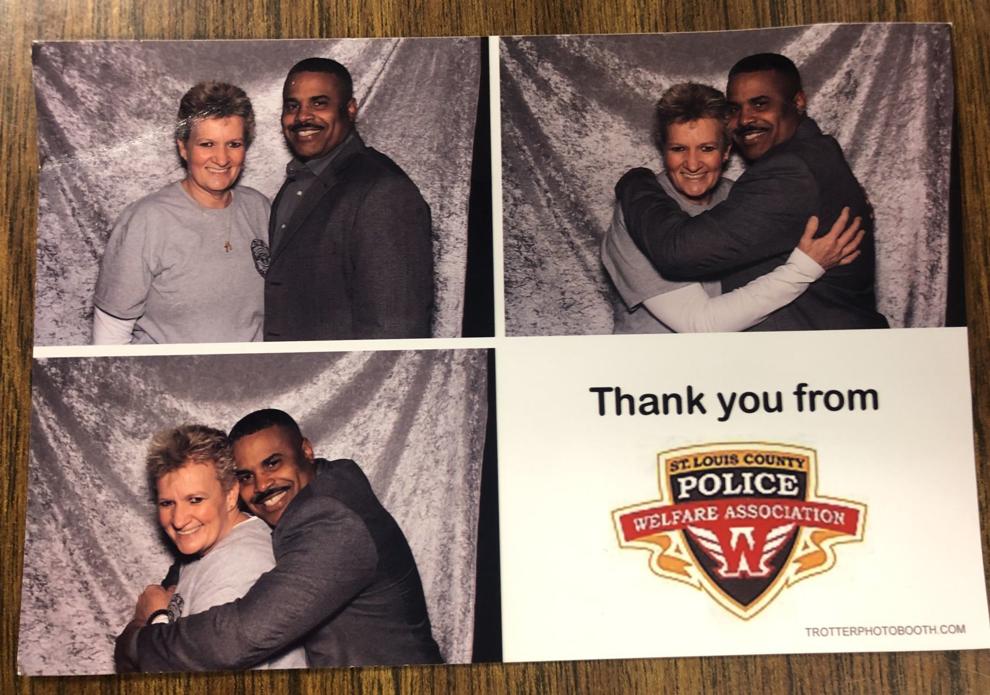 Donna Woodland presented the photos Friday when she returned to testify.
Woodland, the widow of a former county police officer and girlfriend of a current officer, had testified earlier in the week that police Capt. Guy Means had called Wildhaber "fruity" when they were both attending an event in 2015.
She said Means told her Wildhaber would never be promoted because he was "way too out there with his gayness and he needed to tone it down if he wanted a white shirt." (The command staff are called "white shirts" because of the color of their uniform shirts.)
Means testified Thursday that he did not recall attending the event Woodland referred to and did not know Woodland. He said he would not be able to pick her out of the jury box if she was sitting there.
On Friday, Woodland produced a photo booth array with three pictures of her and Means together at the event, including one frame that shows Means giving Woodland a bear hug.
She also produced a receipt showing she paid $147 for a framed picture for Means, whom she considered a friend, and said she had seen it hanging in his office.
Wildhaber's attorney, Russ Riggan, told the jury the situation illustrated how far the county was willing to go to beat Wildhaber.
"The county should be ashamed," Riggan said. "Our community deserves better."
Assistant County Counselor Mike Hughes responded during his closing argument by saying "people take a lot of pictures at events like that."
Riggan told the jury during his closing argument that their decision would have "far-reaching" implications for gay and other marginalized people, showing that discrimination in the workplace is unacceptable.
Riggan said the "best sound bite" for the case came from Chief Jon Belmar himself, when he said Wildhaber's lawsuit had been a factor in denying him promotions.
Hughes responded that Belmar had factored the lawsuit into his promotional decision because he knew the allegations Wildhaber was making were not true.
Earlier Friday, Belmar testified that one of the main reasons he did not promote Wildhaber in 2016 was an allegation that Wildhaber had tipped off the target of an FBI investigation.
Wildhaber has denied the allegation and no disciplinary action was taken against him in connection with it.
Belmar said he did not launch an internal affairs investigation against Wildhaber because the FBI investigation was pending and he didn't want to "interfere."
"This was remarkably concerning to me that he would have had an interview with the FBI as a subject and have this type of information documented," Belmar told the jury.
The target of the investigation, Joseph Mahfood, pleaded guilty in August 2018 to gambling charges, filing a false tax return and money laundering, and received probation at his sentencing last November . Wildhaber and Mahfood knew each other through a police charity they were involved with.
Belmar also testified that he did not promote Wildhaber in 2014 because of a three-day suspension Wildhaber had received stemming from reports that he didn't submit during his time as a detective in 2008.
One of the assertions in the lawsuit is that Belmar's administration retaliated against Wildhaber after he filed his lawsuit by transferring him to the Jennings precinct from the Affton precinct against his wishes. The move is what is known in the department as a "geography lesson."
The county's attorneys questioned commanders, who said Wildhaber wanted the transfer to Jennings because he wasn't getting along with his captain in Affton.
Belmar testified that he was "unaware" that Wildhaber was being transferred because that is a decision made by his underlings. When he learned about it, he said he asked Lt. Col. Troy Doyle to write a memo about his conversation with Wildhaber because he knew Wildhaber had filed an EEOC complaint and Belmar thought it was important to document how the transfer occurred.
Belmar said he had not punished Wildhaber for being gay, nor quashed his promotion.
County Counselor Beth Orwick said Friday night that county officials "will be exploring all of our legal options this weekend and we are going to do what's best for the county."