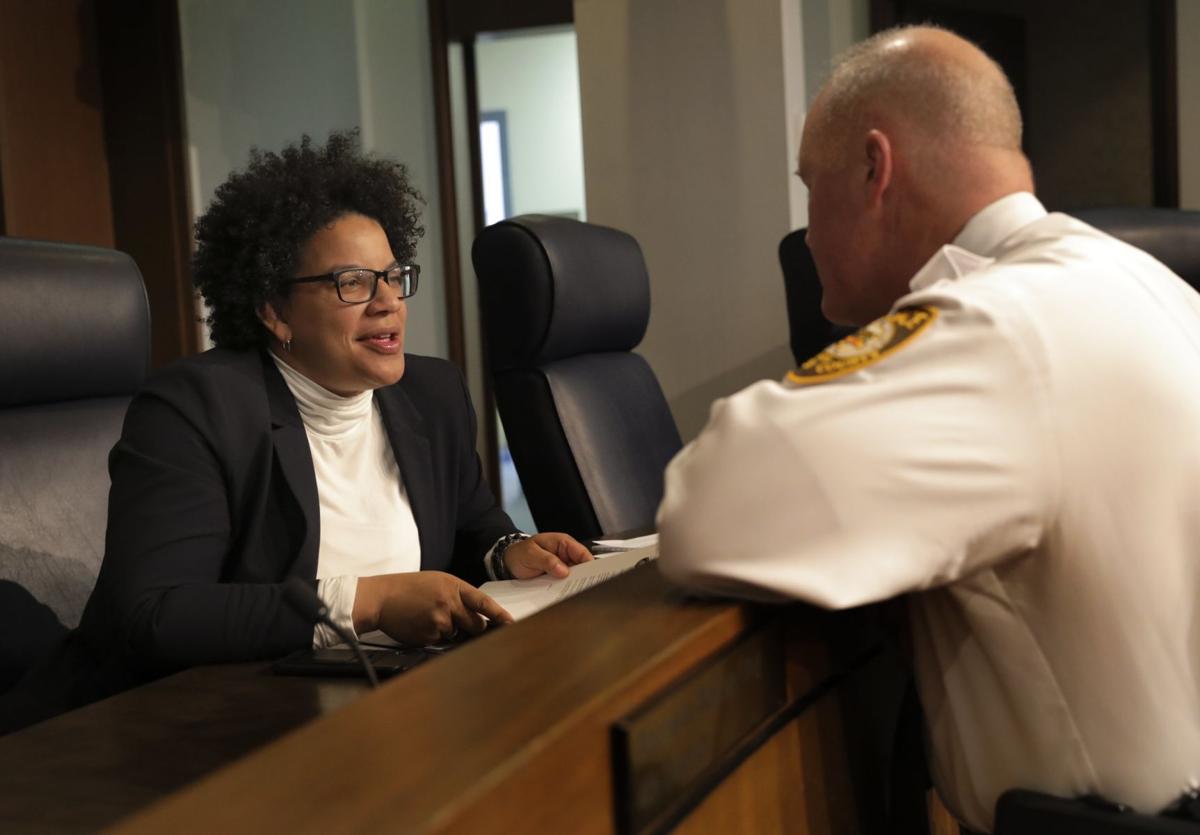 CLAYTON — A St. Louis County police commissioner resigned Thursday from the five-member board that governs the police department because of the secrecy surrounding a corporate-led experiment in which St. Louis city and county officers would join forces in Jennings and a north St. Louis district.
Dr. LJ Punch, in an interview with the Post-Dispatch, cited reports that local officials in those Black majority areas were not told what consultants working for Centene Corp. and other major St. Louis-area companies were doing.
Centene CEO Michael Neidorff spoke about the effort in an online roundtable with U.S. mayors and business executives on Tuesday, saying that St. Louis companies had to get involved in regional policing efforts to make changes that would not be done otherwise.
In contrast, Jennings Councilman Terry Wilson said Thursday that a St. Louis County police captain had told Jennings Mayor Yolanda Austin that a change and more resources would be coming to the city, but that he couldn't give her details. Jennings, a city of 15,000 that abuts northwest St. Louis, has hired county police since its own municipal police force disbanded in 2011.
Punch, a Black surgeon and anti-violence activist from Ferguson, had been the only one of the board's five commissioners to vote against granting a consultant group access to the department after Page called for the review. Page appointed Punch to the police board in late 2019 as part of a shakeup in which he replaced four of the board's five members following a nearly $20 million verdict against the department in a workplace discrimination lawsuit.
Jennings Mayor Yolanda Austin and eight council members said in a letter they should have been included in discussions about how their city is policed.
'Lack of transparency'
Punch blasted Page this summer for announcing the review of the department without consulting the police board and said previous regional studies by the U.S. Department of Justice and the Ferguson Commission had already paved the way forward for reform. Punch has been highly critical of the department's willingness to combat institutional racism under Barton, whom the board selected earlier this year to succeed retiring Chief Jon Belmar.
Punch said Thursday: "I knew this was happening and at this point, if I continue, I'm just complicit with their intent, and I can't be. I knew there was a lack of transparency about the … study even within the board and I can't continue if this is going to be the mechanism of communication and information sharing because it's causing more harm."
The city and county police appear to be implementing some recommendations from a consultant even though it has never publicly released them.
Punch added, "I cannot continue in a system where there is no hope for bringing justice and light. That's why I joined the board: I thought I could be a force for change, but I fear there is no path for me to continue without becoming complicit in the injustice. I don't want to hurt the people in St. Louis County and I'm very worried that's exactly what's happening because of the actions and decisions of this department."
Page said in a statement that he respected Punch's anti-violence advocacy and said Punch "has been an important part of the conversation on policing in our community." He said his administration would start the process of appointing a successor soon.
Doug Moore, a spokesman for Page, said the county executive had believed Jennings city officials were more involved with the project and said the county executive was working on a letter responding to their concerns. Moore said Page hoped the communication "will get better in the future."
The four other police commissioners, Chairman William "Ray" Price Jr., Michelle Schwerin, Thomasina Hassler and Mark Gaertner, did not respond to requests for comment on Thursday. For a second straight day, the police department refused to make Barton available for questions.
The consultants working with the city and county police are Charles H. "Chuck" Ramsey, a retired Washington and Philadelphia police chief, and Daniel Oates, former police chief in Aurora, Colorado, and Miami Beach, Florida, who now consults with Baltimore through a U.S. Justice Department program. They are part of Teneo, a New York- and London-based CEO advisory group.
Whether the final reports from Teneo will lead to recommendations to merge the departments, or some of their functions, is unknown. Price, the police board chairman, said he was not clear about what the consultants were doing.
Plan under development
Tom Irwin, a Centene executive, said that a plan using the findings of the consultants' review was "currently being developed. Once the review is complete, and after appropriate feedback from key stakeholders, it will be made public."
Clayton-based Centene has been one of Page's biggest campaign contributors, donating more than $200,000 to Page and a political action committee that supports him. Page faces three challengers in Tuesday's election.
In a statement, the company said it looked forward "to an extensive, transparent community engagement process that will include the city of Jennings, Mayor and Council, and other key stakeholders."
Centene, a leader in managed health care programs and one of the region's largest companies, did not respond to the newspaper's question about who would be considered key stakeholders.
Updated at 6 p.m.(tncms-asset)d0ae9688-1979-11eb-bf14-00163ec2aa77[2](/tncms-asset)