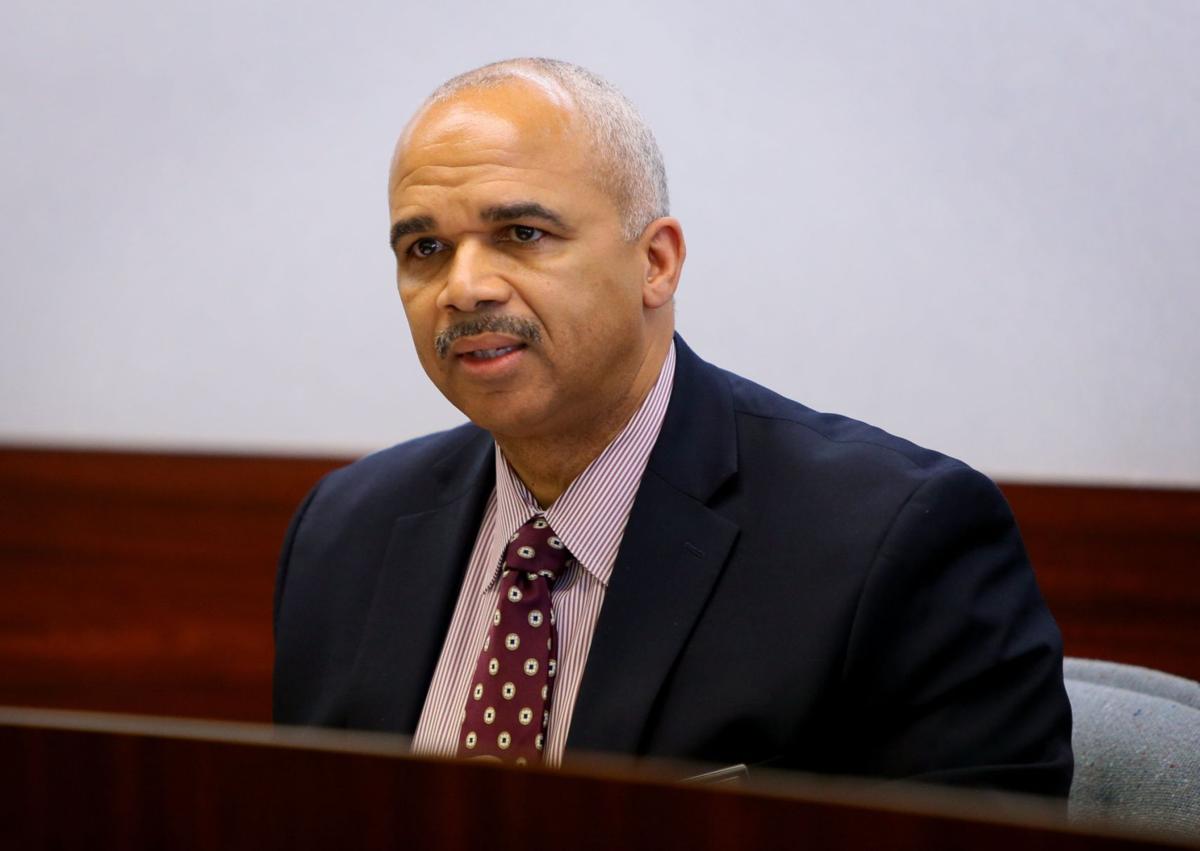 CLAYTON — Roland Corvington, chairman of the St. Louis County Board of Police Commissioners, resigned on Monday as the fallout began from a nearly $20 million verdict against the county police department in a discrimination case. And another member of the five-member commission said she was told by County Executive Sam Page that he was replacing her.
Corvington's resignation, effective immediately, was revealed Monday in a letter from Page to county employees. A spokesman for Page said he planned to provide names of new appointments on Friday for inclusion in next week's County Council agenda. Page has not said how many members of the five-member commission he planned to replace or whether he wants the board to fire Chief Jon Belmar, who has led the department since early 2014.
But Page's letter said that in addition to new police board members, there would be changes he did not specify that would come from "taking a fresh look at how the police department makes decisions" and that Belmar would lead the department through those changes in the coming weeks.
Corvington, a retired special agent in charge of the FBI in St. Louis who works as director of global security for Edward Jones, said the trial was "embarrassing."
"I sincerely believe the jury's decision to award this verdict was a wake-up call to the department and its leadership that they have to be mindful of what is said and how it's said and to be mindful of their conduct when engaging with their subordinates, their peers and the public for that matter," said Corvington, who had served on the board since 2012.
Belmar did not respond to a voice message and text.
A jury in St. Louis County Circuit Court on Friday ordered the county police to pay nearly $20 million to Sgt. Keith Wildhaber, who alleged the police department discriminated against him because he is gay. The case included testimony about him being passed over 23 times for promotion and being transferred in retaliation for filing a federal EEOC complaint. Belmar himself testified that Wildhaber's lawsuit was a factor in his not being promoted.
County Councilwoman Lisa Clancy, D-5th District, on Sunday called on Belmar to resign.
On Monday, Councilman Ernie Trakas, R-6th District, said he "didn't agree with that."
"It's unfair to judge a career based on a single jury verdict," Trakas said. "There is a reason why lawyers talk about the vagaries of a jury trial. I don't think Belmar would abandon his post in such an irresponsible manner. His responsibility is to lead the department through the transformational stages, and I'm confident he will."
'Really good board'
Laurie Westfall, the widow of former County Executive George R. "Buzz" Westfall, said in an interview that Page told her she was being replaced, but said she did not know whom he planned to appoint in her place. She was appointed to the board in early 2014 by her husband's successor, Charlie Dooley.
"I think we have a really good board," Westfall said on Monday. "This board really had nothing to do with the trial and this board didn't even know that all was going on."
She said she did not think there was discrimination in the police department, despite a jury's finding that Sgt. Keith Wildhaber was repeatedly passed up for promotion because he is gay.
Had the board known about Wildhaber's claims, it could have "defused" the situation, Westfall said.
"That's our job," she said.
She defended Belmar, saying just because the jury sided against the department "doesn't mean they are guilty."
"I have great respect for the chief," she said. "He led us through the difficult Ferguson process in a really superb way."
It was not known if Page planned to replace police board members Lawrence Wooten, Mark Gaertner or Art Johnson. Wooten and Gaertner did not respond to requests for comment on Monday. Johnson said he would not answer a reporter's questions because he was in a meeting.
The police board on Monday scheduled an emergency meeting for 4 p.m. Tuesday, but it was not immediately clear what it planned to discuss or do. The agenda indicated the board might vote to exclude the public to discuss legal actions; preparation for negotiations with employee groups; hiring, firing or discipline; and personnel matters.
The police board, not the county executive, holds the power to fire a police chief. Under state law, a police chief can be removed for just cause with a two-thirds majority vote of the governing body, meaning at least four votes of the county police board. But under the county charter, three votes could remove a chief, who would have the right to a public hearing first. It was not clear which law would govern the situation.
Starting this week, Page has the ability to replace the entire board. Four of the five members are serving on expired terms and Gaertner's expires on Friday. Page's appointments would require confirmation by the County Council and would take effect after 20 days; any commissioner who is replaced would continue to serve in the interim. A majority of circuit judges could also veto any appointment.
In his letter to county employees, Page wrote that the county has "not always done a good job" of addressing the unique challenges in the workplace for women, people of color and LGBT people. But he said diversity was a priority for him.
Page said he met on Monday with LGBT leaders and his staff met with the Anti-Defamation League to start a training program about "implicit bias," the unconsciously-held set of associations that some may hold about a social group.
"Last week, in a court case, the honesty of police officers and inclusion within the Police Department were called into question," he wrote. "We have heard those criticisms, but we won't dwell on them. We must instead build a culture where all employees know they are valued and respected."
County officials have not announced whether they will appeal the jury's decision.
"We are in the process of exploring our legal options," County Counselor Beth Orwick said Monday in an email.
Christine Byers of the Post-Dispatch contributed to this report.
Read the coverage of the Wildhaber suit, trial and decisions after the verdict
County leaders call the Wildhaber suit, trial and verdict 'wake-up call.'