EDITOR'S NOTE : It is possible to be a police Explorer to age 21. An earlier version of this story misstated the maximum age.
CLAYTON • Keith Venuto has seen a police officer use an antidote to revive an unconscious overdose victim. He has helped stand guard at a heated towing dispute, taken fingerprints, run license plates in a database and earned certification as a police dispatcher.
He's at an age at which people interested in a law enforcement career have limited options for experience outside a classroom; they're too young for the police academy.
But it's a ripe age for someone to lose interest in favor of another field.
St. Louis County police commanders, in serious need of motivated recruits, have created a cadet program to hold on to prospects ages 18-21, like Venuto, by putting them alongside sworn and civilian personnel on the job.
Venuto is one of the first six participants in the program, funded by an anonymous benefactor. It's one of several initiatives to boost the department's numbers as an exodus of officers, frustrated with salary disparities, continues.
After raises and an increase to the starting salary in January 2015, many veteran officers found themselves paid no better than rookies. Now, about 60 percent of the force is at the starting wage, union leaders have said.
Chief Jon Belmar told the Board of Police Commissioners last month that the hemorrhaging of personnel had slowed to about an officer a week, down from a peak of 1.6 a week in November 2014.
But the shortage is being felt on the streets.
The department is authorized for 880 officers and as of August had 863. The effective shortage is about 100, because 17 officers are still in field training, 17 are off on military or other leave, and 46 are still in the academy, according to Lt. Col. Jeff Bader, commander of Operational Support.
Training takes long enough that, "We will lose 40 people before a recruit even hits the street," Bader said.
Belmar told the police board that although staffing was always a problem, it had been particularly difficult during his 2½ years as chief, which included the pay issue and Ferguson protest fatigue.
He said officers were being paid overtime to ensure no beat went unstaffed. He also said that County Executive Steve Stenger had given permission to hire above the authorized strength, because so many on the roster are not available for full duty.
He also increased the number of academy classes. But keeping them filled can be challenging. The class of 13 to graduate in October started as 16. The 33 set for graduation in December started as 52.
That leads back to the cadet program, and hopes that its participants will enter the academy — and finish. No formal commitment is required for the cadet program.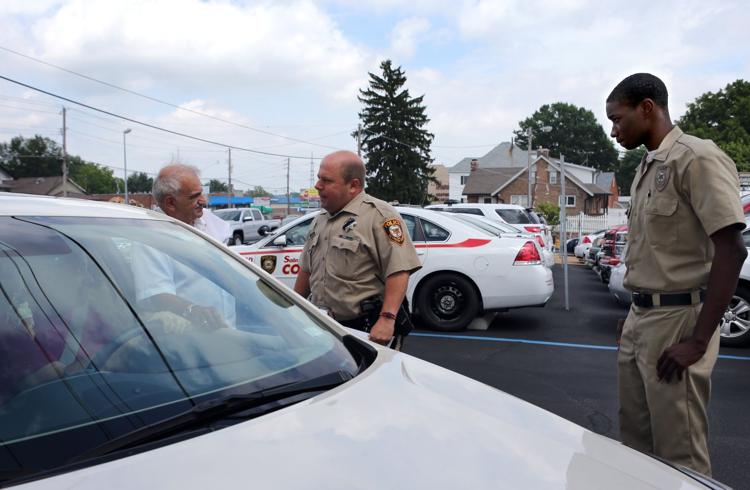 Venuto and his counterparts wear khaki colored uniforms, just like recruits, but with shoulder patches labeled "Cadet." They are paid $7.20 an hour and can work as many as 32 hours every two weeks. The anonymous donor provided enough money to fund 12 cadets at a time.
The department is seeking participants though community recruiters, including clergy and retired educators, who are in key positions to scout potential officers. They carry brochures in a bag with a St. Louis County police logo as a subtle way to prompt conversation, said Capt. Norman Mann, head of the Bureau of Staff Services.
Mann said that with their varied backgrounds, the recruiters help candidates overcome barriers. A former educator helped one prepare for the written test. A financial planner helped another get his credit in line to qualify.
The group referred three of the county's six cadets.
Mann said the program sought to attract diversity. Two of the six, including Venuto, are minorities.
He said events in Ferguson made him even more committed to police work. "I want to show the community that we are actually good people," he explained.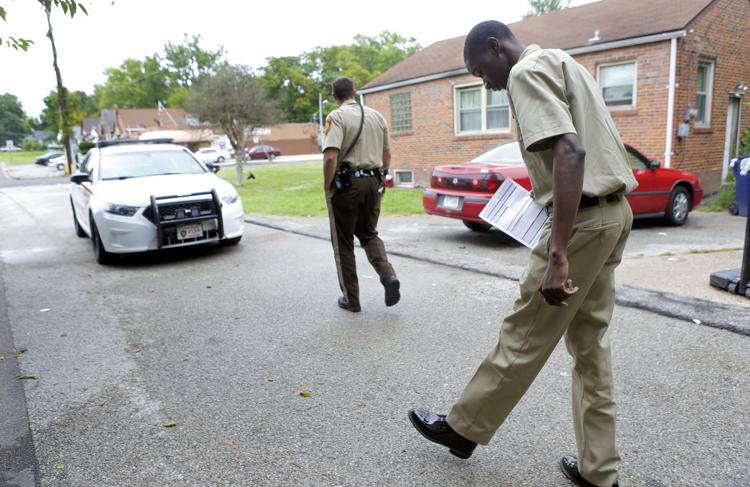 A St. Louis County police Explorer when he attended North County Technical High School, Venuto joined the cadets in May. He said riding with officers had been the highlight so far.
Two months in, he was riding along about 10:15 a.m., near Lewis and Clark Boulevard and North Highway 67, when he watched an officer use the antidote Narcan to revive a man who had overdosed on heroin.
Another time, Venuto learned that even the most mundane assignment can turn tense.
Officer Thomas Keener was in a north St. Louis County neighborhood to supervise towing of a derelict car that had sat on a jack, with one tire missing, for months as it accumulated multiple warning stickers.
With little room to maneuver, the wrecker driver scraped a green sedan on the dead-end street.
"That's my car!" its unhappy owner shouted as he ran from a convenience store across the street. A small crowd began to watch.
Within minutes, the tow truck company owner arrived.
Fearing an escalation of tempers, Keener discretely called for backup and, with another officer, mediated the issues.
Ultimately, the derelict was towed, the owners walked away, and Keener and Venuto got back into the patrol car.
"That was good," Keener said. "I'm glad you got to see that."
"Yeah," Venuto said, smiling. "Me too."