ST. LOUIS COUNTY — The St. Louis County Police Association is voicing concerns about the county executive's nominees to the police board, which has the power to hire and fire the police chief.
None of the four recent nominees to the five-member board lives in unincorporated St. Louis County, which is the county police department's primary service area, said Joe Patterson, the union's executive director. And one of them, Dr. Laurie Punch, has a history of social media posts that call into question her ability to be objective, Patterson said. 
On Nov. 14, St. Louis County Executive Sam Page nominated Punch, of Ferguson, an associate professor of surgery at Washington University, along with Thomasina Hassler, of Black Jack, an adjunct assistant professor of social science at Harris-Stowe State University and a scholar-in-residence at the University of Missouri-St. Louis.
The county council already on Nov. 6 unanimously confirmed two of Page's other nominees — William Ray Price Jr. of Clayton and Michelle Schwerin of Creve Coeur — to the board. 
Page's office appointed the new members following a $20 million jury verdict last month in favor of police Sgt. Keith Wildhaber, who said Chief Jon Belmar and his administration refused to promote him because he is gay. 
The union's executive director  Patterson argues Punch's social media posts show a bias against police officers. 
"We are very impressed by her credentials, but we want all of the board members to be able to take an objective approach to this job," he said. 
Some of Punch's posts that Patterson cited include an Oct. 19 Facebook post in which she shared a link to a New York Times editorial titled, "The police can't solve the problem. They are the problem."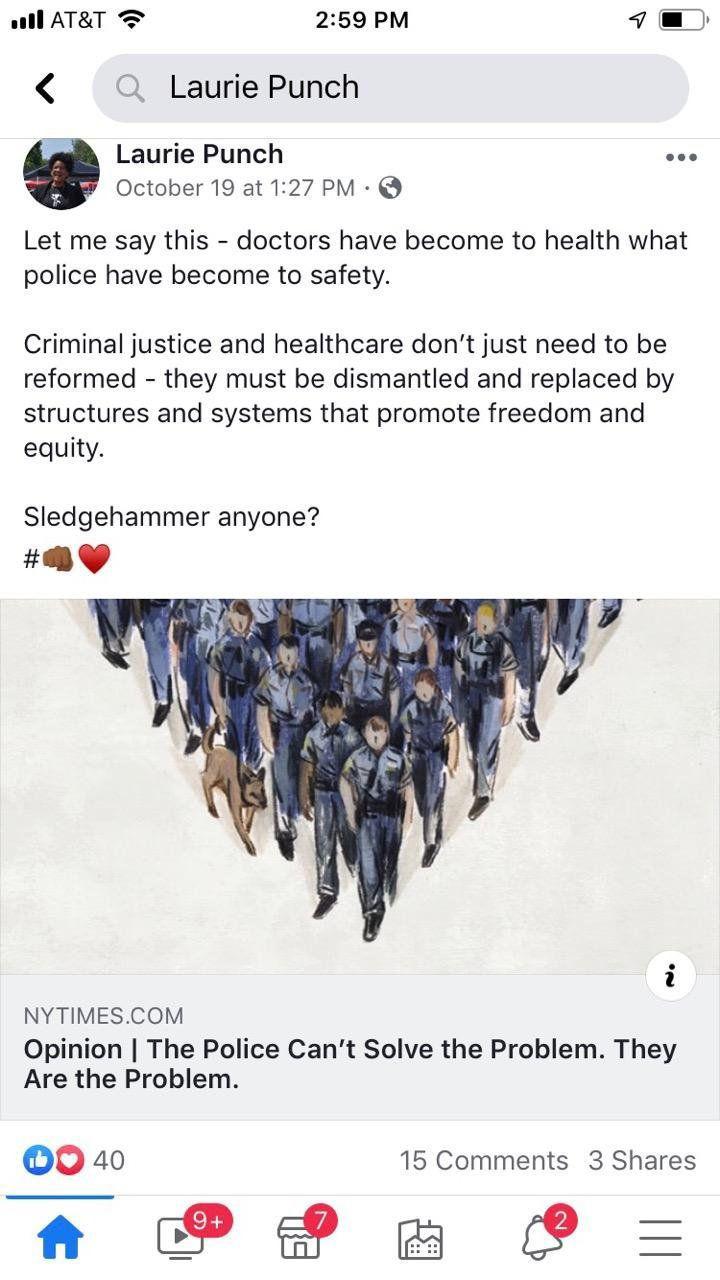 And in a Twitter post, she advocated for dismantling the criminal justice system:
"Let me say this, doctors have become to health what police have become to safety," Punch posted last month. "Criminal Justice and healthcare don't just need to be reformed — they must be dismantled and replaced by structures and systems that promote freedom and equity. Sledgehammer anyone?"
Punch did not immediately respond to requests for comment.
Page declined to comment for this story. But, in a campaign speech on Thursday, he called the appointments "outstanding," and declared support for a "a well-paid, fully staffed, thoughtfully trained police department that is accountable for its actions and interactions."