HILLSDALE • Over the years, an untold number of people showed up here, at a former residence turned into a hall of justice, to be judged for speeding and other ordinance violations.
Many of them were poor. And many left even poorer after Hillsdale Municipal Court was done with them.
Then, in 2018, the tables turned. A monitor with the Supreme Court of Missouri stopped by to judge whether the tiny court — one of dozens in St. Louis County — met minimum operating standards. In a subsequent summons, Hillsdale was asked to "show cause" why its court shouldn't be closed.
Four years after the lid blew off over abusive police and court tactics in the region, igniting lawsuits and legislation, the monitor still found:
• The court was "chronically" behind in payments to the Missouri Crime Victims' Compensation Program — to the tune of at least $50,000 since 2011 — and had "failed to make payments in an effort to correct said deficits as promised."
• Notice of rights were not posted nor available to the public.
• Separation of powers was blurred between police and city clerks.
• The court didn't have an online payment system nor enough personnel available.
Hillsdale municipal court proceedings are supposed to transfer to the St. Louis County Circuit Court, in Clayton, this month. Kinloch has already done so.
"Given the limited staff that we have, it would have been extremely difficult for us to do," Alan Baker, 76, Hillsdale's prosecuting and village attorney, said of meeting the state's requirements.
"There is an interesting twist to this new arrangement," he said. "Even though cases will not be prosecuted in Hillsdale, Hillsdale will still get the revenues from the cases prosecuted in St. Louis County."
Municipal courts have long been divisions of circuit courts, but over decades of running things their own way, in their own communities, oversight fell short. There was a temptation to use police and courts to bolster city budgets, even though they are supposed to be separate entities.
Following the shooting of Michael Brown in 2014, it was revealed in Ferguson that tickets, court fines and fee goals were analyzed and congratulated across departments like Wall Street earnings calls.
The Ferguson police chief infamously wrote in a 2012 email to the city manager that municipal court gross revenue passed the $2 million mark for the first time in history. "Awesome! Thanks!" the city manager responded. Ferguson was collecting nearly $450,000 alone in fines for failure to appear in court violations. Officers told federal authorities they competed to write the most tickets.
In light of these revelations and others, state lawmakers ultimately capped municipal court revenue at 20 percent of annual general operating revenue. The state high court set minimum operating requirements for municipal courts and hired two monitors to see them through.
In 2017, there were 971,000 municipal court cases filed in Missouri and $97 million collected in court costs, fines and bond forfeitures, down from 1.6 million cases and $148 million collected in 2013. The precipitous drop in St. Louis County, home to 88 municipalities, has been particularly notable.
"It's been a culture change from just business as usual," said Courtney Whiteside, a monitor who has put some 30,000 miles on her car visiting municipal divisions since 2017. "A very unfortunate, tragic situation brought to light, and sparked a movement that's been needed for a long time."
Statewide, 69 municipalities have transferred their court operations to circuit court, while others have restructured or consolidated.
Douglas Beach, former presiding judge of the 21st Circuit Court, monitors St. Louis County municipal courts. He said he's trying to improve performance, not shut anybody down.
"We just simply say, if you choose to have a city municipal court, it's a choice," he said. "But if you want to do that, you need to follow the (Missouri) Supreme Court rules and procedures."
Old laws, new tricks
Checks and balances are a pillar of constitutional democracy, but the crowded halls of municipal governments in Missouri have challenged separation of powers, monitors said.
Court clerks aren't supposed to do three different jobs through the same window — say handling a water bill one minute, a traffic ticket the next, and dispatching police calls in between.
Police and courts shouldn't look like the same thing. Prosecutors and judges shouldn't share the same file. The bailiff shouldn't be the officer who pulled you over.
"The appearance of evil is worse than the evil itself," Beach said.
In Shrewsbury, that meant taking down plaques and other police memorabilia in a hallway that led to its municipal court. A closet was converted into an office for the court clerk who now has her own payment window.
In Chesterfield, the prosecutor moved out of the court clerks' office, and there are now separate filing systems. "It's the law. It always has been," said Nancy Morr, court administrator in Chesterfield. "We got lax sharing the file. Now they are enforcing that."
There needs to be enough space.
In Florissant, municipal court is held in the former Dick Weber Bowling Alley. Rock Hill, Wright City and Eureka also have new court facilities.
A court clerk must be available at least 30 hours a week. If there is an automated phone system, messages must be returned. And there must be a court website and a way to access case information online.
In southeast St. Louis County, Lakeshire now pays Shrewsbury $50 a month for daytime clerk service. Glendale handles municipal court dockets for Oakland and Warson Woods for $3,000 and $1,500 a month, respectively.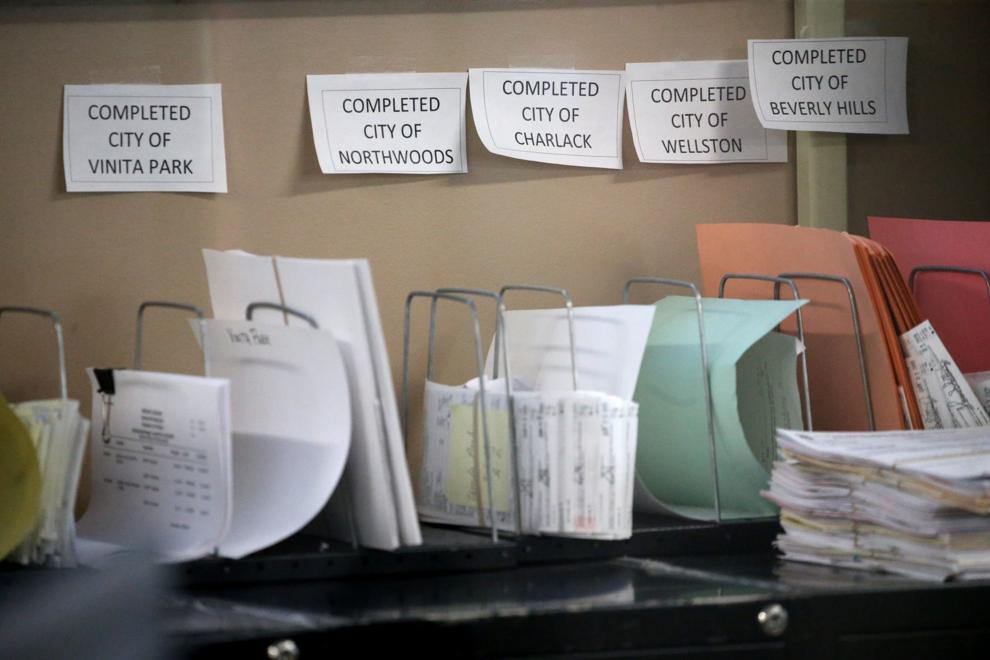 In northwest St. Louis County, St. Ann is now a hub for municipal courts in Beverly Hills, Charlack, Northwoods, Vinita Park and Wellston. Normandy is a hub for Bellerive Acres, Cool Valley, Country Club Hills, Glen Echo Park, Greendale, Pasadena Hills, Pasadena Park and Uplands Park.
Cool Valley, population 1,200, pays Normandy $434,000 a year for police and municipal court, which is down from $692,000 when Cool Valley last provided both services.
Patricia Breckenridge, former Missouri Chief Justice, said in a 2016 announcement that the new hubs in St. Ann and Normandy showed change can happen.
"By reducing costs, sharing operations, as well as clerical and judicial personnel, we hope to reduce the incentive to use municipal divisions as revenue generators rather than to ensure public safety," Breckenridge said then of the hubs, which were supported by state grants. "The progress we have made proves we can change."
The pressure was on to change. Also in 2016, ArchCity Defenders, a group of attorneys who represent indigent clients, filed a debtors' prison lawsuit claiming 13 municipalities used the St. Ann jail to hold people who couldn't pay fines and fees. A judge allowed three of the cities to be sued, while the others would have to be filed individually.
"The City of Edmundson, through its police department, municipal court system, and prosecuting attorney's office, has terrorized the named Plaintiffs and many thousands of others through a deliberate policy established and implemented to fill the city's coffers by extorting money from thousands of poor, disproportionately African-American people in the St. Louis region, creating a modern-day police state and debtors' prison scheme that has no place in American society."
Edmundson, population 831, allegedly collected more than $2.2 million in municipal court revenue between 2012 and 2016. Asked if the region has made progress since the time in question, an ArchCity spokeswoman declined to comment.
Municipal Court Judge Jennifer H. Fisher, who serves in Normandy, St. Ann and Berkeley, said there has been a "sea change."
"There are a lot of people working hard to get it right," she said. "I think that's been missed in this debate."
What hasn't changed, though, is that people in the municipal court system are usually poor. Some lack understanding and wrestle with tickets from years ago. People who have the means hire a lawyer or pay out of court to make fines go away.
"It's not a court issue, it's a societal issue," Fisher said. "A lot of them don't have the money to pay the fines. We address that in court."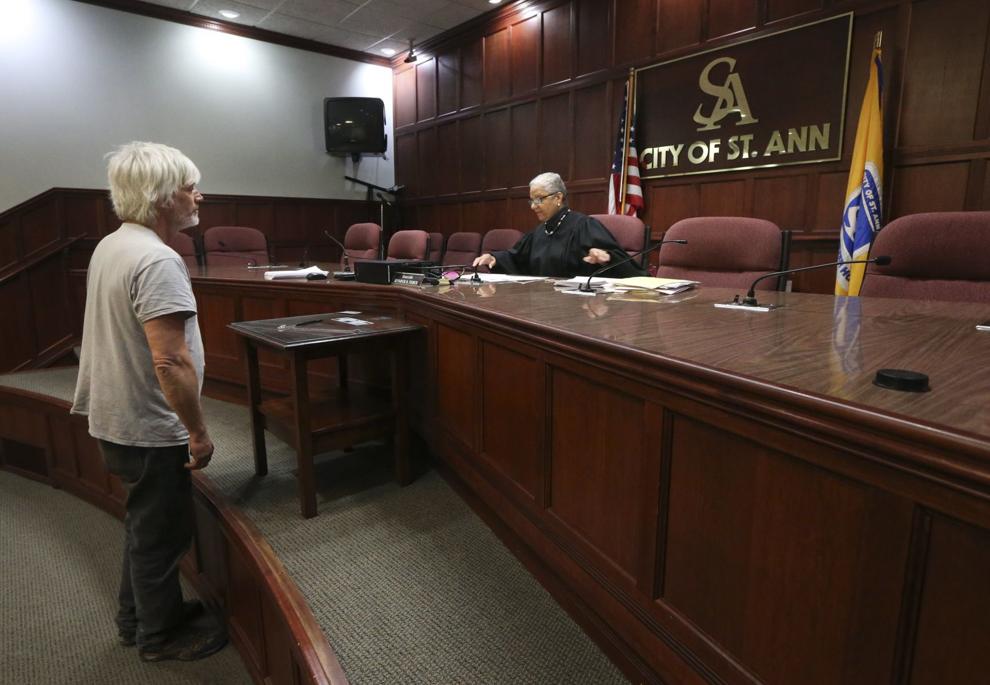 On Feb. 1 at St. Ann Consolidated Municipal Courts, Loyed Longenecker, 55, approached her bench during a payment docket. He lives in a truck with his wife and dog in the Pacific area. He owed $250 for driving through Wellston in September 2016 without valid plates and driver's license.
Fisher offered him alternative payment, which could include community service. But Longenecker said he preferred to pay $60, and set up a payment plan for the remaining $190.
"The most important thing to remember," Fisher told him, "if you don't have your payment, come to court."
Longenecker was one of just a few people who showed up in court this day. Other dockets are still packed.
'Whose fault is that?'
Hazelwood Municipal Court started early on Jan. 8, a Tuesday night. There were about 50 people in the courtroom, with dozens more waiting in the wings and foyer at City Hall.
"No talking in court unless it's court business," Municipal Court Judge Kevin Kelly warned from the bench.
There were 430 cases on the docket to get through, including one involving a young mother ticketed for a small amount of marijuana. The fine was $250, plus $26.50 in court costs, for a total of $276.50. She paid $10 off the tab and walked out the front door to face the balance another day.
"How much are you paying tonight?" Judge Kelly asked another defendant.
"Looks like you are on a payment plan," he said to another.
Briana Evans, 24, of Florissant, stepped up to the podium next, facing payment for speeding, driving with a suspended license and failure to appear in court on those 2013 violations.
"Did you bring something?" Judge Kelly asked.
The judge noted how long the tickets have been lingering.
"Whose fault is that?" he asked.
Evans smiled back, another illustration of the complexities of municipal court — the desire to hold people accountable and yet allow leeway to continue being productive residents. Evans said in an interview that she went to jail in late 2018 for open warrants from traffic tickets in the region, which caused her to miss work at an assisted living center in Ballwin where she makes $13 an hour on the night shift.
Evans had unpaid tickets from Sycamore Hills, St. Louis, Ballwin and Hazelwood, according to court records.
"I was younger and not going to court — just accumulating speeding tickets," she said.
On Jan. 8, Judge Kelly granted her a continuance in the Hazelwood cases. She would just need to pay $100 off a balance of $666.50 by her next court date.
Austin Reilly, 16, came to court with his father, Mike, which is often required for juvenile defendants. The teenager was ticketed for not having a functioning license plate light.
"I was just driving around," Austin said.
His father said he thought it was crazy that they couldn't just pay the fine without coming to court in this case, but they said the experience still went smoothly. Ultimately, they paid $40 for the ticket and Austin had a real-life example to talk about during his government course at Hazelwood Central High School.
'Show-Me' the courts
The two state Supreme Court monitors described their effort to help municipalities meet minimum operating standards as going to school.
"It's like fourth-grade civics on a regular basis," Whiteside said.
Some municipalities welcomed the oversight. Others have resisted statewide changes, including a uniform fine schedule and expansion of the Show-Me Courts system — "the new, evolving record and case management automation system" that is being developed.
"My thing is let's not get upset about it," said Karen Jones, court administrator in Black Jack. "It's something we need to do that we can't change."
Maryland Heights, based near Interstate 270 and Dorsett Road, wasn't as accepting.
"Show-Me Courts forces cities to run a dual system," said Howard Paperner, city attorney. "So you still have to monitor your old system. It's not a savings to the cities. How long is it going to take? There's an assumption that you'll be weaned off (the old system), but those are only assumptions."
He said the Show-Me Courts system charges defendants $7 per violation, which will bring total court costs over $30 per violation for many areas.
"If we are taking $7 out of their pockets, we should have clear statutory authority for that taking," he said.
Maryland Heights City Administrator Jim Krischke questioned state oversight of municipal courts. "There's no clear mechanism for how the accountability and oversight will be on the court administration for court finances," he said. "There's a lot of responsibility that comes with handling cash on a daily basis. There's a lot of opportunity for the mismanagement of funds."
And then there's Hillsdale, which couldn't meet a number of minimum operating standards and agreed to transfer its municipal court docket to circuit court. The move was supposed to be done by February, but Hillsdale hasn't heard anything since meetings were held with the state last fall.
"A dictator would have already had us in Clayton six months ago," said Baker, the attorney who represents Hillsdale. "But bureaucracies crawl."
Municipalities must still report the percentage of annual operating revenue from courts to the state auditor's office, but there appears to be a misunderstanding of what the reporting requirements are.
According to a Post-Dispatch review of the most recent reports, Bella Villa was the only municipality in St. Louis County above that 20 percent cap — 36 percent. Thirteen municipalities that have municipal court divisions hadn't filed the reports.
The Missouri Department of Revenue said it isn't withholding sales tax revenue against any municipalities that haven't filed the paperwork.
All rise for Judge Outlaw
Of those municipalities that have reported, Maryland Heights, home to 27,000 people, Hollywood Casino and Westport Plaza, collected the most court revenue — $1.1 million, or 4 percent of general operating revenue in 2017.
Large signs on the municipal building have been changed so that police and municipal courts don't appear together. There are six court dockets a month. An extra was thrown in at 10 a.m. Jan. 31 with 500 cases on it. The cold weather canceled schools in the region and put a dent in municipal court attendance.
"That's one thing they won't cancel if it's snowing or hailing outside," said Airion Golden, 24, of Bridgeton, who showed up early to face a ticket for expired license plates that he said was left on his car in a parking lot near work.
A series of "Know your rights" slides were projected on the walls at a fast clip. A bailiff with bulletproof plates under his white shirt asked Golden and a couple dozen others to rise for the Honorable Municipal Court Judge M. Deann Outlaw. She encouraged everyone to ask for help if needed.
"We will talk with you," Outlaw said. "We are reasonable people, OK?"
First was a common thread in the case of Sauriah'ia Smith, 18. The Job Corps graduate, who'd taken the train and bus from St. Ann, arrived to court 30 minutes early. Her case dated to Oct. 14, 2018, the day she said her driver's license arrived in the mail. She got a ticket later that night for driving without headlights and proof of insurance. Her first ticket came on the first day she had her license while making her first delivery for the online business DoorDash. The food delivery was late, but she said the customer, a mother with children, understood when she heard the story.
In court, Smith pleaded guilty to driving without lights and guilty "with an explanation" about insurance. Smith said Judge Outlaw told her that she would be lenient if Smith came back in March with proof of insurance.
"I thought it would be one of those long courts," Smith said. "It was real fast and quick."
Sierra Wilson, 32, of Beverly Hills, was the last to leave. Dressed in a gray sweatshirt with the word "Blessed" on it, she waited in the foyer for a ride to show up. The timing belt had broken on her own car.
She said she came to court to clean up a ticket for not having insurance. She'd already paid for another ticket from the same stop for having a brake light out. She said the officer who pulled her over was nice, even though she was arrested for having an open warrant in St. Louis for a speeding violation.
"They even cuffed me in front so I could talk on my phone," she said.
Other than to work, she doesn't want to come back to Maryland Heights. She's paid $10.50 an hour to clean hotel rooms at the DoubleTree in Westport.
"It's lovely because I work six days a week," she said. "I've got to. I've got three girls."
---
Originally published in the Sunday, Feb. 17, 2019, edition of the St. Louis Post-Dispatch.
---
Amid enforced standards, St. Louis County municipal courts still mostly snare the poor
Municipal Court Judge Jennifer H. Fisher listens to a defendent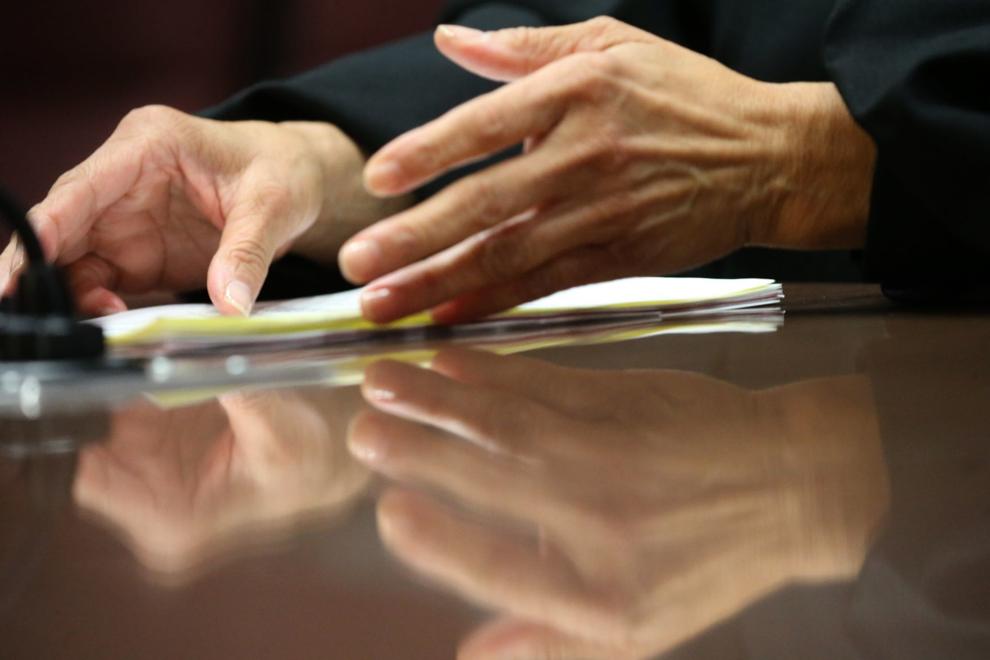 Antony Farmer asks for an extension to pay a minor ticket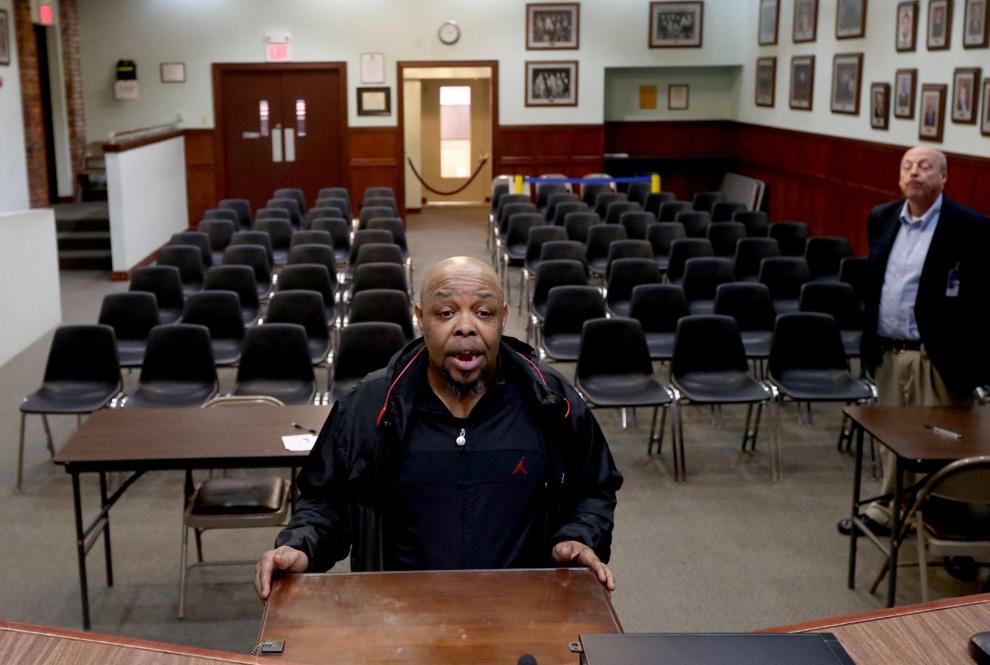 Angel guards Loyed Longenecker's truck while he's in court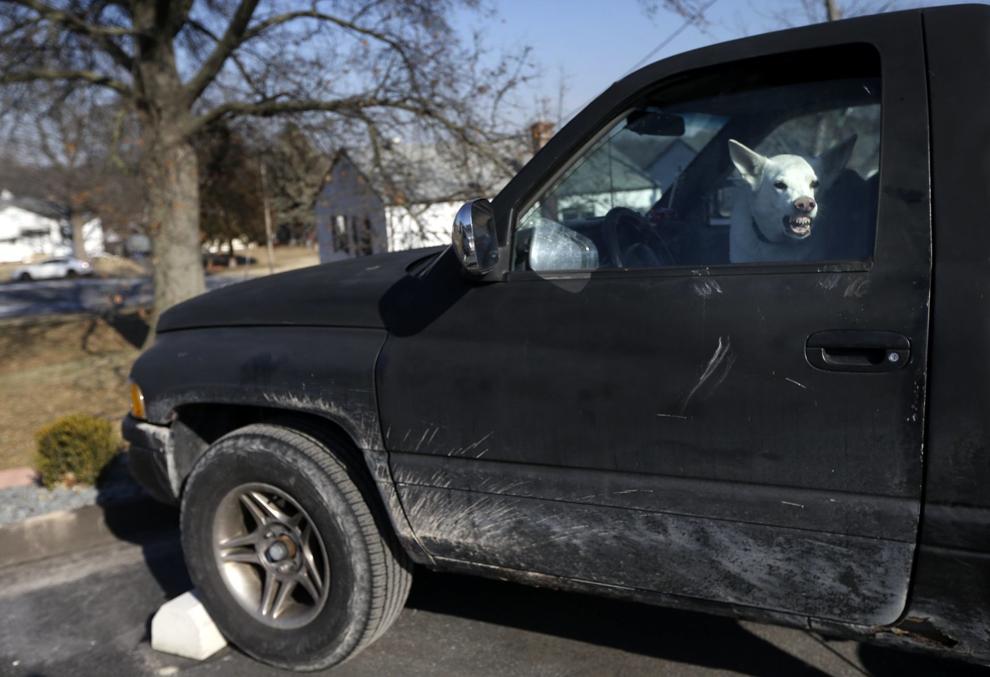 Antony Farmer catches a bus back home after a court date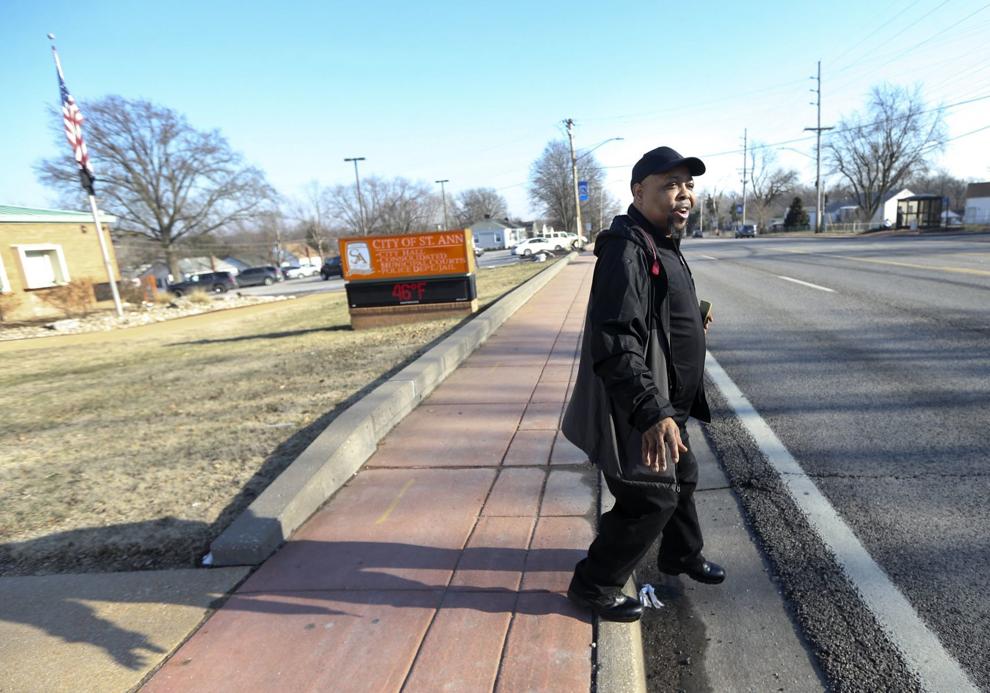 Loyed Longenecker talks to a judge in St. Ann about his Wellston ticket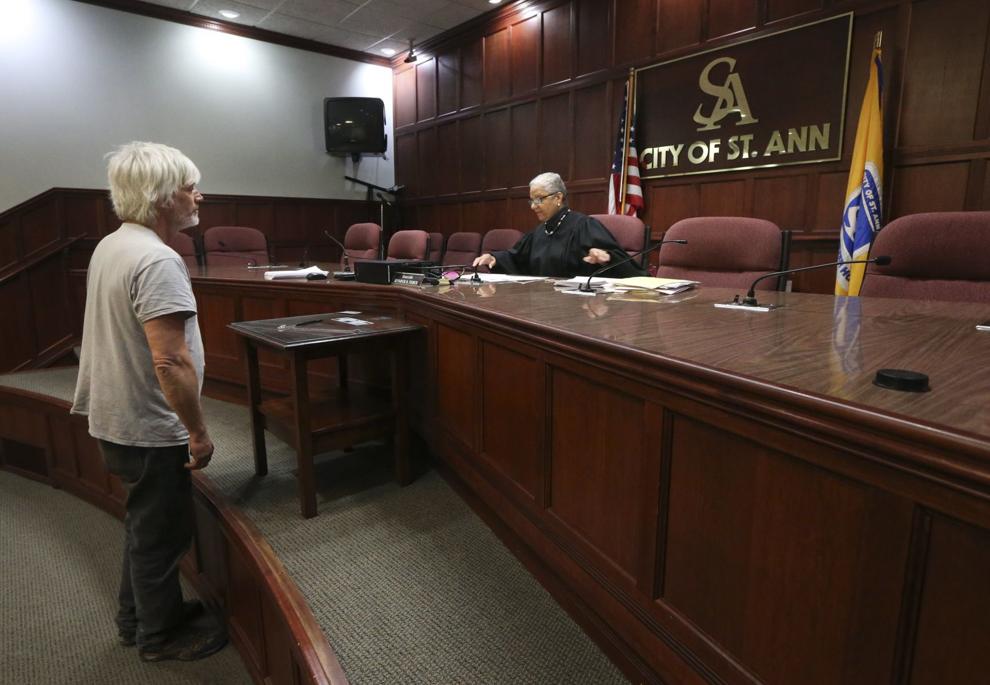 Municipal Court Judge Jennifer H. Fisher hears cases in three cities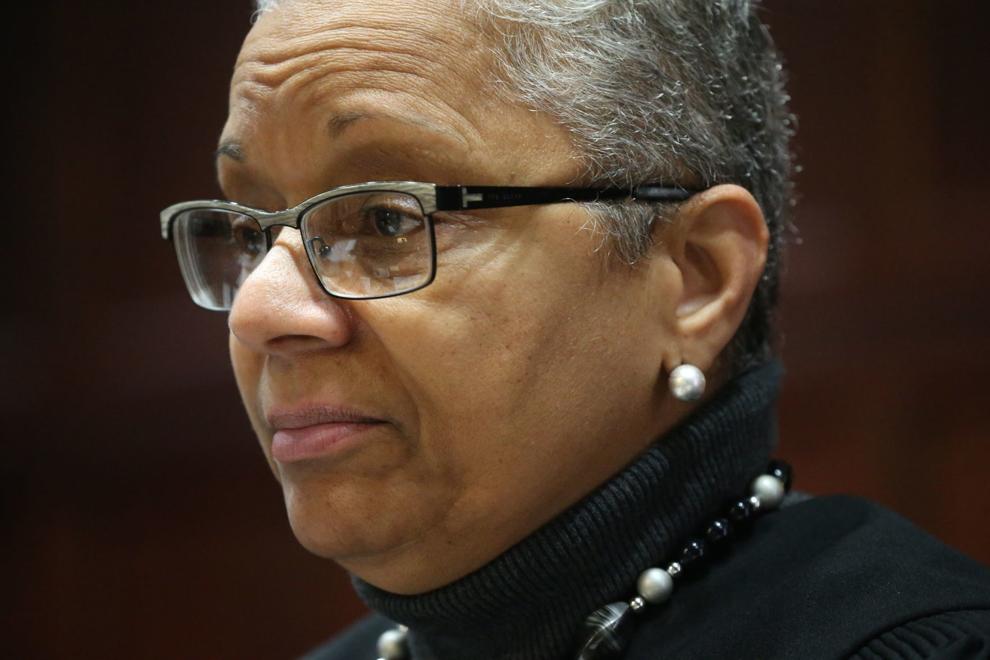 Negotiating a plan to pay down traffic tickets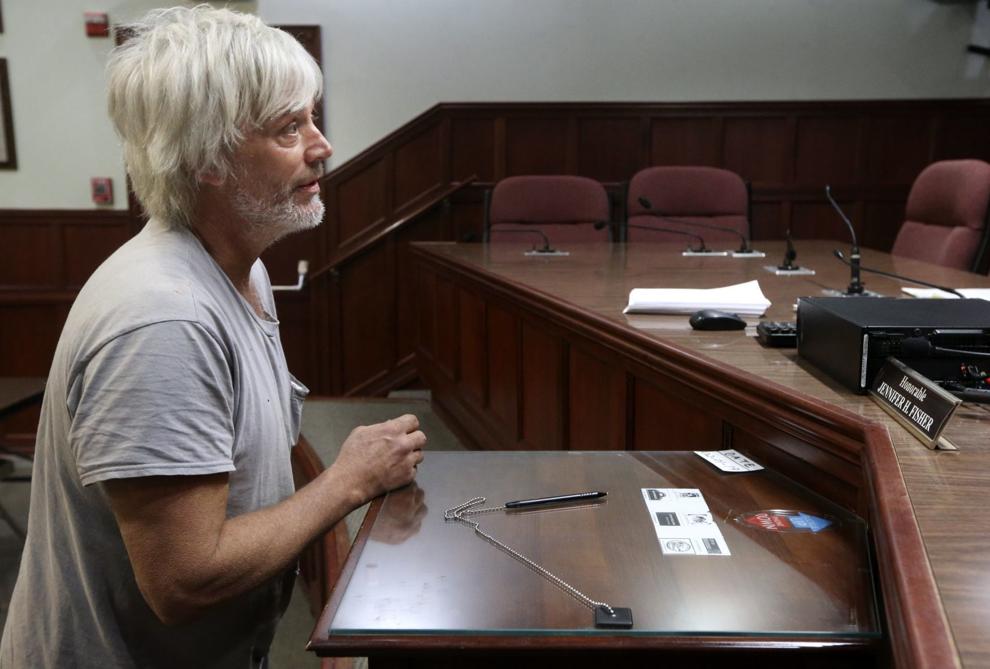 St. Ann now hears cases from several cities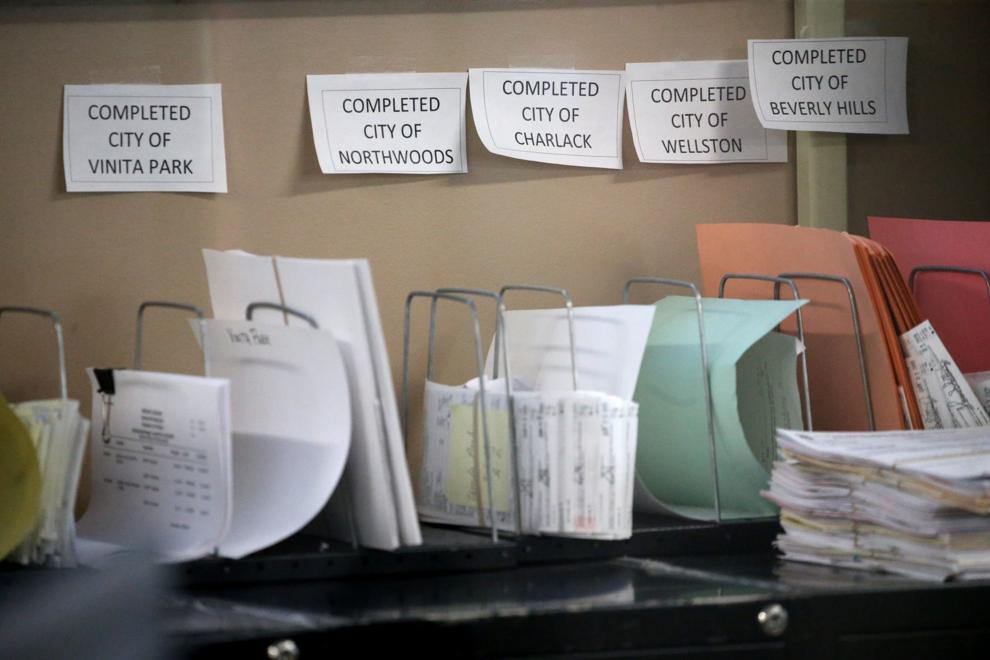 Wellston residents with a court date now must go to St. Ann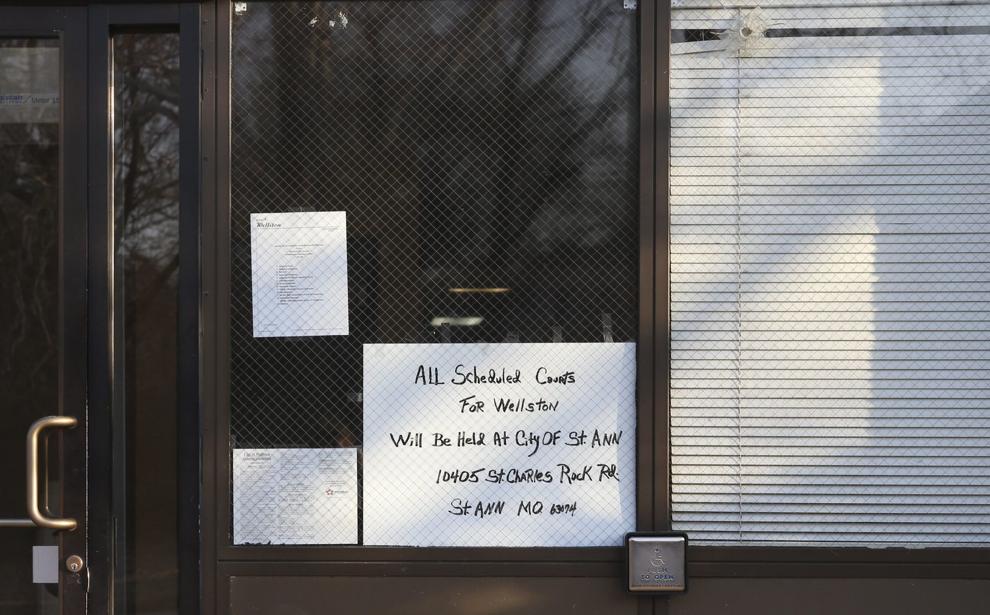 Antony Farmer waits for a bus after a court date in St. Ann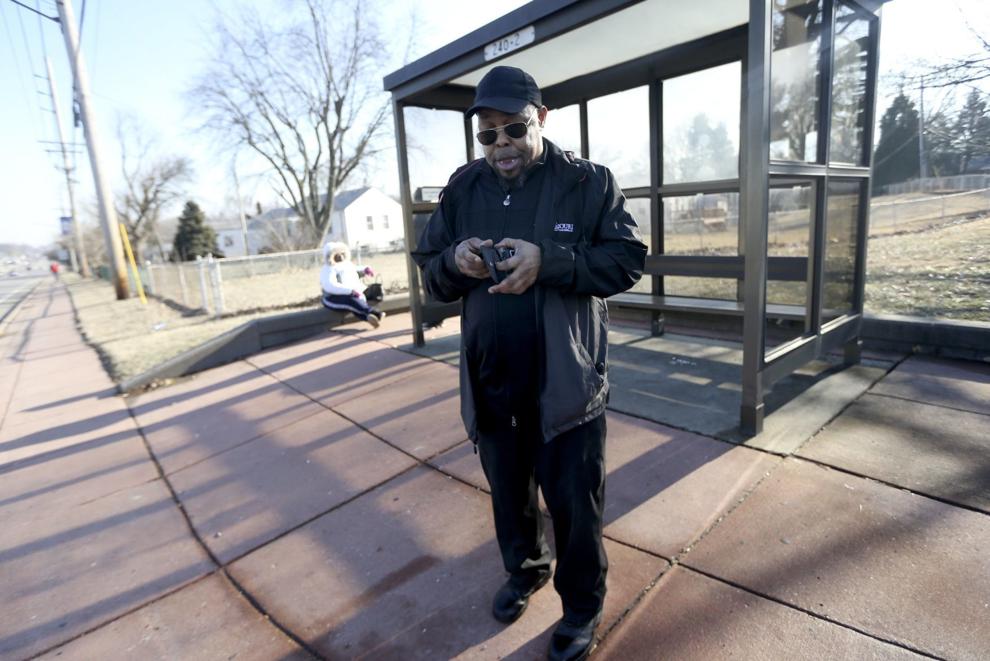 Clear separation of powers is a requirement of minimum court standards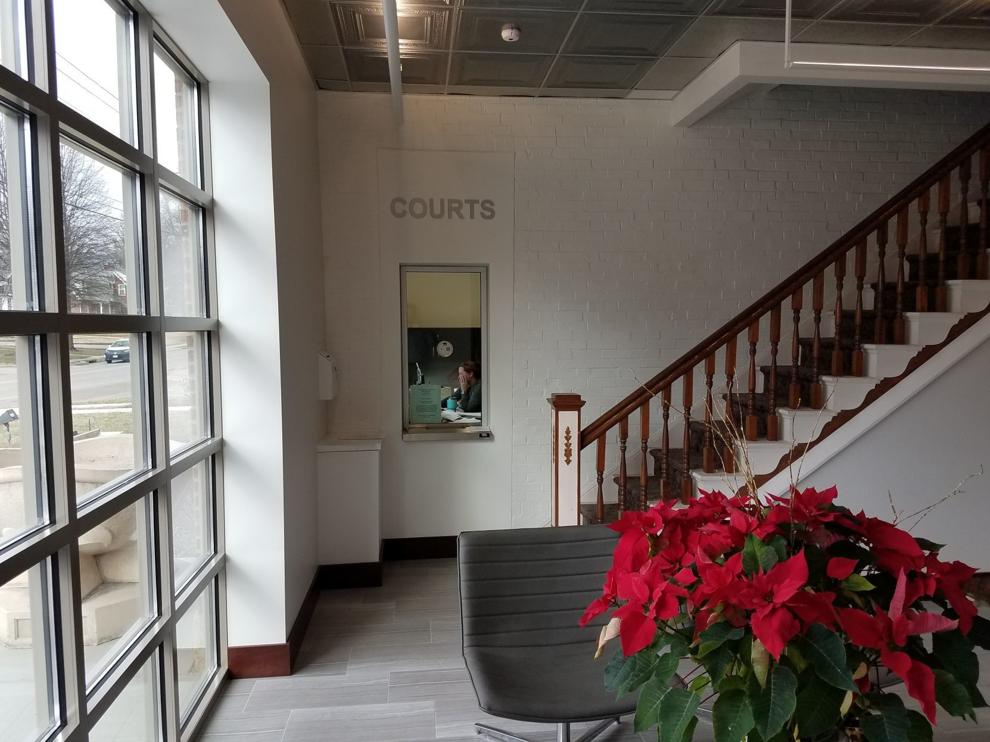 Guidelines require a clear separation between police and court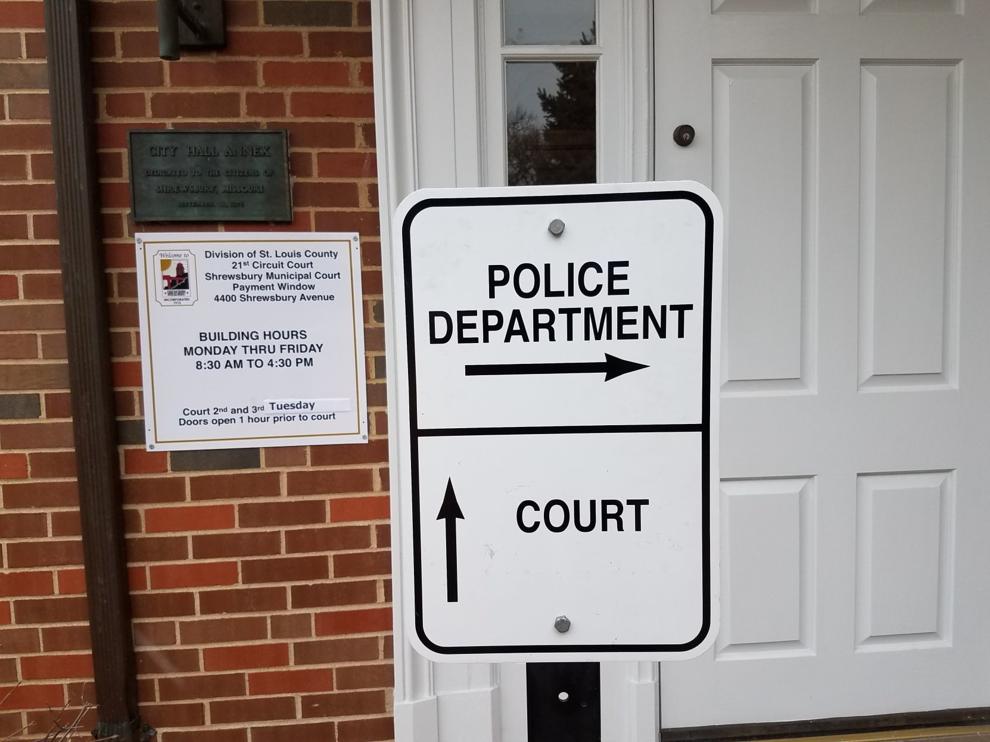 It's the first time in municipal court for Sauriah'ia Smith
Aeriolle Ivy of Jennings waits to talk to a judge about a payment plan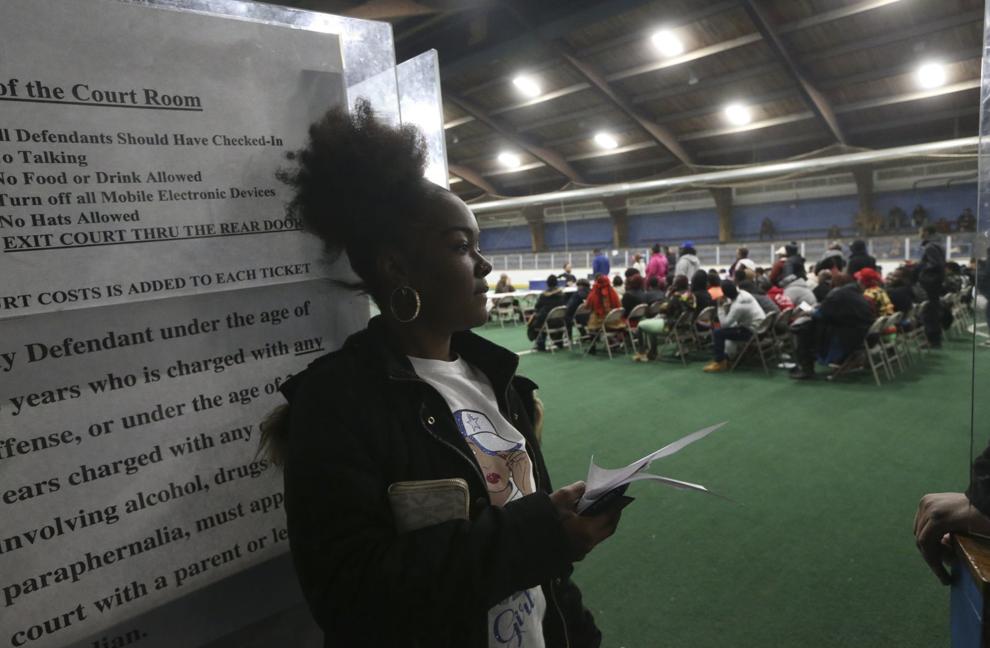 MUNICIPAL COURT REVENUE
Missouri cities and counties are required each year to report the percentage of general operating revenue generated by fines, bond forfeitures and court costs for ordinance violations and minor traffic violations. Five of St. Louis County's 88 municipalities — Green Park, Huntleigh, Twin Oaks, Marlborough and Wilbur Park — are not required to report because they no longer have a municipal court division. Reports from 13 other municipalities have not been filed. (Source: Office of the State Auditor)  
| MUNICIPAL COURT DIVISION | COURT-RELATED REVENUE | % OF GENERAL OPERATING REVENUE |
| --- | --- | --- |
| Ballwin | $319,597 | 2.10 |
| Bella Villa | $117,282 | 36.75 |
| Bellefontaine Neighbors | $132,975 | 3.20 |
| Bellerive Acres | $2,274 | 0.53 |
| Bel-Nor | $32,700 | 5.00 |
| Bel-Ridge | $180,014 | 13.76 |
| Berkeley | $141,399 | 1.60 |
| Beverly Hills | $30,405 | 9.78 |
| Black Jack | $77,161 | 4.29 |
| Breckenridge Hills | $174,743 | 11.39 |
| Brentwood | $165,761 | 1.47 |
| Bridgeton | $280,639 | 1.76 |
| Calverton Park | $166,729 | 19.00 |
| Champ | n/a | n/a |
| Charlack | n/a | n/a |
| Chesterfield | $477,715 | 2.18 |
| Clarkson Valley | $80,022 | 9.89 |
| Clayton | $887,857 | 3.80 |
| Cool Valley | n/a | n/a |
| Country Club Hills | n/a | n/a |
| Country Life Acres | n/a | n/a |
| Crestwood | $85,596 | 0.98 |
| Creve Coeur | $550,811 | 4.61 |
| Crystal Lake Park | n/a | n/a |
| Dellwood | $51,095 | 3.00 |
| Des Peres | $73,209 | 0.83 |
| Edmundson | $163,561 | 10.50 |
| Ellisville | $71,670 | 1.31 |
| Eureka | $88,259 | 1.63 |
| Fenton | $137,166 | 2.16 |
| Ferguson | $311,380 | 3.10 |
| Flordell Hills | n/a | n/a |
| Florissant | $855,368 | 4.40 |
| Frontenac | $221,887 | 4.00 |
| Glendale | $98,833 | 2.60 |
| Glen Echo Park | n/a | n/a |
| Grantwood Village | $1,785 | 0.06 |
| Greendale | $10,422 | 5.02 |
| Green Park | not required to report | not required to report |
| Hanley Hills | $31,244 | 5.60 |
| Hazelwood | $302,426 | 1.16 |
| Hillsdale | n/a | n/a |
| Huntleigh | not required to report | not required to report |
| Jennings | $67,981 | 1.00 |
| Kinloch | $3,134 | 0.01 |
| Kirkwood | $267,725 | 1.73 |
| Ladue | $205,753 | 1.70 |
| Lakeshire | n/a | n/a |
| Manchester | $184,420 | 2.05 |
| Maplewood | $413,992 | 4.90 |
| Marlborough | not required to report | not required to report |
| Maryland Heights | $1,116,940 | 4.15 |
| Moline Acres | $107,066 | 10.49 |
| Normandy | $545,551 | 17.40 |
| Northwoods | $95,789 | 5.49 |
| Norwood Court | $288 | 0.17 |
| Oakland | $30,435 | 5.47 |
| Olivette | $219,759 | 2.62 |
| Overland | $141,475 | 1.77 |
| Pagedale | $141,249 | 8.59 |
| Pacific | $85,656 | 0.02 |
| Pasadena Hills | $1,761 | 0.57 |
| Pasadena Park | $1,610 | 0.99 |
| Pine Lawn | $90,528 | 5.96 |
| Richmond Heights | $145,487 | 1.33 |
| Riverview | $34,837 | 4.94 |
| Rock Hill | $366,849 | 13.50 |
| Shrewsbury | $308,095 | 4.80 |
| St. Ann | $351,806 | 4.32 |
| St. John | $336,545 | 10.00 |
| Sunset Hills | $378,311 | 4.40 |
| Sycamore Hills | $13,700 | 7.00 |
| Town and Country | $570,590 | 5.97 |
| Twin Oaks | not required to report | not required to report |
| University City | $375,171 | 1.40 |
| Uplands Park | n/a | n/a |
| Valley Park | $60,567 | 1.92 |
| Velda City | $107,675 | 10.90 |
| Velda Village Hills | $34,122 | 9.07 |
| Vinita Park | $90,995 | 2.38 |
| Warson Woods | $10,340 | 0.88 |
| Webster Groves | $472,550 | 2.87 |
| Wellston | n/a | n/a |
| Westwood | n/a | n/a |
| Wilbur Park | not required to report | not required to report |
| Wildwood | $421,100 | 4.00 |
| Winchester | $6,846 | 1.52 |
| Woodson Terrace | $136,802 | 5.00 |
| St. Louis County | $1,357,582 | 0.40 |
| | | |