ST. LOUIS — The former CEO of the St. Louis Economic Development Partnership admitted on Friday that she both knew about and covered up former St. Louis County Executive Steve Stenger's schemes to award his political donors with county business.
Sheila Sweeney, 61, waived indictment and pleaded guilty in U.S. District Court to one count of misprision of a felony.
Sweeney was appointed to the CEO position in August of 2015 on the recommendation of Stenger, Assistant U.S. Attorney Hal Goldsmith said in court. By 2017, she was earning $500,000 yearly in total compensation, and had earned a reputation as Stenger's "puppet" by 2018.
In court, Sweeney said she'd reviewed the plea documents "thoroughly," and admitted that everything being alleged is true.
Her guilty plea came six hours after businessman John Rallo pleaded not guilty to three felony counts of honest services fraud.
Lawyers for both declined to answer questions after the hearings. Sweeney lawyer Justin Gelfand did say in a brief statement that she was "profoundly remorseful" for her actions and was taking "full responsibility."
The language in Sweeney's guilty plea and Rallo's indictment mirror that of the guilty plea of Stenger a week ago. Stenger, a Democrat, pleaded guilty to the same three charges facing Rallo.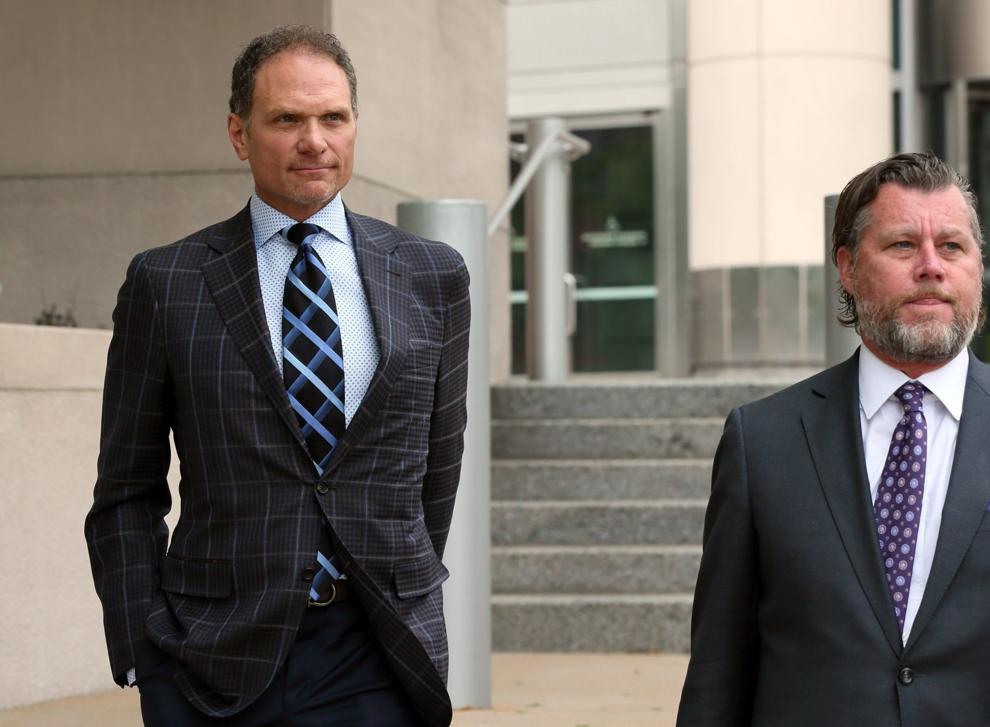 Stenger admitted orchestrating schemes to direct county contracts to political donors. Stenger unsuccessfully sought to award two county insurance contracts to Rallo's company but did succeed in getting him a "sham" consulting contract worth $100,000 from the St. Louis County Port Authority, where Sweeney was executive director, Sweeney's and Stenger's pleas say. Sweeney later boosted that contract by $30,000 to cover a payment to "JC, a close associate of a public official who had helped Stenger get out the vote," Sweeney's plea says.
These individuals were involved in some of the transactions outlined in the 44-page indictment.
The Post-Dispatch has identified JC as John Cross of Olivette, and the public official as Rep. William Lacy Clay, D-University City.
Sweeney also helped Rallo and a partner win bids on two properties in Wellston that were purchased for a total of $525,000, far less than the county spent cleaning them up and preparing them for sale, the pleas say. She failed to tell the Land Clearance for Redevelopment Authority that Stenger told her to fix the land bids, the plea says.
Sweeney failed to notify the authorities about the schemes. Sweeney's plea agreement said she and other officials helped Stenger award contracts to political donors, and she and others then lied in the face of a Post-Dispatch investigation of those deals. She also didn't tell the Port Authority board that the contract with Rallo was bogus and that there was a payment to JC embedded in it.
She told Rallo to remove his name as registered agent for Cardinal Creative Consulting LLC, the company that won the consulting contract, to conceal the connection after inquiries by a Post-Dispatch reporter in 2017. And she told Rallo to revise a Cardinal Creative monthly report that "was obviously fake," Goldsmith said in court.
Sweeney faces less than a year in prison under federal recommended guidelines when she is sentenced in August. She was released without posting bail.
Rallo, 53, one of the earliest donors to Stenger's campaign, was charged with three counts of honest services mail fraud/bribery. He entered a plea of not guilty in his initial court appearance on Friday morning before U.S. Magistrate Judge John M. Bodenhausen.
Rallo's indictment says the schemes went back to October 2014 when Rallo was introduced to Stenger by friend Sorkis J. Webbe Jr., a former St. Louis alderman who was sentenced in 1986 for vote fraud, attempted extortion and harboring a fugitive.
Rallo made his first $5,000 campaign donation to Stenger with the understanding that Stenger would help him get insurance contracts if he won the general election for county executive, the indictment says.
Goldsmith declined to comment after the court appearances, saying that the government's investigation is ongoing. He would not comment when asked what might happen in other situations where county contracts or grants went to Stenger's campaign donors.
St. Louis County Executive Steve Stenger's fall: Some background reading
Here's a collection of Post-Dispatch stories looking at some of the controversies surrounding former St. Louis County Executive Steve Stenger.