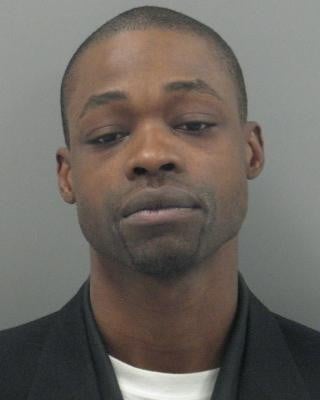 UPDATED at 4:20 p.m. with comments from the mayor's operations director.
ST. LOUIS • A St. Louis Justice Center inmate who escaped the jail earlier this year by breaking through a ceiling panel and scaling down an outer wall with bed sheets was charged today with concealing two phones in his cell.
Vernon Collins, 35, was charged in St. Louis with two counts of possession of a prohibited item at a jail, a misdemeanor.
Court documents say that on Saturday, jail guards conducted a shakedown of his cell. After guards opened the cell door and stepped inside, they ordered Collins to show his hands so they could handcuff him.
Collins was in bed under a sheet, and he hesitated and attempted to hide something under the sheet, according to court documents. Guards ordered him to stand up, which he did, and the guards found the cell phones. They also found two cigarette lighters, various pills and wires in the cell.
St. Louis police Captain Sam Dotson, the mayor's operations director, said that they are investigating  how the cell phone got inside and whether it was through a guard, the kitchen or a visitor.
"We're doing the most thorough investigation we can to determine who was responsible for this," Dotson said.
In April, Collins and another inmate, both in jail for separate assaults, broke out of the jail by crawling through an access panel in the ceiling of the infirmary, then breaking through a window and shimmying down the side of the building with a bed sheet. They were caught later that day.
A corrections officer was suspended and criminally charged for allegedly falsifying records to say he had checked on each prisoner the night of the escape. Officials said he later admitted he had not, even though a nurse reported hearing loud sounds from the infirmary.
In June, in a separate incident, a jail guard was criminally charged and accused of accepting money to deliver a cell phone and charger to an inmate.
Six inmates have broken out of the city's two jails in four different escapes since June 2010, the most recent last month. All were recaptured.
The jail commissioner has since been suspended and the escapes have prompted inquiries and reports on jail organization and leadership.